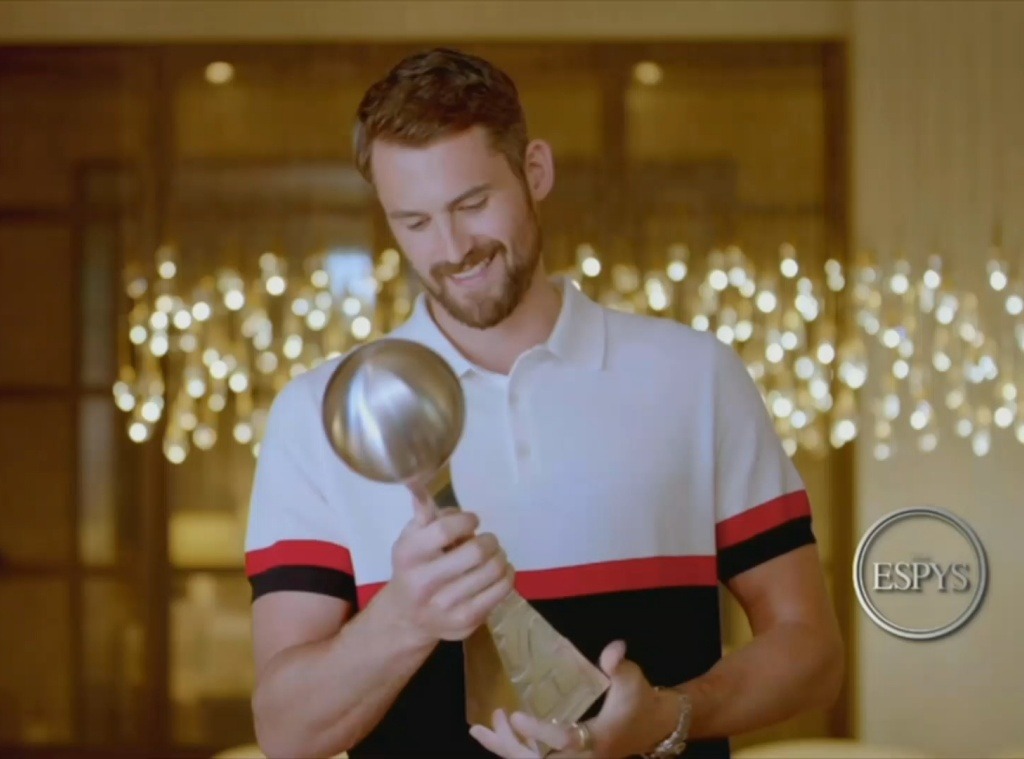 ESPN
Kevin Love's courage does not go unnoticed.
During Sunday night's 2020 ESPYS, Matthew McConaughey had the honors of presenting the Arthur Ashe Courage Award to the NBA player. 
"Of course courage is the kind of trait that comes with different looks. You often see it on city streets, emergency rooms, in hospitals, but you can also see it quite simply when someone looks themselves in the mirror, accepts that everything is not perfect, and finds the strength to say that out loud to the world," Matthew explained. "That's what Kevin Love began doing a few years ago. He is just a guy dealing with the kind of problems people could not see and he realized he was far from alone." 
The Cleveland Cavaliers player was praised for his openness on mental health that all began in 2018 when he penned a personal piece in The Players' Tribune detailing his struggles. 
"For the first time he opened up on honest, vulnerable terms about being diagnosed with anxiety and depression," Demi Lovato shared during the telecast. "Kevin had seen the massive response to his essay, but he didn't fully appreciate the impact until he met Mason."
We later learned Mason was a young boy who attended a Cavaliers game where he held up a sign that said, "Everyone is going through something."
"In these unprecedented times, so many of us are wrestling with mental health challenges, both old and new," Demi shared. "It will be our honesty, our words, and our actions that get us through it."
When accepting his award, Kevin couldn't help but thank all of his supporters who have listened to his struggles and continued to embrace him. 
"When I first shared my personal story about mental health, I did not expect the incredible response that I received from my peers, from the league and from sports fans all over the world," the basketball player shared. "I would like to personally thank my brother DeMar DeRozan who inspired me when he shared his story. Demar, I could not have done this without you."
He continued, "In light of all that's going on in our country today, I accept this award as both an honor and a challenge. A challenge to not only continue on my path, but to push beyond it and stay vocal even when silence feels safer. I thank you again."
Since releasing his essay, the NBA athlete has paid it forward by creating the Kevin Love Fund and continues to share his story in PSAs, conferences and interviews. 
"I think it's incredibly important to commit to tools that are going to help anyone dealing with their own set of issues," Kevin previously shared. 
The Arthur Ashe Award for Courage has been given to legends like Billie Jean King, Muhammad Ali and Nelson Mandela. Safe to say Kevin is in good company. 
The 2020 ESPYS air Sunday night at 9 p.m. on ESPN.