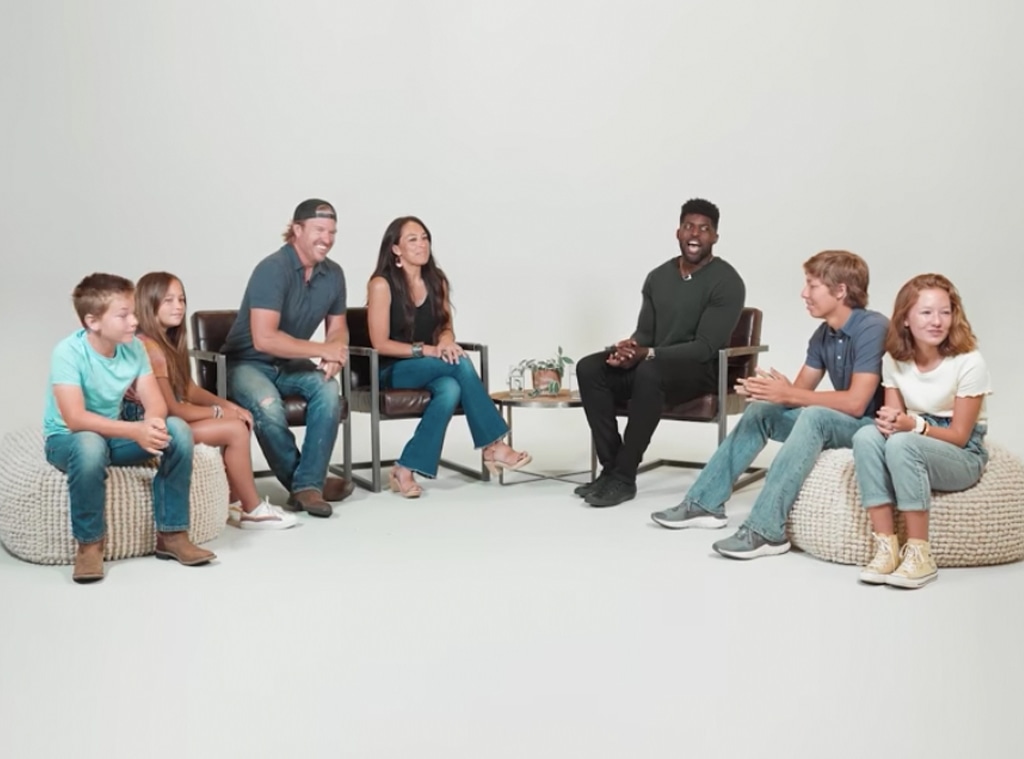 Emmanuel Acho / Youtube
Chip and Joanna Gaines are changing the way they're raising their kids after witnessing the Black Lives Matter movement.
The Fixer Upper stars revealed to Uncomfortable Conversations host Emmanuel Acho that up until recently, they were raising their kids to not see "color" when they look at the people around them. However, Jo questioned, "Chip and I were talking and this whole idea of this color blind thing came up and Chip said, 'You know I'm proud I think our kids are colorblind.' And then we started kind of pushing back on that and I think our question to you is ... What's the best way to move forward with this conversation?"
Emmanuel, who has talked to Matthew McConaughey about this topic in recent days, said he believes it's "best" to raise children to see "color."  He explained that he thinks "if we don't expose our children to different colors; to different races," then as that person grows up they "won't be able to decipher the difference between a Black man that's a threat and a Black man that's just Black." 
Acho added, "I think there's a strength, there's a beauty in seeing color. I don't like the concept of color blindness because colors and cultures are beautiful."
However, Chip asked how people can "solve" the problem of racism, especially since he believes most individuals wouldn't admit to having racist tendencies. 
For Emmanuel, he said that some of these people "can't understand" what it's like to be Black in the United States. He explained that people don't know what it's like to be Black and see statues "of men who would have oppressed enslaved and potentially executed me" or to attend a school named after a Confederate war general.
"I think that in America we have to do a better job of properly discussing and placing our heroes," the former athlete suggested.
Chip then shared that he resonates with this idea of being unable to see the "full picture" of what it's like to be Black. He said, "I think I've been blind to this reality for maybe my whole life." 
And since this was a conversation with the entire Gaines family, Acho took a question from Emmie, 10, and Drake, 15.
Emmie asked, "Are you afraid of white people?"
Watch:
Chip & Joanna Gaines: Any Couple Can Have What We Have
In response, Emmanuel earnestly said, "I'm not afraid of white people. I am cautious of white people."
As for Drake, he wondered whether Emmanuel has "hope for the future." 
"Do I have hope for the future? I do because of a man like your dad. Do I have hope for the future? I do because of a woman like your mom," Acho explained. "But the only way to have hope for the future is if you all listen these people, if these people listen to me and if I listen to them. Then I think we all have a lot of hope for the future."
To hear their full conversation, watch the full video above.