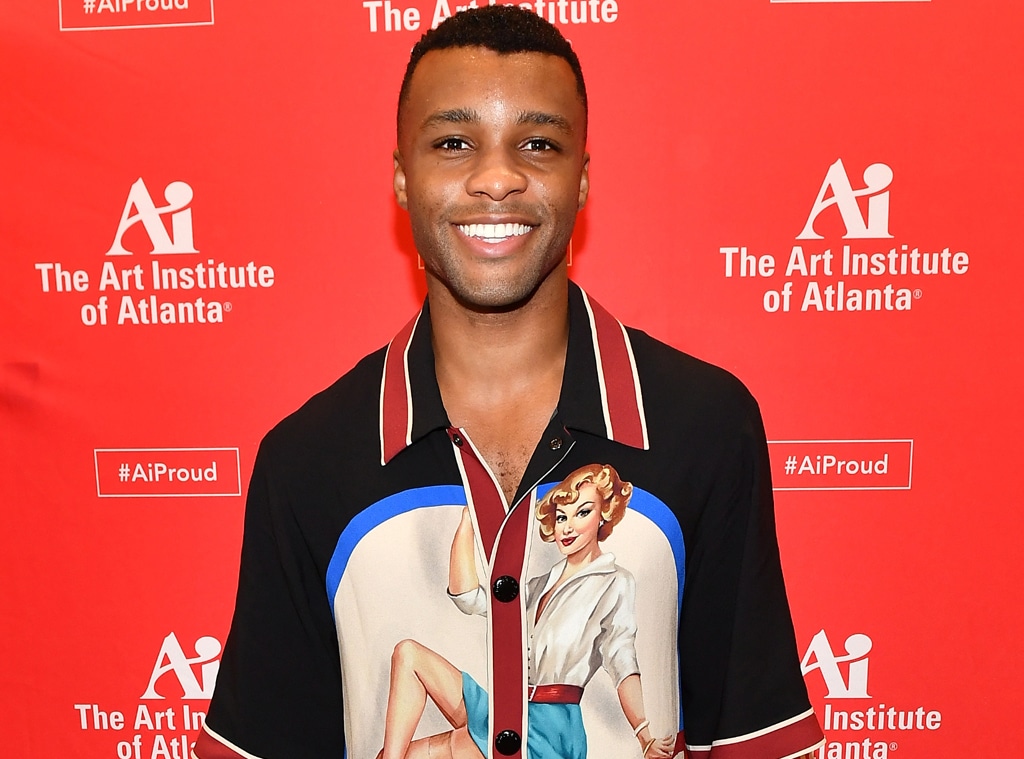 Paras Griffin/Getty Images
Live. Work. Pose. Pivot? 
Earlier this year, Dyllón Burnside was busy exploring the lives of LGBTQ southerners in the new PBS digital series Prideland, preparing to release new music and returning to work on season 3 of hit TV show Pose—he plays homeless youth turned concert dancer Ricky—when the coronavirus pandemic hit, halting production across the country.
But the multi-hyphenate performer refused to let isolation stop him from working on his passion projects.  And when the Black Lives Matter movement began capturing the nation's attention, Burnside was compelled to work even harder, using his platform to shine a light on queer Black individuals moving the conversation forward.
E! News caught up with the 31-year-old, who identifies as queer, over the phone to chat about touring  with Rihanna (yes, Rihanna), sharing his coming out story onscreen and supporting the cast of Pose during this unprecedented time.
E! News: Take us back a few months, what have you been doing since quarantine began? 
Dyllón Burnside: I shot a music video while in quarantine and that has been really challenging, but it is also a really fun project I'm excited about releasing. We actually shot Prideland in January, and I had to do some voiceover stuff during quarantine. We had a camera crew come out one day to the house to get some last minute stand-ups and did that while being socially distant, with the crew wearing masks. So that was weird and strange, but worth it. But, as we have seen, all of that work has been interrupted and, rightfully so, by the movement right now for Black lives. I have shifted my focus to how do I use my platform, how do I use the things I have going on to illuminate the movement for Black lives and how do I contribute to the conversation?
E!: Prideland explores the lives of LGBTQ people in the South of the country. You share your coming out story, noting you felt ostracized while growing up in Florida. Were there any details you were nervous to share? 
DB: All of it! But I felt like it was important for me, as a person with a platform, to share. It was important for me to share that...I was told I was ruining my life by embracing my authentic self. By embracing my full self, I was able to go out and do above and beyond everything that I ever dreamed of. So that's why it was important for me, but it was incredibly difficult.
Watch:
"Pose" Creators & Cast Talk Show's Importance
E!: You also mention your boyband being an opening act for Rihanna. What's your favorite memory from that time?
DB: So, the dressing room was actually a trailer, like the kind that people live in. And so she had the master bedroom and we had the other bedroom on the other side. The meal every day was KFC. Fried chicken, that's what we were eating on tour. And it was so cool to have the memory of sitting on the floor in the living room with Rihanna and her background dancers, eating KFC. She probably does not remember that at all. She was so sweet and so gracious. I definitely look back at that fondly and it inspires me daily to see all of the things that she's been able to accomplish over the years. If I'm able to accomplish just a fraction of what she's been able to, I'd be happy.
E!: Can you tease what's to come on Pose?
DB: We began shooting season 3 and we had to get cut short because of COVID. So I'm excited to get back to work, first of all. Secondly, I'm excited to see what the writers and producers are cooking up. I would love for us to dive into some of the deeper parts of who Ricky is, where he comes from and what his hopes and dreams are. And, how the story with him and Pray Tell [Billy Porter] pans out, what that means for his maturation and how he contends with his diagnosis. When we last saw Ricky, he was really at a crossroads in his life, and when people reach those crossroads, they could go in many different directions.
E!: Have you been keeping in touch with the Pose cast during this time?
DB: Indya [Moore] I think is the last person I spoke to. We had a long conversation last week. Indya is such a passionate person and Indya has been doing a lot of activism, and so I just wanted to call and check up on them. And it ended up being a call with Indya encouraging and inspiring me. I spoke to Billy, Janet [Mock] one of our executive producers, writers, directors...you know, we've all been checking in with one another. Angelica [Ross] and I talk all the time, I love her. I spoke to Ryan [Jamaal Swain] last week as well.
E!: You're hosting a monthlong event on your Instagram to help amplify Black queer voices. How does Pride look different this year?
DB:The thing that's not lost on me in this moment is that all of this is happening in June, which we have come to understand is Pride. In recent years, what we think about and we talk about is a parade, a celebration and parties. And all of that stuff is wonderful, but Pride at its inception was about revolution, about rebellion. Pride is about liberation for marginalized people. So what we're seeing happening right now in Pride month is all of those things. It's about standing up against police brutality. It's about collective liberation. My other goal for these conversations is to bring the focus back to what pride is really about. I love a good celebration, but nobody gets to celebrate until we're all free.
E!: What do you hope people take away from these candid conversations?
DB: I think the understanding that liberation must include all people, and that the freedom of everybody is dependent upon the freedom, the liberty, the justice, and the safety of Black trans women. When they have safety and freedom and justice, we'll all have freedom and safety and justice. So that is a really important conversation that has to be a part of the global conversation we're having right now. It's not a distraction from, it's not an addendum to, that is the conversation that we're having right now. It is imperative that we understand that our liberation movement is not truly liberatory if it doesn't include Black trans women.
Prideland is now available on PBS Voices and Pose season 2 is available to stream on Netflix. 
This interview has been edited for length and clarity.