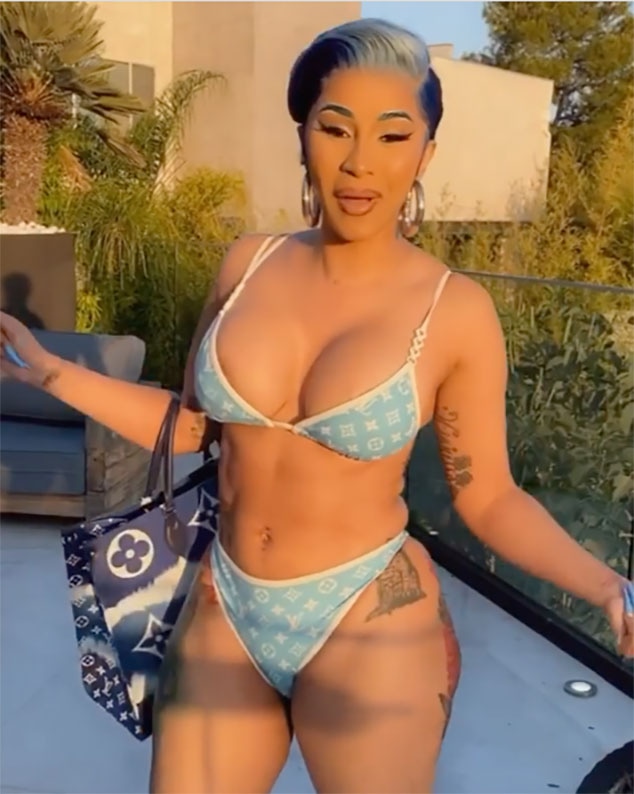 Instagram
As Cardi B frankly put it, "Leave my rolls alone."
That's what the Grammy winner captioned a video message posted to her Instagram account on Tuesday as she fired back at critics over her body amid photoshopping claims. Donning a baby blue bikini emblazoned with Louis Vuitton monogram print, the star confidently showed her figure to fans. 
"I have to do this video because I'm seeing that y'all putting this edited Target picture of me looking like a mother f--king square," she said as she stood outside. "Yesterday, I posted a picture too spicy and that haters claimed that I was photoshopping it, so now I gotta show y'all this mother f--king body."
The famed rapper noted, "Now, I know a bitch gained some weight because I have to make the thighs match the mother f--king a--, you know what I'm talking about?"
She also didn't hold back as she likened her critics physically to animals. As Cardi slammed, "I know you bitches ain't talking when ya shaped like seals."
During the video, she explained that she had eaten some meals and was "holding it in."
"It doesn't matter though," she concluded. "A bitch got lipo money. I got lipo money."
Watch:
Cardi B Shuts Down Hater Who Says Daughter Kulture Doesn't Like Her
A day earlier, Cardi posted a snap of herself squatting outside in a bikini top with her elaborate body tattoo toward the camera. While she called out naysayers, one fan praised her for seemingly not editing the image. 
"Queen this is gonna sound stupid but thank you that for uploading this photo with no major Photoshop because that rolly from your bra stripe is so real and sometimes we forget that people with perfect bodies are humans with human skin too and it's simply motivating to see that one can have your body and if we get a rolly it's because it's a normal unedited human body," the comment read. "THANK YOU FOR THIS PHOTO QUEEN!"