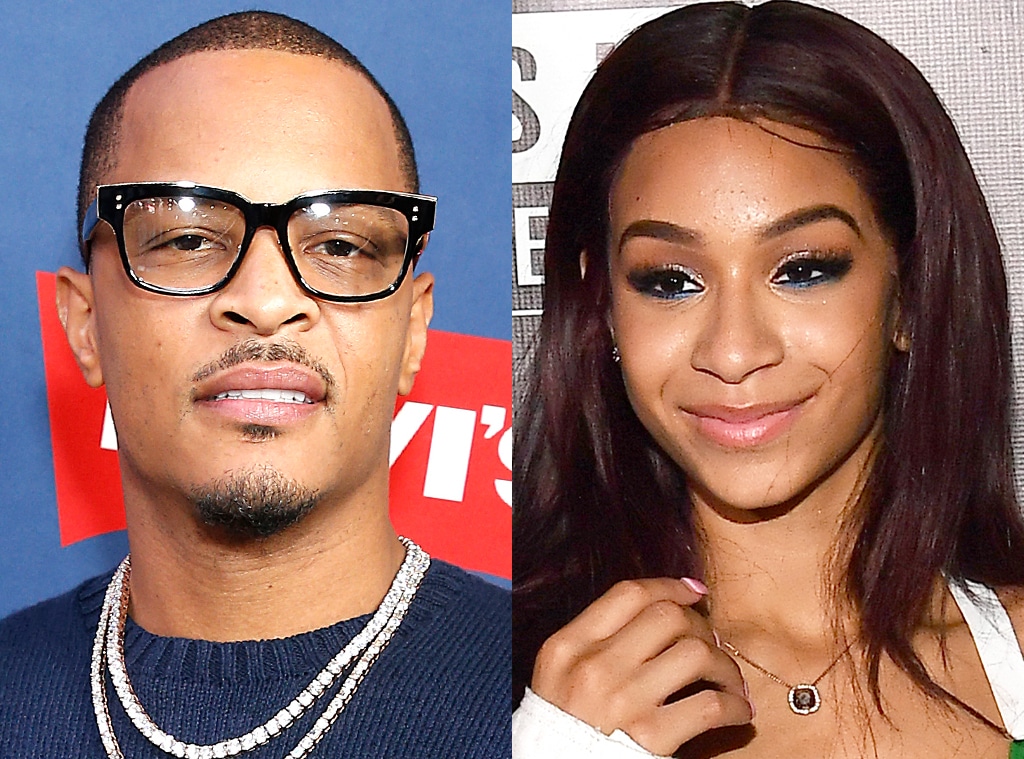 John Lamparski/Getty Images; Paras Griffin/Getty Images
T.I.'s daughter is ready to speak out.
In a recent episode of T.I. & Tiny: Friends and Family Hustle, Deyjah Harris opened up about how her famous father's controversial comments about her hymen impacted her. She also discussed where their relationship stands.
"Things are completely uncomfortable for me right now," Deyjah said during a confessional interview. "We're all together in this house, so I have to see my dad and be around him. And we're in a foreign country, so it's not like I can leave and get away."
While on their vacation, the 18-year-old explained that she found out about her father's backlash after being tagged in a social media post. "I'm scrolling on Twitter, and I see that I've been tagged in a post. The only word that I saw was 'gynecologist' and I didn't even need to read the whole title 'cause I just knew... my heart sank."
The 18-year-old expressed that she was "very shocked, hurt, angry [and] embarrassed" by her father's comments.
"I'm embarrassed definitely," Deyjah confessed to her cousins on their family vacation. "I'm trying to push it in the back of my mind. So I'm not really thinking about it... but I've been doing that since [I was] a child, that stuff with him... It's definitely been going on since probably 14 or 15."
"I do think my dad treats me differently than the boys when it comes to the subject of sex and supervision... I'm not really gonna be able to get through to him [and] connect how I need to," Deyjah continued. "I just don't really care to be around him right now. Our relationship, I'm gonna look at it differently."
Holding back the tears, she expressed, "This situation is just a little traumatizing for me."
Watch:
5 Biggest Scandals of 2019 - Just the Sip
Last November, T.I. received backlash after revealing that he goes with Deyjah to her gynecologist appointments. During an interview with the Ladies Like Us podcast, the 39-year-old rapper was asked if he's "had the sex talk" with his daughters.
"Have I? We go... Deyjah's 18, just graduated high school, now she's attending her first year of college, figuring it out for herself," T.I. responded. "And, yes, not only have we had the conversation... we have yearly trips to the gynecologist to check her hymen."
In that same interview, T.I. remembered a doctor's visit with his daughter on her 16th birthday that stood out to him.
"Right after the birthday, we celebrate... usually the day after the party, she's enjoying her gifts, I put a sticky note on the door, 'Gyno, tomorrow, 9:30,'" T.I. shared. "We'll go and sit down and the doctor will come and talk, and you know, the doctors maintain a high level of professionalism. He's like, 'Well, you know sir, in order for me to share information...' I say, 'Deyjah they want you to sign this...so we can share information. Is there anything that you would not want me to know?'"
"I said, 'Look doc, she don't ride no horses, she don't ride no bike, she don't play no sports, man, just check the hymen please and give me back my results, expeditiously," T.I. continued. "But I will say, as of her 18th birthday, her hymen is still intact."
Following the backlash, the rapper broke his silence during an appearance on Red Table Talk with his wife, Tiny.
"I came to clear up any misconceptions that have been surrounding how we interact and parent and what is appropriate and inappropriate," T.I. said. "I think all of this surrounds a conversation that I was having in a very joking manner, when asked how do I deal with parenting in this day and age. And so I just began to, you know, from a place of truth, I began to embellish and exaggerate."
"And I think that a lot people kind of like took it extremely literal, because if you put any of my reputation about like who I am as a father, who I've been, I honestly thought people knew me better than that," he continued. "However, my intentions I think have been terribly misconstrued and misconceived."
Watch the video clip above to hear Deyjah talk about her father's controversial comments and how it made her feel.