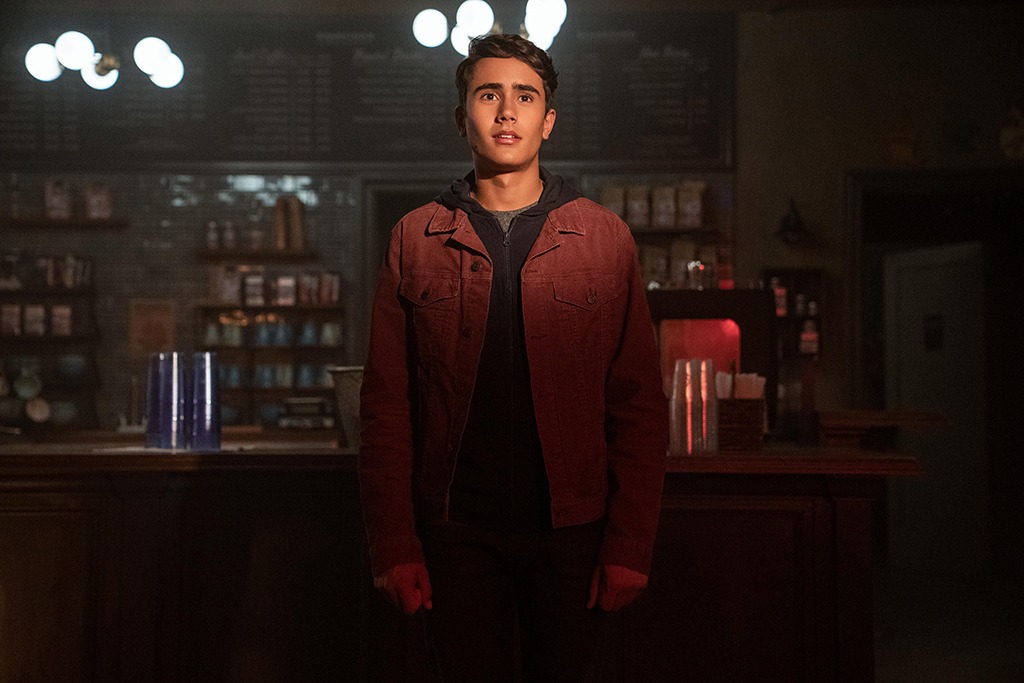 Hulu
Love, Victor wants to do what Love, Simon didn't get to do—at least in some ways.
Love, Simon is considered the first major Hollywood film to follow a gay character and his romance. The movie was centered on Simon Spier (Nick Robinson), a closeted gay high schooler who became pen pals with another gay peer. Eventually, Simon came out to his parents, played by Jennifer Garner and Josh Duhamel, who immediately provided impassioned speeches of love. There was some drama with his friends, played by Katherine Langford, Alexandra Shipp, Jorge Lendeborg Jr., but it was eventually smoothed over and Simon got the guy, played by Keiynan Lonsdale, at the end of the movie.
But that's not the typical experience of a gay teen.
Isaac Aptaker and Elizabeth Berger, the writers of Love, Simon and creators of the Hulu sequel series Love, Victor, took the response they got from the movie and ran with it for the new series. Aptaker said they heard from viewers that they wished there were "different versions of this story because coming out can look so different for all different kinds of kids."
"We wanted to make something that sort of was similar in tone and feeling and had that uplift and was sort of a world where ultimately things were to going to work out and be OK, but that tackled a story of a kid who had the odds stacked a bit more against him as he came to terms with his sexuality," Aptaker told E! News.
Watch:
Nick Robinson Opens Up About "Love, Simon" Role
What happens when a kid isn't met with a heartfelt speech from his mother after coming out? Coming out stories are personal and different for everybody, and that's what Berger and Aptaker latched onto for the series.
"I think that is so what we heard after the film, was a lot of people loved it, but it was sort of this notion of this is just one story, and this is just one way for this to look. So, when thinking about doing it as a show, it was really exciting to us to have the opportunity to show someone else's story, someone else's way that it looked for them. Hopefully, Victor's story will now resonate with a whole new set of people that maybe couldn't relate to sort of the way Simon's story went on a personal level," Berger said.
Victor (Michael Cimino) is also younger than Simon. He's not exactly sure of his sexuality when the series picks up, that's something the creators wanted to tackle.
"I mean, just by the nature of how much more time you get to live with characters in a show, we're able to go much more slowly and really get inside of this journey," Aptaker said. "[Victor] is still grappling with, do I like guys, do I like girls? Who am I? So, we really get to go along the ride with our character from a much earlier point."
Throughout the show, Victor writes to Simon, connecting the series and movie worlds. Having Robinson involved was an idea Berger and Aptaker said they had from the start.
"We wanted Victor's journey to be complex, but we did still want it to be aspirational. And it felt to us there's something aspirational about the cool older gay guy that you have this intimate correspondence with and helps guide you through these major life changes that you're going through," Berger said. "That felt really appealing and special to us, and a way of telling a new story, but still keeping the old story alive within it."
While the show does have a variety of differences, including a focus on a Latinx family and main character, there is a similarity between the series and movie: the main gay character is not played by a member of the LGTBQ community.
There's been a push—and debate—in Hollywood about casting gay actors as gay characters. Recently, The CW's Batwoman committed to casting an out actor as the out superhero with Ruby Rose in season one and with a new actor in season two. And after winning numerous awards for playing Andrea Cunanan in The Assassination of Gianni Versace: American Crime Story and getting his start as gay high schooler Blaine on Glee, Darren Criss said, "I want to make sure I won't be another straight boy taking a gay man's role." Cate Blanchett, who played the lesbian title character in Carol, has spoken out about straight actors playing gay characters.
"I will fight to the death for the right to suspend disbelief and play roles beyond my experience. I think reality television and all that that entails had an extraordinary impact, a profound impact on the way we view the creation of character," she said. "I think it provides a lot of opportunity, but the downside of it is that we now, particularly in America, I think, we expect and only expect people to make a profound connection to a character when it's close to their experience."
Love, Simon's Robinson cited his gay brother as a connection to the role, and Love, Victor's Cimino a gay cousin as inspiration.
"We did an extensive search for our character of Victor. And when we found Michael, we just...you bring people in and you have to go with who you think connects to the role and gives you an authentic performance, and is going to be able to do the scenes that you're writing. Michael is a tremendous ally. He really understood this character and we felt like he was able to bring him to life and was just the best choice for the role," Aptaker said.
Berger said they were conscious about LGBTQ representation "both on screen and behind the camera," noting it "is so important to us."
"We have made sure that our cast is populated with LGBTQ actors. Our writing staff is primarily LGBTQ writers...our directors were represented there with LGBTQ directors. It's something that is massively important to us and the show doesn't work unless you have that kind of representation. So, it's something that we're always striving to have more and more of as we go on," she said.
Aptaker said he's proud to be bringing different kinds of representation to the screen.
"We released a couple little clips and the trailer, and just seeing the response where kids would post reaction videos and seeing kids of color, Latinx kids—LGBTQ Latinx kids in particular—just watching this one minute, fun little clip and having such emotional responses and saying, 'Finally, there's a show I can see myself in, I feel represented. I've never had like a fun, glossy high school show where a kid looks like me and is going through what I'm going through,' and the notion that we're putting out a program that not only those kids watch, but that it's something that they can hopefully sit down and watch with their parents," he said. "And we'll start conversations and encourage dialogue around issues that are still to this day tricky to talk about just feels really necessary and overdue."
Love, Victor is now streaming on Hulu.