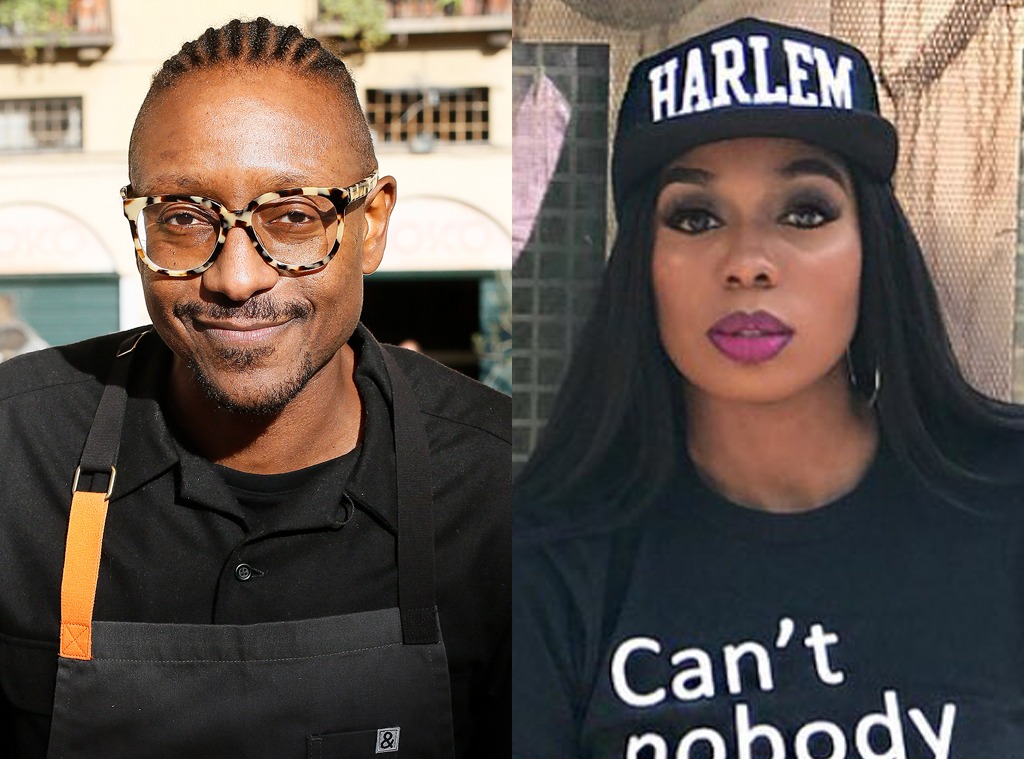 Ernesto Ruscio/Bravo/NBCU Photo Bank via Getty Ima / Dr. Wendy Osefo / Instagram
Important insights.
Tonight, Daily Pop co-host Justin Sylvester appeared once more on Bravo's Instagram Live to host an open dialogue about being Black in the United States. The E! personality was joined by Top Chef's Gregory Gourdet and, upcoming star of The Real Housewives of Potomac, Dr. Wendy Osefo.
In individual segments with the Bravolebrities, Justin touched on a variety of topics, including inequality in America, police reform and the ongoing Black Lives Matter protests.
"Thank you, guys, for coming, 'cause that's the most important part of this whole thing," Justin noted to those tuning into the candid conversation. "You guys are willing to hear us out and willing to really receive and be a part of this discussion."
This conversation comes amid the demonstrations in response to the deaths of George Floyd, Breonna Taylor and others.
For Gregory and Dr. Wendy's words on these topics, scroll through the quotes below.
On the Black Lives Matter protests:
Gregory: "Unfortunately, here we are in this thing and people are still dying. You know, we lost two trans people [Riah Milton and Dominique 'Rem'mie' Fells] a part of the trans community, rights are getting taken away, we're getting murdered…What we're fighting for is still happening as we speak. As much as we protest and as much as we riot, these things are still happening, you know? People are still getting shot in Georgia. So, it's like, are we not loud enough?"
Dr. Wendy: "For this type of movement to be happening or to be catching national attention, and it is an election year, I mean, people, this is truly the perfect storm. Let's keep this going until November. And it's not just about presidential elections, it's also about your local elections, that's really important. I want people to understand that this momentum needs to stay for us to effectuate change. When we look at the Civil Rights [Movement], they were protesting for days. Not 20 days, I'm talking about 300 days. I'm talking about a lot of work, so this is going to take time."
Watch:
Black Lives Matter Protests That Are Changing The World
On inequality in America:
Gregory: "My story of hope and possibility, it's not guaranteed. Because, you can have far more than I ever did, my family ever did, you can have far less than my family ever did and…you could just be like a good Black person trying to do the right thing and go to school and you can end up shot and dead. When we talk about equality, we're talking about having the same opportunities for everyone across every city, across every economic background and us just working together so that can exist in America."
Dr. Wendy: "It's very simple, it's all the lives in America, but which lives are under attack? Black lives. It is proven with research, it's supported with data, it is not just a social movement. There is rich data that supports that the outcomes of Black people are severely different than the outcomes of white people. There is data that supports...the 6th leading cause of [death in] Black men is being killed. So, when we talk about these things, I understand people may not be comforted by the term Black Lives Matter, but sometimes uncomfortable truths is what are facts in our country. And, in order for us to liberate ourselves, we have to speak the truth. And the truth is, Black lives are under attack."
On police brutality & calls for reform:
Gregory: "At this point, we're pretty much trying to tear everything down. Everything that's been built in the past 40 to 50 years, you know, we're tearing it down because the system hasn't worked. I will say, yes, there have been leaps of success and achievement and opportunities given to people of color in this country. But, at the end of the day, so much has been denied from us, so much has been held back from us and it's apparently clear."
Dr. Wendy: "There is a policing issue because it's steeped in systematic racism. That is the issue. Systemic racism exists, systematic racism also exists, it's both of them. I want people to also understand that there is certain caveats that police officers get to get away with, there's loopholes...They have such a thing as qualified immunity. That means that it'll take longer for them to go to trial and be charged…For some reason, when it comes to police officers, they have a different standard and we have to change that."
On allies supporting the Black community:
Gregory: "I think it's really fantastic! You know, I think at the same time, it is a bit reactionary. Because, it is a reaction to something that's just really awful that's happening, and this is how we're dealing with it now. But I think at the end of the day, if we're able to walk away from this with a spotlight on all these places that we've never heard of and we can continue to support them, this is not a fad…then I think it all makes sense."
Dr. Wendy: "In the struggle for Black liberation, so to speak, you need allies. But I always turn this notion on its head, and I say, 'I don't want allies, I want accomplices.' I want people who are in the trenches with me. You can be an ally, great for you, I want you to be an accomplice. I want you to look at me and say, 'Ok, we're protesting.' … We need to be in this together."
You can find the entire conversation on Bravo's Instagram account here.
For more ways to take action and get involved, please click here.
(E! and Bravo are both part of the NBCUniversal family.)