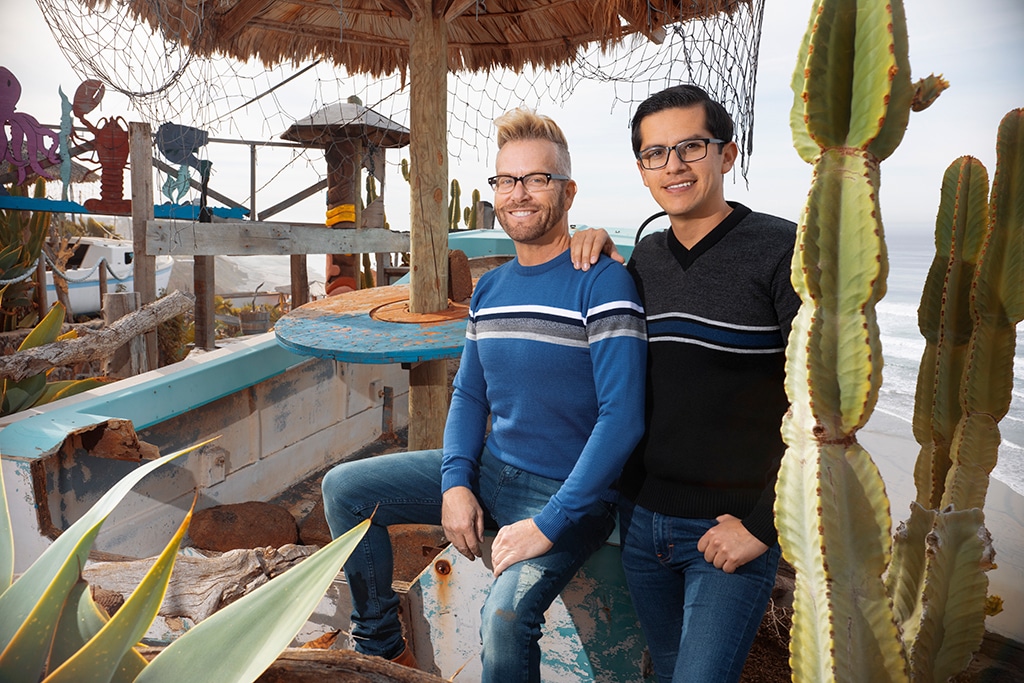 TLC
Since its debut in 2014, 90 Day Fiancé and its many spinoffs have featured heterosexual couples exclusively. That changed in 2020 with 90 Day Fiancé: Before the 90 Days season four when Stephanie and Erika became the franchise's first same-sex couple.
The two ladies, who identify as bisexual, met for the first time in person in Erika's native Australia. While their time together was marred with conflict, they still broke new ground for TLC. Now it's Kenneth and Armando's turn.
90 Day Fiancé: The Other Way season two has the popular franchise's first male same-sex couple. Cameras followed Kenneth, 57, as he embarked on a new life with his online beau, 31-year-old Armando, in Mexico. The two met in an online support group for gay fathers. Kenneth has four adult children and a grandchild and said he was a fan of the franchise before signing up to share his story.
"I watched a couple seasons of it, I thought it was great," Kenneth told press on a recent call. "Of course, I never dreamed I could be on a show like that."
But once he saw The Other Way, the series where Americans move to a foreign country for love, he thought, "Heck, that's exactly what I'm doing," so he asked Armando about trying it out.
In addition to being the first male-sex couple, they're also the first interracial same sex couple. Being the "first" didn't add any additional pressure, Kenneth said.
"We both went into this wanting to tell our story. We want to show our love and we want people to see that. I said in one of the teasers, love is a powerful thing. Love can stop wars. We're hoping that love can melt hearts and love can open minds," Kenneth said.
He added he hopes viewers "might tune in and watch out story and they might change their minds and open their hearts even wider."
Armando is a native of Mexico with a young daughter. He said he was keen to keep his child close to his family. Armando detailed his story in the 90 Day Fiancé: The Other Way season two premiere. He married a woman and had a child, but continued to grapple with his sexual orientation the whole time. After separating from his wife and coming out to his family—who weren't accepting—Armando's ex passed away in an accident. Kenneth said viewers will see some additional reasoning behind Armando's decision to stay in Mexico and not move to the United States with Kenneth.
"We have the same-sex relationship with us, so that's mostly what I've seen out of other people…I never really thought of it was interracial, to be honest with you," Kenneth admitted.
Kenneth said he and Armando went into the show prepared to encounter audience members with bias and homophobic responses. "I have thick skin and I can handle it," he said. However, Armando hasn't been out as long as Kenneth, so there was some struggle, Kenneth said. "It's been really eye-opening for me."
Meet the rest of the couples below.
90 Day Fiancé: The Other Way airs Mondays, 9 p.m. on TLC.