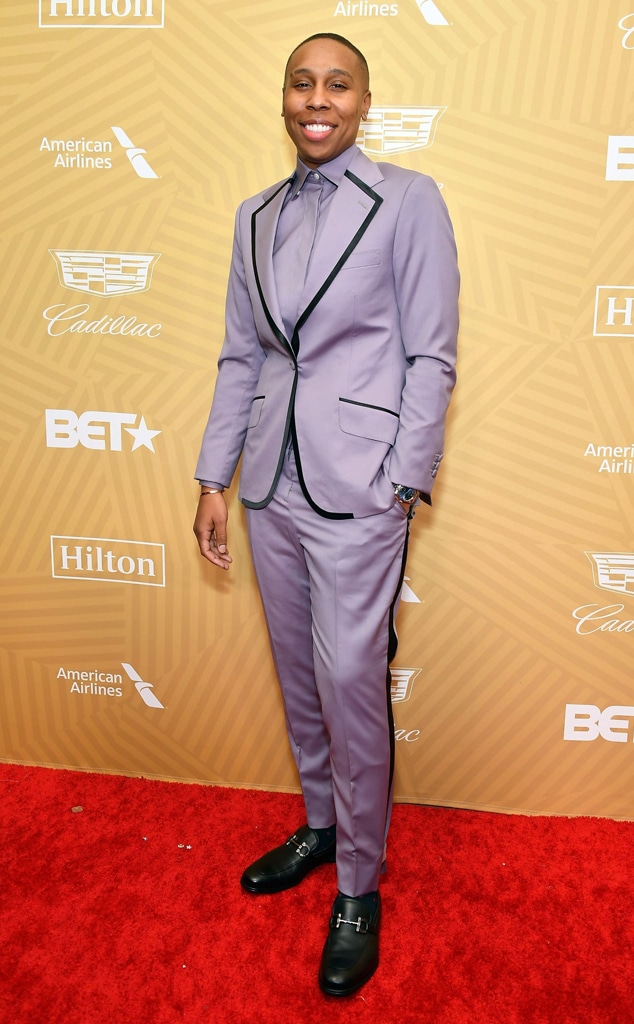 Amy Sussman/Getty Images
Lena Waithe is pushing for more representation in Hollywood. 
The Master of None star lent her voice on Saturday night during Billboard and The Hollywood Reporter's Pride Summit and Prom event.
She and Twenties star, Jonica T. Gibbs, had a refreshingly honest conversation about queer representation in the entertainment industry, and how there needs to be more of it on the big and small screen. Specifically, the two discussed how they want to see more Black queer representation portrayed in Hollywood film, television and more.
Kicking things off, Lena asked Jonica, "How important is it for you to be on television right now? For you to be a masculine-presenting, brown skin, lesbian woman? How significant is that?"
The Twenties star, who plays Hattie on the BET comedy series, shared, "It's substantially significant and necessary. I think representation in all regards is so necessary, and right now, we're fighting for so many different causes. Not just Black lives or Black male lives but Black trans lives, gay Black lives...."
On the topic of her television role, Jonica said it's important for people "to see a certain type of character on the screen."
"I find that Hattie... is a very transitional character in that she can be relatable to a lot of different people," Jonica expressed. "I think when people can find relatability to a character, they can find empathy for a group of people as well, because their perception of things can be flipped around."
"I think it's very, very important right now, especially in the space that we're in, to humanize differences in people and humanize Black skin," she added. "I think characters like Hattie create a space of understanding."
Watch:
Lena Waithe Pays Tribute to Black Drag Queens at 2019 Met Gala
Jonica asked Lena a similar question, and wanted to know "how significant it was" for the screenwriter to not only see Twenties come to life but her other notable shows and movies, like Queen and Slim, The Chi and more.
"I didn't realize how significant it was... I think it was just really me trying to tell a story, and trying to tell an honest one," Lena said. "I had to be patient. A lot of people don't know I wrote Twenties before I wrote, The Chi. The Chi just happened to get made first, and a lot of work had to be done for Twenties to exist in our world, in our society, in our nation, for people to embrace that."
Lena explained that getting the greenlight for The Chi helped to normalize Black stories in entertainment, and eventually opened up the door for characters like Hattie in Twenties.
"They were like... we can show Black men in the human light, but to see a queer Black woman was such a mindf--k for some people...," she shared. "But the truth is, they need to see us in that light, too."
For the screenwriter and producer, she hopes there is more Black queer representation in entertainment and would especially love to see "masculine-presenting" women shown with a softer side.
"I wanted to be clear Black women who are, I always say 'masculine-presenting,' we can also be soft. We can also be vulnerable. And we're not all aggressive," the Master of None star expressed.
Adding, "I'm always fighting to be the best person I can be, partner I can be, friend I can be. And I think people don't necessarily associate that with someone that walks through the world the way we do. And I was really happy that we got to just show a different side of us."
Watch Lena and Jonica's full conversation from the Pride Summit and Prom here.