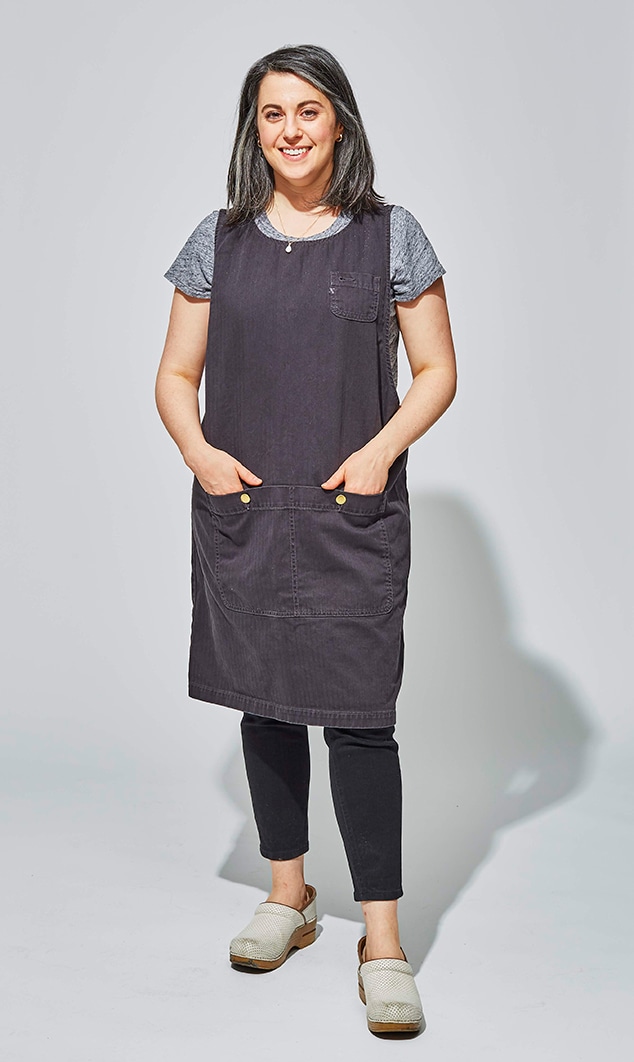 Laura Murray / Bon Appétit
Claire Saffitz is acknowledging the role she says she played in allowing the Bon Appétit office to become a "toxic, racist, secretive and ultra-competitive environment." 
On Instagram, the host of Gourmet Makes broke her silence on the alleged incidents that took place on Bon Appétit's "Test Kitchen" videos and behind closed doors of the Condé Nast publication. In addition, she apologized to co-workers like Sohla El-Waylly for not advocating for fair wages earlier.
On Monday, June 8, El-Waylly publicly claimed "only white editors" are financially compensated for videos published to's YouTube channel. Numerous past and present Bon Appétit employees have since come forward to describe alleged incidents promoting widespread inequality across the publication.
"As an employee, I was, of course, to some degree aware of the toxic, racist, secretive and ultra-competitive environment we worked in 'together'," she explained. "But I see now that I also missed a lot." 
Addressing her colleagues, Saffitz continued, "Only now do I recognize the extent of your pain and anger—a pain I can never know or experience, and that I knowingly or unknowingly contributed to. I should have seen it earlier and used my platform and clout to push back against the leadership." 
The pastry chef added that her "whiteness," in addition to her "class position [and] educational background," is what allowed her to succeed in her career "without having to acknowledge or challenge the system itself." 
In addition, Saffitz said that her position as a freelance video host made her believe she didn't have to take "action" or question whether Sohla, Test Kitchen Manager Gaby Melian and Associate Editor Christina Chaey among others, would be fairly compensated when she asked them for assistance or invited to appear onscreen.
"I valued the talent and skill of the crew behind the scenes as well, but didn't act to make their work more recognized," Claire said of her actions. 
The 33-year-old continued, "I feel deeply s--tty about this, but I know that my feelings are not important at this moment. What is important is how I do the work of repair—how I make amends, show up in this industry and move forward in a different way."
She previously shared that her contract with Condé Nast Entertainment ended in June. However, she said in this post that she currently doesn't "know what [her] future holds" with Bon Appétit or Condé Nast Entertainment. Claire concluded, "I only hope that through sustained learning/unlearning/relearning I can better show up for people who I deeply respect, and eventually earn their respect as an ally."
Claire is one of the few white staff members from the Test Kitchen to address the numerous claims of racial inequality and discrimination at Bon Appétit.
Food Editor at Large Carla Lalli Music responded via Twitter to accusations made against her in an article by Business Insider. She admitted to poorly handling a situation involving socializing in the workplace, specifically the Test Kitchen, and vowed to work on bettering herself. "I was under-equipped to be an ally then, and I have to do better now. Addressing this involves introspective work as well as concrete action. That's on me," she shared. "Finally, I want to acknowledge the voices of the people who did speak up for the story. If we can fix BA, it's because of them."
Additionally, staff members of color have come forward to thank their co-workers for offering support in this difficult time. Chaey wrote in part on Instagram, "In the week since our world was upended, I've been awestruck by the momentum, grace, sensitivity and compassion shown by a group of colleagues who are showing up at the endless meetings, staying up all night on the phone and committing to doing the work—which almost entirely happens offline."
On Monday, a controversial picture of  Editor in Chief Adam Rapoport resurfaced on Twitter. In the since-deleted photo shared to Instagram by artist Simone Shubuck and captioned, "#TBT me and my papi @rapo4 #boricua," Rapoport is wearing a silver chain necklace and New York Yankees jersey. People online accused Rapoport of wearing brown face, including El-Waylly and BA's research director Joseph Hernandez.
Rapoport has since stepped down from his position in acknowledgement of the photo and the work environment he said he fostered.
Matt Duckor, Condé Nast's head of programming, lifestyle and style, resigned two days later after offensive tweets resurfaced online. According to Variety, Duckor wrote on his Twitter, which has since been made private: "My words were inappropriate and hurtful. At the time, I thought I was making a joke."
In a previous statement to E! News, Condé Nast said, "As a global media company, Conde Nast is dedicated to creating a diverse, inclusive and equitable workplace. We have a zero-tolerance policy toward discrimination and harassment in any forms. Consistent with that, we go to great lengths to ensure that employees are paid fairly, in accordance with their roles and experience, across the entire company. We take the well-being of our employees seriously and prioritize a people-first approach to our culture."