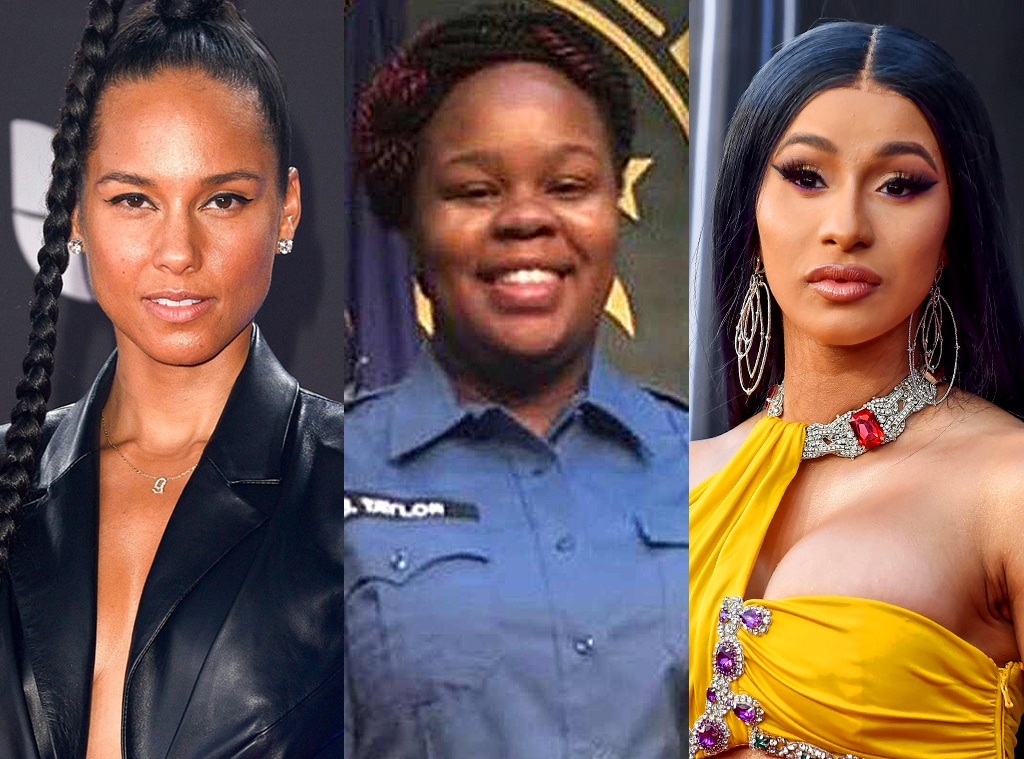 imageSPACE/Shutterstock; Instagram; AFF-USA/Shutterstock
Celebrities are demanding justice for Breonna Taylor.
Joining forces with Taylor's mother Tamika Palmer, stars including Alicia Keys, Cardi B and more came together to urge fans to help seek justice for Taylor, a 26-year-old EMT worker who was killed by police during a raid at her home in Louisville, Kentucky on March 13. 
Tracee Ellis Ross, Ellen DeGeneres, Kerry Washington, Tamika D. Mallory, Brene Brown, Ali Wong, Jada Pinkett Smith, Lena Waithe and Gabrielle Union are just some of the stars that lent their voices to the cause, each sharing a video titled "Do You Know What Happened To Breonna Taylor" to their social media. In it, Palmer detailed her daughter's death and informed viewers how they can get involved.
"Three officers from the Louisville Police Department used a battery ram to knock down her door. They fired 22 times," Parker said in the video. "Eight of those bullets landed in the body of the most essential worker I will ever know. Bree was murdered by the Louisville Metro Police Department and after they killed her, they asked me if she had any enemies. I said, 'No. Absolutely not.'"
In April, Taylor's family filed a wrongful death lawsuit against the police officers involved in the shooting. Then on May 21, the FBI's Louisville department launched an investigation into the incident, and the three officers who carried out the search warrant at Taylor's residence were placed on administrative reassignment. 
Just yesterday, a fourth officer, who requested and obtained the no-knock search warrant used to enter her home in connection to a narcotics investigation, was also placed on administrative assignment. 
"This is all part of the process of getting to the truth of what happened that night and leading up to that night," Interim Louisville Metro Police Chief Robert Schroeder said during Wednesday's press conference. "I recognize the process takes longer than we would all want, but it's what must be done to ensure a thorough and fair investigation for everybody involved, and to ensure this community has the best trust available in this police department."
The officers, identified publicly as Joshua Jaynes, Jonathan Mattingly, Brett Hankison and Myles Cosgrove, have not commented publicly on Taylor's family's allegations. 
Parker's message continued, "Their stories started coming out differently and people started learning the truth of what was happening and the things that went wrong that night. Now the whole city is mad. Now the whole world is mad. Breonna should not be dead. Some days I feel like I can't breathe without her. This should never happen to another family. I am Breonna Taylor's mother. Say her name."  
Calling for justice, Mallory encouraged viewers to call Louisville representatives and urge them to fire and charge the officers involved, as well as continue their investigation on Taylor's death. Mallory said, "Breonna Taylor's family has said that they're not just fighting for her, but they're fighting to ensure that what happened to Breonna never happens again."
Before ending the video, Keys and her fellow stars asked, "Do you know what happened to Breonna Taylor?"
Taking to social media, the "Girl On Fire" singer wrote, "The officers John Mattingly, Brett Hankison and Myles Cosgrove who took part in her murder need to be charged and arrested NOW!!"
She added, "Listen to the facts from her beautiful mother.... can you imagine?? Donate, protest, petition and DEMAND #JusticeforBreonnaTaylor. Visit my story for a direct link to things you can do to help. #SayHerName."
For her part, Cardi encouraged her followers to demand justice. "Let me tell ya something.This is why we gotta keep fighting. Breonna Taylor was one year younger then me," she wrote. "They tried to sweep the case under the rug specially since the country when on lockdown due to Coronavirus. DON'T LET KENTUCKY POLICE DEPARTMENT GET AWAY WITH THIS SH-T!!!!!"
"E! stands in solidarity with the black community against systemic racism and oppression experienced every day in America," the network said in a statement on May 31. "We owe it to our black staff, talent, production partners and viewers to demand change and accountability. To be silent is to be complicit. #BlackLivesMatter."