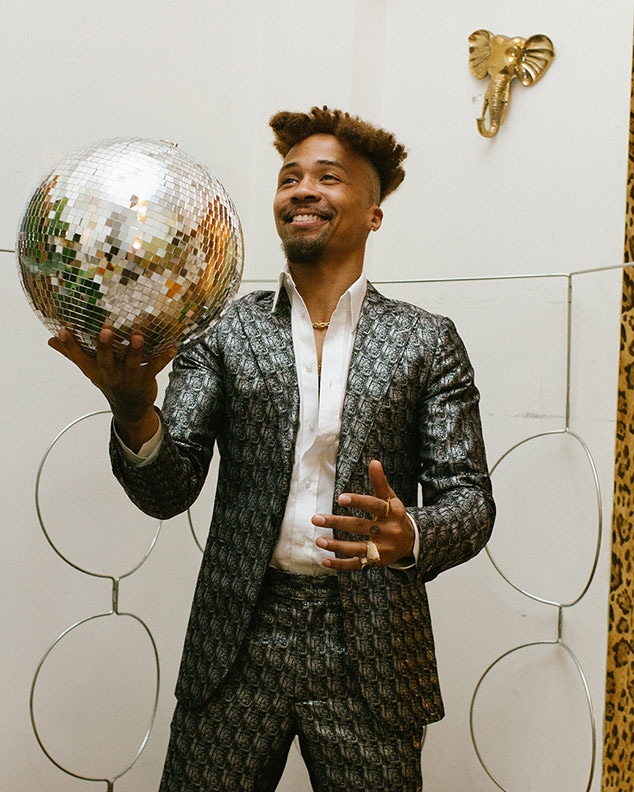 Jaclyn Campanaro
From cop to rock, Jonny Goood has experienced two different sides of the public spotlight. 
While the musician has graced many stages with Lady Gaga, there was a time when Goood, née Jonathan Drummond, toted a badge instead of a bass guitar. 
"I come from a long line of police officers," Goood told E! News in an exclusive interview. "My dad's been a cop for 30 years, he's now a sergeant, and I have an older brother who's also a police officer. I grew up wanting to do the same thing."
In his early twenties, he served with the Savannah Police Department, though his career would eventually take an unexpected turn. "I was a cop, but I also started realizing I had a small musical gift. I would pick up my bass guitar and just practice," he recalled. "One day, after two years of playing, I wanted to try [to] break new ground." With about $300, Goood headed off to Los Angeles and eventually got the chance to work with Keyshia Cole, Miley Cyrus, Joe Jonas, The Weeknd and Wiz Khalifa. 
"Then, I got a call to work with Lady Gaga," he said. "That's been the height of my career—I got to play the Super Bowl and the Oscars, the Grammys, Coachella. It was quite the switch, I like to say from cop to rock. I thought I was going to be a cop my entire life. It was a gamble."
While he was able to achieve his musical dream, Goood was admittedly torn about leaving law enforcement. 
"I miss it to this day," he told E! News. "My dad and my brother, they're still out there with their boots on the ground. A part of me still wishes I was there, but I feel like my voice will be more heard on this side of the world as an entertainer. But, it's cool to be a young Black kid with police experience. So, now, living in a world that seems to be falling apart, but is actually coming together, I have a little more understanding as to what's happening behind the scenes with the police department and as a Black man. So, I'm torn, but at the same time I feel like I'm knowledgeable."
Amid the Black Lives Matter movement with protests against police brutality and calls to defund the police, Goood shared his own knowledge of racial discrimination within law enforcement.  
"I would be lying if I said racial discrimination did not exist in the police force. It definitely does," he said. "And it actually starts in the police academy. The academy doesn't teach the history of Black injustice when it comes to the police department. And, as a cop, as a Black cop, you see a way higher number of Black people being arrested—for things like little seeds of weed, like I'm talking a seed. I've seen cops tear cars apart just to find a seed of weed. And once they find a seed, that kid is going to jail. It's sad to see. When you're out there, it's always a Black guy being arrested. The injustice is definitely there."
Of the current protests following the death of George Floyd, Goood said, "It's the only way to make an impact and a change."
"The police need to be reformed and it needs to start at the academy," he pointed out. "It starts with the education. My dad was a great cop and I'm a student of that. So, luckily for me, I was a good cop. But, at the academy, it's like any school. It's 50 men and women in a class and you can tell which ones are going to be good and which are going to bad. You're spending time with them every single day."
He also elaborated on specific ways the police academy can improve. "I wish there was a better way to speak to your supervisors and voice concerns—to say this man or this woman said or did something that was concerning to me. I saw something weird that I don't feel comfortable with," he explained. "I had that experience where I tried to say I thought someone really should not be a cop. But, a year later, he gets out and tackles an old Black lady and breaks her hip. So, I think it starts there. There's no weeding out process. The process of being hired is too simple, it's really too simple. And there's not much you can do once a cop has a gun and badge except file a civil complaint. I feel like the major issues truly stem from the academy."
He also addressed the issue of profiling. "They need to teach how not to profile," he told E! News. "Any police officer who says they don't profile is lying. Your job is to use your eyes and see what's going on and a lot of time, you're being taught to profile. You're being taught that crime looks a certain way. There's no equality. They teach use of force and deadly use of force procedures. But, they don't teach you how not to profile."
However, it's not just in policing that Goood sees avenues for improvement and awareness. "You see a lot of artists, from YG to Lady Gaga, standing up and addressing issues of police brutality and injustice, helping people become aware that Black lives matter. I wish the bigger labels who house a lot of artists would do more to educate on the history of music," he said. "A lot of the things we see in the culture of America came from the Black and Brown people. The music and entertainment industries should be at the forefront of making change since it's one of the biggest sectors to capitalize on Black people."
Kevin Mazur/Getty Images for Park MGM Las Vegas
Now, in a time of nationwide activism with stars making multi-figure donations, the musician shared how celebrities can make a difference beyond their wallets. 
"You see a lot [of] donations to these major organizations and that's amazing, but also look on a smaller level at the people who you can touch in your daily life and who you can impact firsthand by supporting Black-owned businesses, for example," he explained. "Using your platform to educate people on the history of injustice that's been going on for the past 400 years from the great slave trade to the Trail of Tears when the indigenous people were displaced from their land and put on the reservations. If you are in a position of power, do your best to make sure that everyone around you has that same and equal chance to succeed."
As for Goood, who has released a new song, "Feel It," he's carrying on the same goal he had as a police officer: to help. 
"Being a police officer, my goal was to always help and be a man of service. Being a musician, as an artist and an entertainer, you want to use your platform to make change," he told E! News. "For both, you want to use your net—no matter how small or wide it is—to help as many people as you can. It's the same mindset. Policing is actually a beautiful job if you're a good cop."