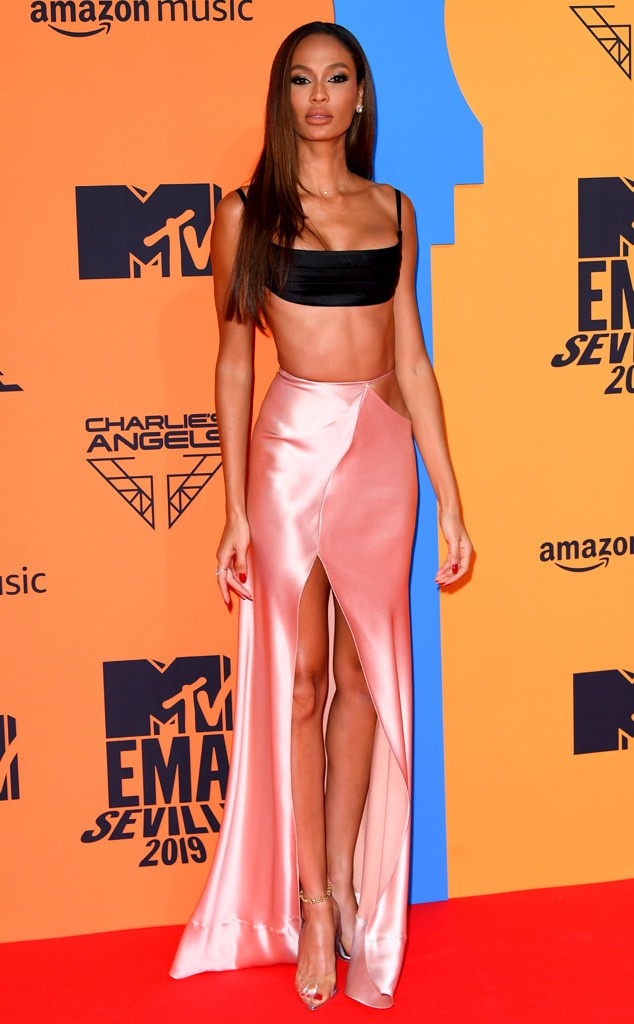 David Fisher/Shutterstock
Amid the Black Lives Matter movement, Joan Smalls is using her voice to call out the silence of the fashion industry. 
In a message from the supermodel, Smalls, who has been modeling for more than a decade, aired her grievances with an industry she has long worked in.
"Much to my amazement, a good amount of this industry, which I am a part of, has not spoken up to show their solidarity for equal rights and equal treatment for all, specifically the Black community," began her remarks, published by Harper's Bazaar. "This encompasses the whole gamut of the fashion industry, from agencies to magazines to brands. An industry that profits from our Black and Brown bodies, our culture for constant inspiration, our music (that continues to glorify these brands), and our images for their visuals has tiptoed around the issue at hand. You are part of the cycle that perpetuates these conscious behaviors."
"I want to share a little insight into this world of complicity," her statement continued. "Many of you who claim to be all about 'diversity and inclusivity' jumped on a bandwagon, because social media held you accountable for your lack of acknowledgment of us, and you hid behind your aesthetic of creativity or so-called beauty. Sadly, you fall short trying to narrate our stories by toning us down or having them curated by people who haven't lived our experiences or walked a day in our shoes. It's time to be an active participant in this conversation. It is time to be considerate of giving us a seat at the table, because we are unique, we are talented, and we are worthy."
Smalls went on to question the authenticity of brands' efforts. "But was it sincere, or were you forced to make changes to please and placate your consumers?" she asked. 
On the subject of her own experiences, the longtime catwalk pro recalled being told to "control" her hair and having to share campaigns while others starred solo. "It was a constant battle no one saw, but one that I lived daily," Smalls continued. "I kept my head held high, because I was blessed enough to have parents who empowered and encouraged me. I don't need validation from an industry that casts me as the token Black girl while ignoring my whole cultural identity as a proud Latina as well."
"What I do need is recognition of the systemic issues—the issues that arise from top to bottom within the industry, from photographers not wanting to shoot me because there was no need to shoot a Black girl to the magazines, brands, and agencies who continue to work with people of that mindset," she continued. "Just like stylists and casting directors not willing to treat us fairly and give us a chance, yet you, the industry, continue to employ them. You feed the beast. The beast of racism and exclusivity."
Watch:
Anna Wintour Apologizes for "Intolerant" Mistakes at "Vogue"
While she applauded those who fought for her, Smalls called out the brands who have apologized and promised to "do better." 
"My reply to you is: This is your chance! The moment when you speak up and demonstrate that you care. If you genuinely care, then show it!" she urged. "Your silence is not only insulting, it is a part of the bigger problem within this industry. I've seen many people who miraculously developed empathy, yet when they are behind closed doors, they are a part of the group holding us back. We see you! Do you see us now?"
As the star completed her message, Smalls also declared that she will be donating half of her income for the remainder of the year to organizations in support of the Black Lives Matter movement and said she will encourage brands to also give back, as well as establish policies "to further racial inclusivity" within their companies. In her message, she also said she will be putting together a list of creatives and people of color in the industry "who can help diversity all brands."
"Behind these brands are individuals, individuals who should have humility," her message concluded. "I urge you to use your voice and your infrastructure to help us. I urge all of you to stand with us. Together we are stronger."
Smalls read similar remarks aloud in a video posted to Instagram, noting in the caption, "This industry that I love has profited from us but has never considered us equal. This. Stops. Now. It's time for the fashion industry to stand up and show their solidarity."