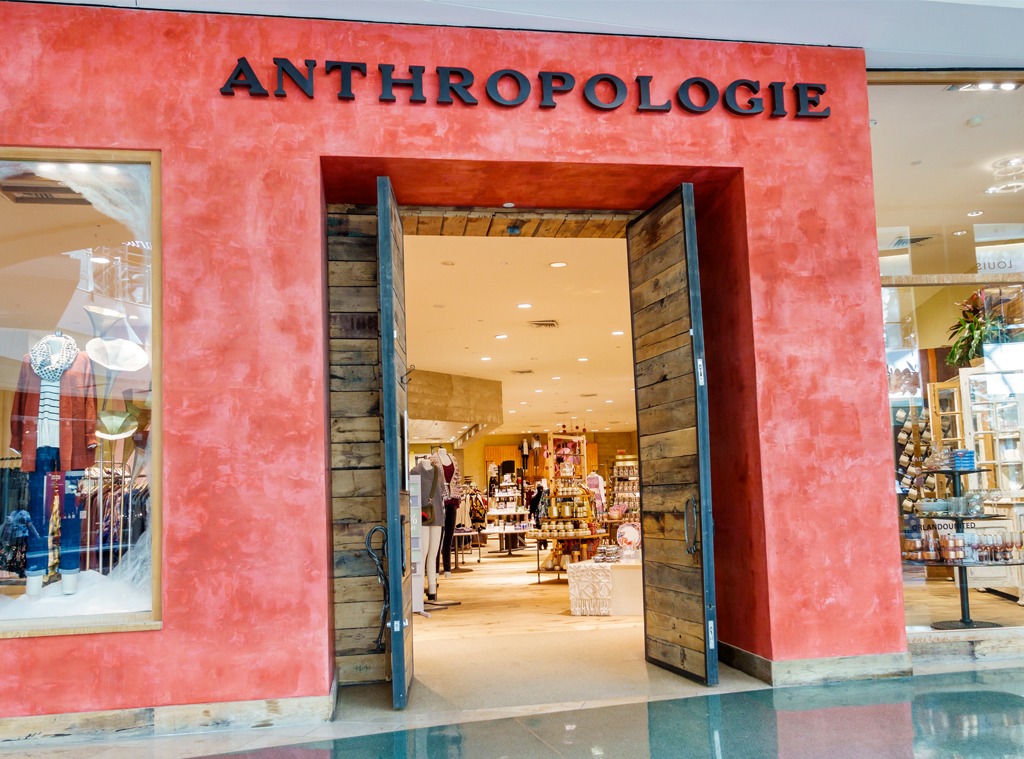 Jeffrey Greenberg/Universal Images Group via Getty Images
Anthropologie is addressing allegations of racial profiling brought forth by social media users who say they've worked for the company or shopped at its stores.
After Diet Prada published the accusations, the retailer took to Instagram to issue a response.
"You may have seen that we have been challenged to be more transparent, unbiased and fair in our stores and with our business practices," Anthropologie wrote in a statement. "We want to clearly lay out our longstanding policies regarding these matters."  
The fashion watchdog Instagram account called out the organization on Wednesday and addressed a number of posts Anthropologie had shared on social media over this past month.
"Another day, another boho Karen retailer showing their true shades of beige," the account wrote.
Diet Prada drew attention to a post Anthropologie shared on June 1, which featured a quote from Maya Angelou in "splashy colors as a 'call for equality.'" The quote read, "We all should know that diversity makes for a rich tapestry, and we must understand that all the threads of the tapestry are equal in value no matter what their color."
Diet Prada noted that, "with any mention of the #BlackLivesMatter movement absent, Angelou's words could be interpreted more along the lines of 'All lives matter' lest Anthro offend their primary target audience." 
It also wrote that commenters were accusing Anthropologie of  "deep discriminatory practices." The account wrote this included use of the "the code name 'Nick' to refer to Black shoppers" and watching Black shoppers.
One follower, for instance, wrote, "When I worked for the company, every Black customer was considered a 'Nick' so this is pointless."
Another commenter added, "I just finished working with the company. As a Black woman, I would come home to my fiancé crying because I was told to 'watch' any Black men or woman coming into my store 'Niki/Nicks.' I had 2 other Black women working with me…2 out of the 3 of us no longer work there because of how they treated us, THE EMPLOYEES. They would only point out things we did and not any of my fellow employees. I've worked in Sarasota, Jacksonville and Boston and it's all the same. When will that stop?" 
Customers recalled being watched at Anthropologie, as well.
"Better practices in your stores can be a great start," one commenter added. "I've been followed in your stores before. The last straw was 4/4/2019—that was my birthday. I couldn't reconcile giving my money to an employee who never greeted me yet followed me on birthday. I haven't been back since. I like your clothes, candles, books and store ambiance but being followed in a store will never make it worth it. Please work on this." 
Another follower wrote, "I have been followed in your stores too. Shameful."
In its statement, Anthropologie wrote "we have never and will never have a code word based on a customer's race or ethnicity."
"Our company has a zero-tolerance policy regarding discrimination or racial profiling in any form," the company continued. "Employees who do not adhere to this policy are subject to disciplinary action which may include termination."
Diet Prada also drew attention to the black square Anthropologie posted on Blackout Tuesday. The company had written it was "listening" and "learning" and announced it had closed its stores that day "in support of our community."
Just a few days later it shared several "promises to our community," including standing behind more Black communities and organizations, committing to diversify its workforce and continuing to educate its teams "in pursuit of a culture that better values and respects this diversity."
However, Diet Prada continued to call out the organization. 
"At the same time, more hypocrisy was taking place at the corporate level," the Instagram account continued in its post. "While the retailer was posting about committing to diversifying their workforce, they were at the same time asking POC for free labor."
It then posted about accusations shared by Lydia Okello, who runs the account @styleisstyle.
"On May 26th, I was contacted by a producer at @anthropologie to take part in a Pride campaign. I responded with my rates for the campaign requirements. The response was that there was no budget, but that the producer would be happy to email to discuss rates," Okello wrote in a separate Instagram post. "The email was a longer pitch, including a request for an advertisement on my Instagram page and 3-5 images for them to use wherever they would like. With no budget." 
Okello also shared screenshots of the conversation with the producer, "including a 'nudge'" in their "DMs this week to respond to the email requests for free labor."⠀
"Throughout the interaction, I stated my price and was met with no compensation," Okello continued. "'No Budget' means that I was approached with no intent to ever be paid for my time and labor, let alone my experiences as a Black queer person. Only after many messages/emails was there acknowledgement that I should be compensated. Even in that response, there was gaslighting. I stated my fees from the very first message."
Okello then wrote "this happens to Black creatives constantly, especially in the fashion industry."
"We are made to feel that we ask for too much when we bring up fair compensation for labor," Okello continued. "It is implied that we should be happy with what we get. Shouldn't we just be happy that a big brand wants to work with someone like us? I've been 'paid' in exposure numerous times in the last 12 years as a style blogger. Which I now refuse to do. But, in this case, it is quite confounding that a multimillion-dollar company would reach out to someone with 'no budget.' Especially when it involves the Queer Black Voices™️ it would like to align itself with, and use in advertisements. Seems timely, no?"
In addition, Okello called "to hold brands accountable to their lip service." 
"In fact, with BLM being a 'hot topic' to a lot of corporations, this is going to happen FREQUENTLY," Okello wrote. "Folks will want to capitalize on Black bodies & Black labor for the lowest price possible, as they have for several hundred years."
Okello then addressed the post Anthropologie shared outlining its "promises to our community."
"When Anthropologie says 'Black lives do matter' what does that mean?" Okello wrote. "When they plan to diversify their workforce, is it this free Black labor?" 
Anthropologie also wrote about its work with influencers and outside parties in its statement.
"In our business practices with outside parties, we compensate all partners with whom we contract services," it wrote. "In the case of influencers, our methods of compensation include product, financial payment or a combination of both."
In addition, it stated "we support and stand with the Black community."
"We are listening, learning and reflecting on how we, as a brand, can improve diversity and combat racism," Anthropologie stated. "We are committed to doing better—and to being better."
E! News has reached out to Anthropologie for comment but has not received a response.