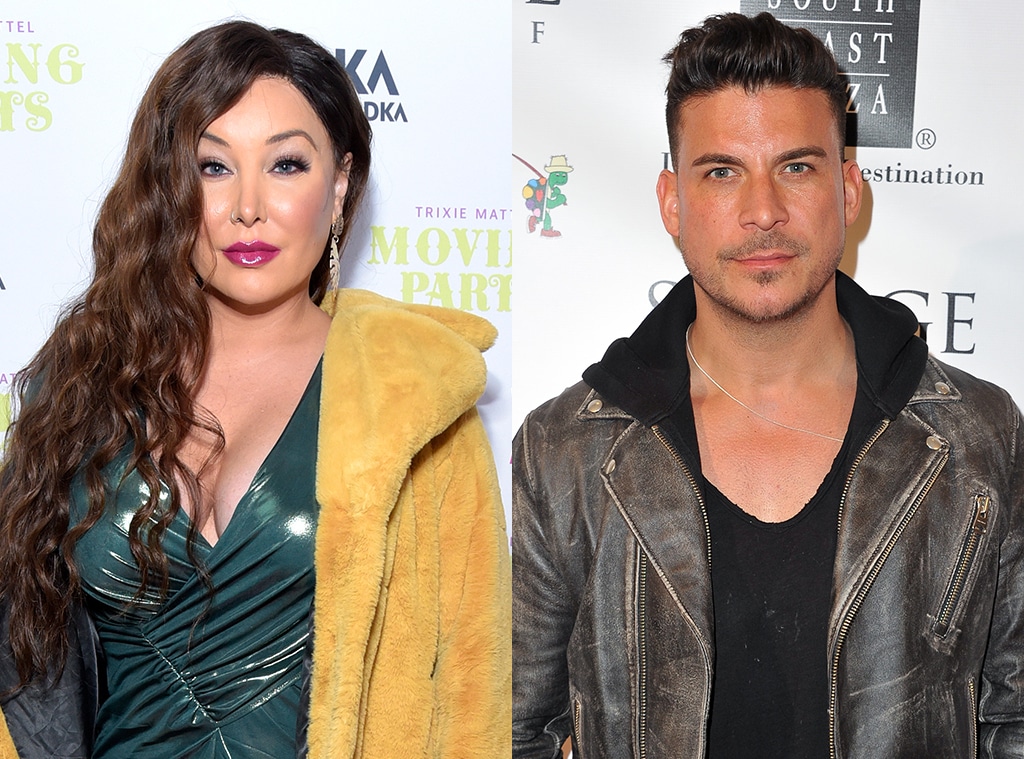 Michael Tullberg/Getty Images, Allen Berezovsky/Getty Images
After Stassi Schroeder and Kristen Doute were fired from Vanderpump Rules, Billie Lee took to Twitter to call for Jax Taylor to be let go, as well.
"@BravoTV, what about Jax Taylor? He refused to film with me because I was trans and called him out on his white cis privilege," she tweeted on Tuesday. "Stop celebrating his disgusting actions. #CancelJaxTaylor."
Scenes featuring both Lee and Taylor have aired on the show.
This wasn't the first time the former SUR hostess had spoken out about a cast member. In a 2019 blog post, Lee wrote some of her coworkers "were threatened by my differences" and were "going out of their way to exclude me." She also claimed there was an unnamed person who was "demanding I be fired from the show because he didn't feel comfortable working with me." 
"His exact words were, 'I'm not gonna lose all I have worked hard for for something stupid I may say or do to offend her. Are we all supposed to tip toe around her because she's trans?'" she wrote. "Like most men during the #MeToo movement he was so afraid of saying the wrong thing that he just wanted me gone."
E! News reached out to Taylor and Bravo for comments but did not receive any.
The network announced on Tuesday that Schroeder and Doute—along with Max Boyens and Brett Caprioni—"will not be returning to Vanderpump Rules." The news came a few days after Faith Stowers, who also previously appeared on the show, spoke out on Instagram Live and detailed her experience of being the only Black person on the program. At one point during the discussion, Stowers said Schroeder and Doute called the cops on her.
"There was an article out where there was this African American lady," she told Candace Renee Rice. "It was like a weird photo, so she looked very, very light-skinned and had these different, like, weird tattoos or whatever. They showcased her, and I guess this woman was, like, robbing people and stealing, like, gold bars. The woman was at large. She was drugging 'em. She was on a mission. And they called the cops and said it was me. Yes. And this is, true story, I heard this from actually Stassi during an interview."
According to Reality Tea, Schroeder discussed the call during an April 2018 interview on The Bitch Bible podcast. The episode has since been taken down. Per the outlet, Doute also tweeted a link to a report about the unidentified woman.
"Hey tweeties, doesn't this ex #pumprules thief look familiar?" she reportedly wrote in the since-deleted tweet, then adding, "Someone put her on MTV & gave her a platform for press. I didn't wanna go there but I'm going there."
"It was just funny because they thought it was me because it was a Black woman with a weave," Stowers continued. "So, they just assumed it would be me, and they called the cops on me. And it didn't work. So they were upset about that."
Shortly after Stowers appeared on the podcast, Doute issued an apology on social media. 
"I have been taking some time to really process what I've been seeing, feeling and learning. And I need to address something specifically that happened a few years ago with my former castmate, Faith Stowers,"  she wrote in a statement on Instagram. "Although, my actions were not racially-driven, I am now completely aware of how my privilege blinded me from the reality of law enforcement's treatment of the Black community, and how dangerous my actions could have been to her. It was never my intention to add to the injustice and imbalance. I'm ashamed, embarrassed, and incredibly sorry. I will do better. I have to do better." 
Schroeder did the same.
"Racially insensitive comments from my past have resurfaced," she began. "It is important that I continue to take accountability for what I have said and done, while pushing myself to do better. I have grown significantly from the person I was then, and I am still filled with remorse and regret for the hurt I caused. I am grateful for the people in my life that continue to check me and push me to evolve into a more educated person."
Addressing Stowers, she added, "My emotions over something that happened between our friends outweighed my logic, and there is no excuse for that. I did not recognize then the serious ramifications that could have transpired because of my actions."
At the end, she acknowledged that what she "did to Faith was wrong." 
"I apologize and I do not expect forgiveness," she continued. "I am also sorry to anyone else that feels disappointed in me. I am going to continue to look closer at myself and my actions—to take the time to listen, to learn, and to take accountability for my own privilege."
Boyens and Caprioni, who came under fire after offensive tweets resurfaced, have also issued apologies.
Watch:
Stassi Schroeder & Kristen Doute Fired From "Vanderpump Rules"
After news of Schroeder's and Doute's firings broke, Stowers reacted to the news. As she told E! News, "I feel so vindicated studios and production are able to see blatant racism and make these positive changes and help move the race forward—help with the fight forward."
(E! and Bravo are both part of NBCUniversal).