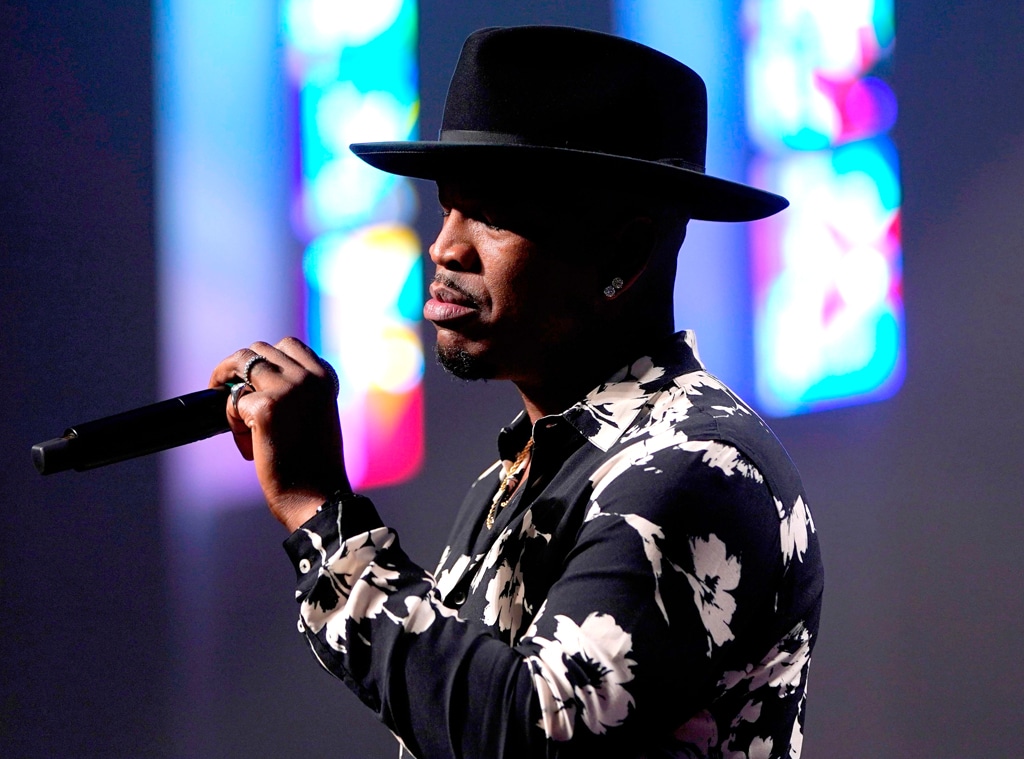 David J. Phillip / POOL / AFP/Getty Images
Ne-Yo attended a funeral service for George Floyd at the Fountain of Grace Church in Houston, Texas on Tuesday. There, the 40-year-old artist performed a rendition of Boyz II Men's "It's So Hard to Say Goodbye to Yesterday" in Floyd's honor.
At a few points, Ne-Yo appeared to hold back tears and briefly paused. However, mourners cheered him on and encouraged him to finish the song.
"God Bless," the three-time Grammy winner said after the tribute.
Ne-Yo also shared a few words before the performance. He sent "much love and strength" to Floyd's family, as well as to "anybody that's been lost."
"Fifty states are protesting at the same time," he said at one point. "This man changed the world, changed the world for better."
Ne-Yo also said he wanted to "personally thank George Floyd for his sacrifice" so that his kids can be all right later on. "I appreciate the sacrifice, my brother," he added. "I genuinely do."
Ne-Yo wasn't the only celebrity in attendance. Jamie Foxx, Channing Tatum, Kim Burrell, J.J. Watt, Dray Tate, Floyd Mayweather, Kathy Taylor and more stars were there, as well. Former Vice President Joe Biden and U.S. Rep Sheila Jackson Lee also shared a few words, and many of Floyd's family members spoke. The Rev. Al Sharpton delivered the eulogy.
Memorial services for Floyd were also held in Minnesota and North Carolina last week, and a viewing of his body was held in Houston yesterday.
Floyd died after a Minneapolis police officer, Derek Chauvin, pinned him to the ground by kneeling on his neck for eight minutes and 46 seconds during an arrest. Chauvin was fired from the police department and arrested. He is facing charges of second-degree murder, third-degree murder and second-degree manslaughter. Chauvin appeared in court via video conference on Monday but did not enter a plea. Per NBC News, Judge Jeannice Reding set bail at $1.25 million with no preconditions or at $1 million with conditions."
Three other officers involved in the arrest—J. Alexander Kueng, Thomas Lane and Tou Thao—were also fired and arrested. They are facing charges of aiding and abetting second-degree murder and second-degree manslaughter. 
"Thomas Lane and J.A. Kueng held Mr. Floyd by the legs and hips to further restrict movement," a press release from the office of Minnesota Attorney General Keith Ellison stated. "Tou Thao stood guard to prevent members of the public, who gathered nearby to witness the police action, from intervening to aid Mr. Floyd."
Kueng, Lane and Thao appeared in court last week but did not enter any pleas. NBC News reported they were ordered to be held on "an unconditional bail of $1 million compounded with $750,000 of conditional bail."
The former officers are all still in custody.