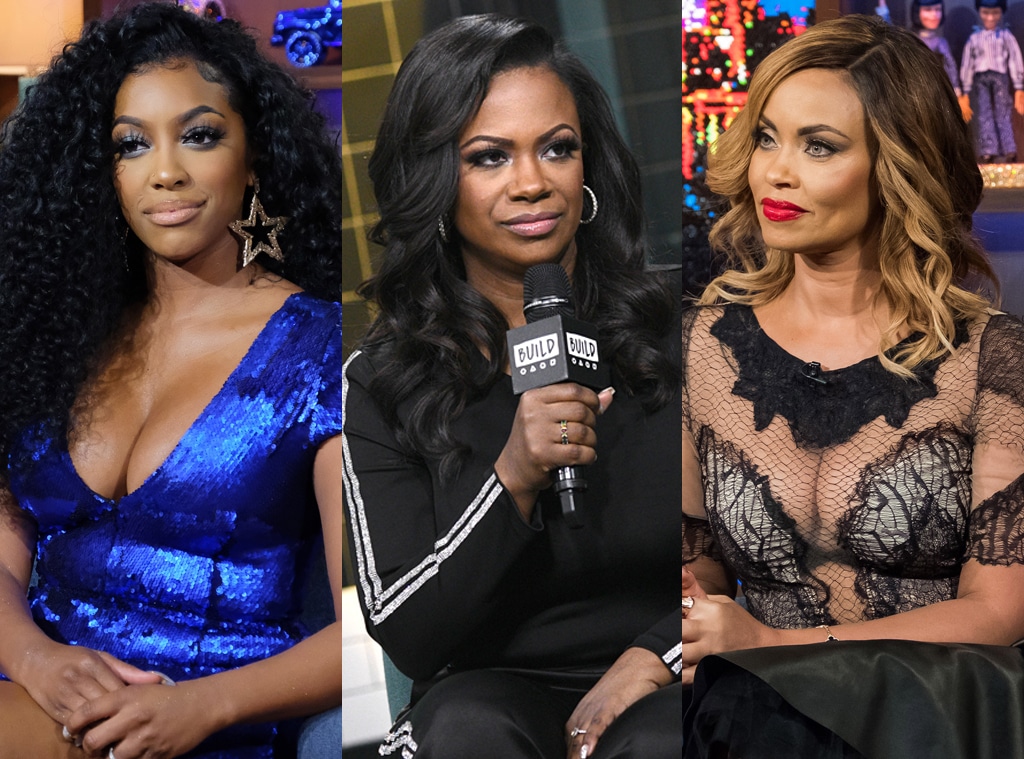 Gary Gershoff/Getty Images / Charles Sykes/Bravo/NBCU Photo Bank via Getty Images
A candid conversation.
On Monday, Daily Pop co-host Justin Sylvester appeared on Bravo's Instagram Live to host an open dialogue about being black in the United States. The E! personality was joined by The Real Housewives of Atlanta stars Kandi Burruss and Porsha Williams, as well as The Real Housewives of Potomac star Gizelle Bryant.
In individual live segments with the Bravolebrities, Justin covered a range of topics from experiences with racism to thoughts on the upcoming election to the ongoing Black Lives Matter protests.
"I want to thank you for coming. This is an open dialogue about what's happening right now in America and without you guys, the people who are willing to listen, change does not happen," Justin said during the live stream. "I know this is an uncomfortable conversation for a lot of people, trust me it's uncomfortable for me to have with certain people, but the uncomfortable conversations are the ones that you should be having."
For Kandi, Porsha and Gizelle's words on these topics, be sure to scroll through the quotes below.
On reactions to George Floyd's death:
Porsha: "It hit me because it was once again another black man I'm watching be killed, but it was in the way that we watched it, how long it took, how long you had to sit through his agony, his pain, all of that."
Gizelle: "Just to see George Floyd die, 'cause we all saw the video, so after seeing the video you have to have an opinion about what you saw. You can't walk away from that, I don't care what color you are, and not have an opinion. It saddened my father 'cause, here he is 60 years out from all the work he's done and still no change. Like I said, he worked with Martin Luther King [Jr.]. Martin Luther King had his 'I Have a Dream'…Clearly, that dream for us has been a nightmare."
Kandi: "I feel like even though as black people, we've been preaching and trying to get the word out for a very long time about police violence in America and the injustice and racism in America, but just now all of a sudden it seems like everybody is finally being able to hear it. I really hate what happened to George Floyd, but obviously, like Porsha said earlier, that video really just tore us all up on the inside having to watch that. It really just showed how real what we've been saying for so long, that it is a real thing, we're not just saying it. This is real."
On experiences with racism:           
Porsha: "I've definitely dealt with racism on the workplace, I've dealt with racism just in everyday life, I've dealt with it as a child. At the end of the day, we are trying to live in this black skin in the world that's telling us that we are not equal to them. So, you're going to face that in different ways, whomever you are, if you're living in black skin."
Gizelle: "To bring it a little closer to home for me, I have a 15-year-old who's in high school and then I have twins that are in the eighth grade, but when my twins were in sixth grade, Angel, one of the twins, she went to school and on her desk was the N-word."
Kandi: "If we are never there to have a say, then you will find it where it's someone of another race is always trying to do what they think works for the black community…When I say this I'm not excluding Bravo, 'cause I see people who are making comments. I, myself, have already started having conversations with our network to bring these questions up. And I know my sisters on The Real Housewives of Atlanta, we are having these conversations amongst each other, of how we can have our production company and our network support us."
On the importance of voting:
Porsha: "If you're activating and you're marching, that is amazing, but also get to those polls and be an affective voter…That's the only selfie I want to see, ok? Your selfie in line. That's it."
Gizelle: "So this year, for the state of Maryland, the primary was on June 2. So, because of COVID, they mailed us our ballots, right? And on the ballot was of course, you know, president all that, but on the back were all the judges. You gotta know who your judges are, because the judges are the people that are going to send you, being black, potentially to jail unfairly or not."
Kandi: "At the end of the day, we have to keep voting and we have to really keep voting at our local elections. Those are the elections that affect us directly…People always want to run to the polls when it's time to vote for president, we know, we know. But, as we've seen in our past presidency…I mean, I love [President Barack] Obama. I love Obama, but we know that a lot of times he couldn't get things pushed through because the House did not support him, he did not have enough votes. With that being said, a person in power is still lifted and held up by the people beneath, you know what I'm saying? So, don't think you're just gonna vote for the person on top and think you do not need to vote for all the people that are upholding things and making laws that are beneath the president. You need to vote for everyone."
Paras Griffin/Getty Images for Black Music Honors / Astrid Stawiarz/Bravo/NBCU Photo Bank via Getty Images
On the protests against police brutality:
Porsha: "We're all at home with our families and I think during that time the world's mindset was, 'Family is everything.' We all were in the mindset of loving one another, being in this together. So, it was almost a perfect storm when we saw that video of George Floyd being killed because, when we heard him call for his mother it hit us in that very soft spot of 'we care about our family.'"
Gizelle: "The protests that my kids made me go to—90 percent white. It was organized by teenagers. It was about 3,000 people there. It was amazing. And to see this organized by white, young, mostly girls gave me hope. It gave me inspiration."
Kandi: "Let's talk about how people woke up around the world, not just in the United States. I mean, to see people protesting all the way in Paris, seeing them in London, in Amsterdam, in Tokyo, more places than I can even name. But, just to see even the Amish were out protesting…at first, we're saying police violence is something that affects America. But racism, affects the world."
On how to get involved and implement change:
Porsha: "I really think everybody sees this window of opportunity, I really do believe that people want this to be changed in a real way…There's a website called SURJ, S-U-R-J, Showing Up for Racial Justice. I like to give it out because it's a website with a wealth of information about racial injustice from a white person to tell another white person…If people can look up different quality organizations who are trying to help the movement. So, you have NAACP Legal Defense Fund, Black Lives Matter, different ones just look them up and see what they're about."
Gizelle: "Some of my white friends have called me and they've apologized and they are like, 'Gizelle, what should I do?' And I have to be frank with them and tell them, 'Whatever you've been doing, do the opposite!'…But, more importantly, whatever your domain is, whatever you are over, whatever your responsibility is, like the principal, fix it. Change it. You have the ability to change whatever you are responsible for."
Kandi: "I love the fact that we have so many allies right now. So, when they ask us, once again, what can they do to help us? What can they do to rectify what has been years and years and years of racism? We have to start by making sure we are included. If you go to an executive meeting where the top people in your company are all at the table and you do not see one black person, or even if you see 20 of y'all and there's only one black person, you need to have a conversation. There is something not right."
You can find the entire conversation on Bravo's Instagram account here.
For more ways to take action and get involved, please click here.
(E! and Bravo are both part of the NBCUniversal family.)