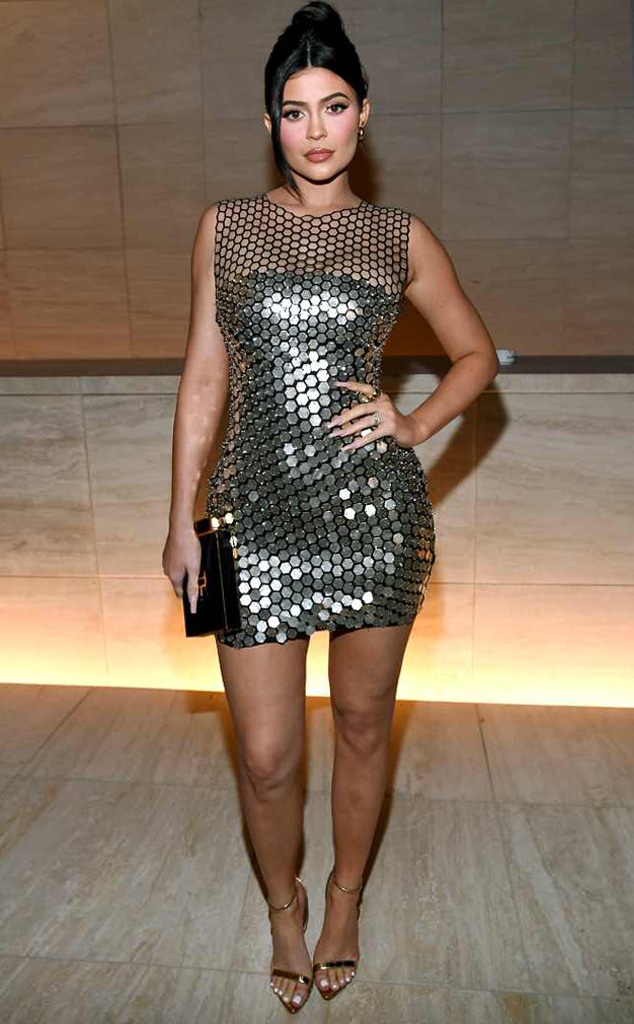 Kevin Mazur/Getty Images
Kylie Jenner's eponymous beauty brand is participating in the Pull Up or Shut Up initiative.
The Pull Up for Change Instagram account, which was created by Uoma Beauty's founder and CEO Sharon Chuter, recently called on cosmetic brands to "pull up or shut up."
"Thank you for the public statements of support for the Black community. Whereas we understand and appreciate the support, be conscious that to piggy-back off a trending hashtag when you have been and continue to be a part of the problem is once again appropriating and exploiting the Black community," a statement read on its Instagram page.
"So we ask all brands who have released a statement of support, to publicly release within the next 72 hrs the number of Black employees they have in their organizations at corporate level," the statement continued. "We also need to know the number of Black people you have in leadership roles. You all have statements and policies about being equal opportunity employers, so show us the proof! PULL UP or SHUT UP!"
Over the weekend, Kylie Cosmetics took part in the initiative and revealed its percentage of Black employees.
"@kyliecosmetics Pulled up! 13% Black representation and leadership team consists of @kyliejenner and @krisjenner," Pull Up for Change stated. "Thank you for the transparency #pulluporshutup."
The beauty brand also disclosed that its staff also consists of 100% women-identifying, 53% White and 47% BIPOC (which stands for Black, Indigenous and People of Color).
Watch:
Kylie Jenner Fears for Daughter Stormi After George Floyd's Murder
"Kylie Cosmetics is here for Pull Up for Change, for our team, and for the Black community," the brand shared on its Instagram account. "We are proud of the diversity within our company, with a team of Black, White, Asian, Native American, Hispanic and Middle Eastern women."
"As our team grows we commit to a continued focus on ethnic diversity in the workplace and the recruitment of Black employees. The numbers you see above represent the people at our Kylie Cosmetics/Kylie Skin HQ," the statement continued.
Kylie Cosmetics also thanked Pull Up for Change and its initiative for "bringing an important issue to the forefront of the conversation in our industry."
Prior to sharing its percentage of employees, Kylie Cosmetics released a statement about working towards doing more for the Black community.
"As a beauty brand built around community, we always have, and always will stand for inclusivity, and have set to empower our customers, followers and team members. Our team has signed petitions, texted, sent emails, made calls, and come together in solidarity over this last week, but these are not one time actions and this is not a momentary commitment," read a statement from the brand, which was also signed by Kylie Jenner.
"We will continue to educate ourselves and our followers on how we can come together to fight against racism and will celebrate, uplift and empower the Black community through our channels," the statement went on. "Change does not happen overnight. This is an ongoing dialogue, and we hope you all will continue to be vocal about what you want to see, not only from us, but from the beauty community, and from each other. We're in this together."
They also donated to five organizations: Youth Justice Coalition, Black Lives Matter, Campaign Zero, NAACP and Equal Justice Initiative.
In addition to Kylie Cosmetics, countless of beauty brands have joined the Pull Up or Shut Up initiative. On that list is Tarte Cosmetics, Beauty Blender, Anastasia Beverly Hills, Beauty Bakerie, Shiseido, Glossier, Mented Cosmetics, Tatcha and many others.
Read all about the brands partaking in the initiative here.