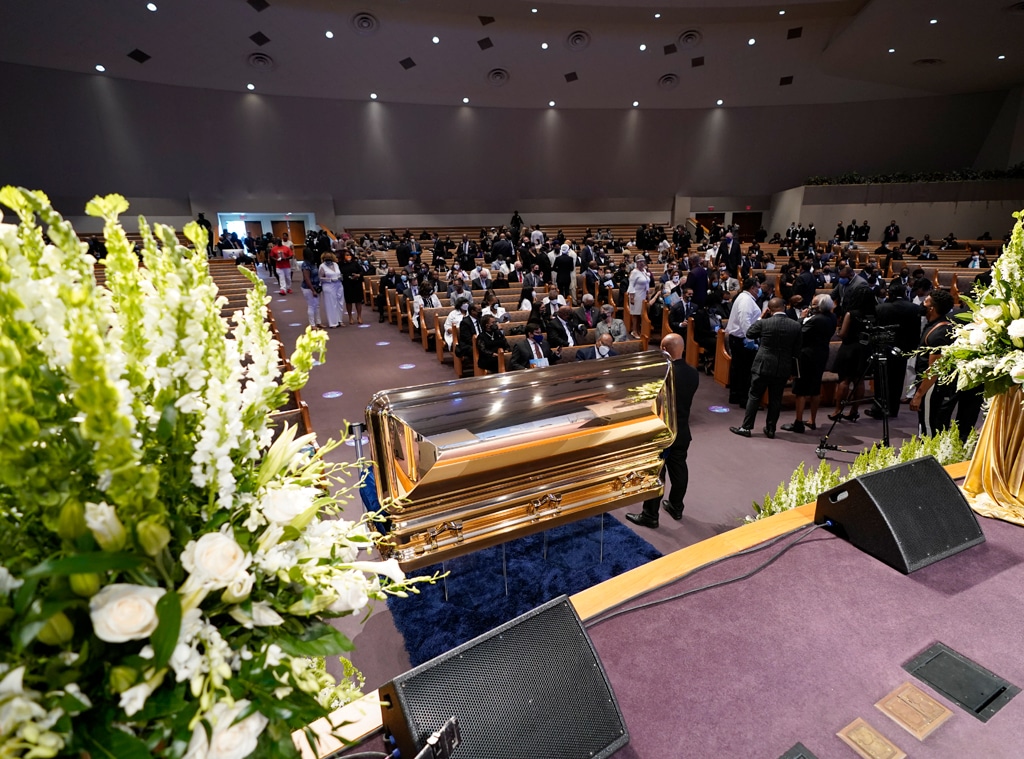 David J. Phillip-Pool/Getty Images
George Floyd has been laid to rest.
On Tuesday, a private funeral service was held for George at the Fountain of Praise Church in his hometown of Houston, Texas. He was later buried in the Houston Memorial Gardens.
At the funeral service, George's daughter, Gianna Floyd, was escorted into the church with her mother, Roxie Washington, during the "Prayer of Comfort." Pastor Kim Burell started the service with a performance of "God Will Take Care of You," featuring the Houston Ensemble. Prior to the start of the service, music echoed throughout the large church as people passed by Floyd's open casket to mourn the 46-year-old, who died at the hands of Minneapolis police officers on May 25.
Floyd Mayweather, Houston Mayor Sylvester Turner, Rev. Al Sharpton, Cal McNair, J.J. Watt, Rev. Arthur Rucker, Gusta Booker, Dr. Mary White, Dray Tate, Ange Hillz, Ivy McGregor, Jamie Foxx, Channing Tatum and Kathy Taylor were all in attendance at the funeral on Tuesday. Former Vice President Joe Biden also spoke to the George's family via video message, while Ne-Yo performed later in the service.
During his eulogy, Rev. Al Sharpton called for changes that can prevent the deaths of more citizens. 
"We are not fighting some disconnected incidents. We are fighting an institutional systemic problem that has been allowed to permeate since we were brought to these shores. We are fighting wickedness in high places," he told the packed audience. "You're trying to figure out how to stop the protests instead of figuring out how to stop the brutality."
Sharpton also implored the National Football League to re-hire Colin Kaepernick now that they've stated their support for their black players and the Black Lives Matter movement. The civil rights leader demanded, "Repay the damage you did to the career you stood down, 'cause when Colin took a knee, he took it for the families in this building. And we don't want an apology. We want him repaired."
After the ceremony, Floyd's casket was removed from the church and eventually placed in a horse-drawn carriage, NBC affiliate KPRC reported. The glass-topped carriage pulled the casket for a mile — with hundreds gathering along the procession route — until it reached its final resting place at the cemetery in Pearland, a Houston suburb.
Plans for George's burial were announced on June 2, as well as plans for memorials to take place in the three cities he resided in throughout his lifetime: Houston, Raeford and Minneapolis. 
George's burial comes one day after a viewing of his body at the Fountain of Praise Church. Three days earlier, George's life was celebrated during a public memorial service in North Carolina, where he was born. Grievers and peaceful protesters gathered outside of the Cape Fear Conference B building to pay their respects.
Derek Chauvin, the Minneapolis police officer who was videotaped kneeling on George's neck, has since been fired and arrested. He is now being charged with second-degree murder after originally facing charges of third-degree murder and second-degree manslaughter.
J.A. Kueng, Thomas Lane and Tou Thao, the three officers who witnessed the incident without intervening, have also been fired and arrested. They now each face two felony charges: Aiding and Abetting Second Degree Murder and Aiding and Abetting Second Degree Manslaughter.
In recent weeks, George's death has sparked nationwide protests calling for racial justice.
On June 1, he was honored with a prayer vigil at the site of his death. His brother Terrence Floyd led the ceremony, addressing the crowd with a moving speech in his brother's honor, urging them to continue protesting in a peaceful manner.
"My family is a peaceful family," he said. "My family is God-fearing. Yeah, we upset. But we're not gonna take it; we're not gonna be repetitious. In every case of police brutality, the same thing has been happening: Y'all protest, y'all destroy stuff and they don't move. You know why they don't move? It's not their stuff. It's our stuff. So, they want us to destroy our stuff. We're not gonna move. So, let's do this another way. Let's do this another way."  
Speaking of his brother's legacy, Terrence continued, "My brother moved here from Houston and I used to talk to him on the phone. He loved it here. He started driving trucks. He was good. So, I highly doubt—no, I know, he would not want y'all to be doing this." He later added, "On my behalf of the Floyd family, thank you. Thank you for the love. Thank you for the flowers. Thank you for the beautiful memorials. Thank you."
"E! stands in solidarity with the black community against systemic racism and oppression experienced every day in America," the network said in a statement on May 31. "We owe it to our black staff, talent, production partners and viewers to demand change and accountability. To be silent is to be complicit. #BlackLivesMatter."