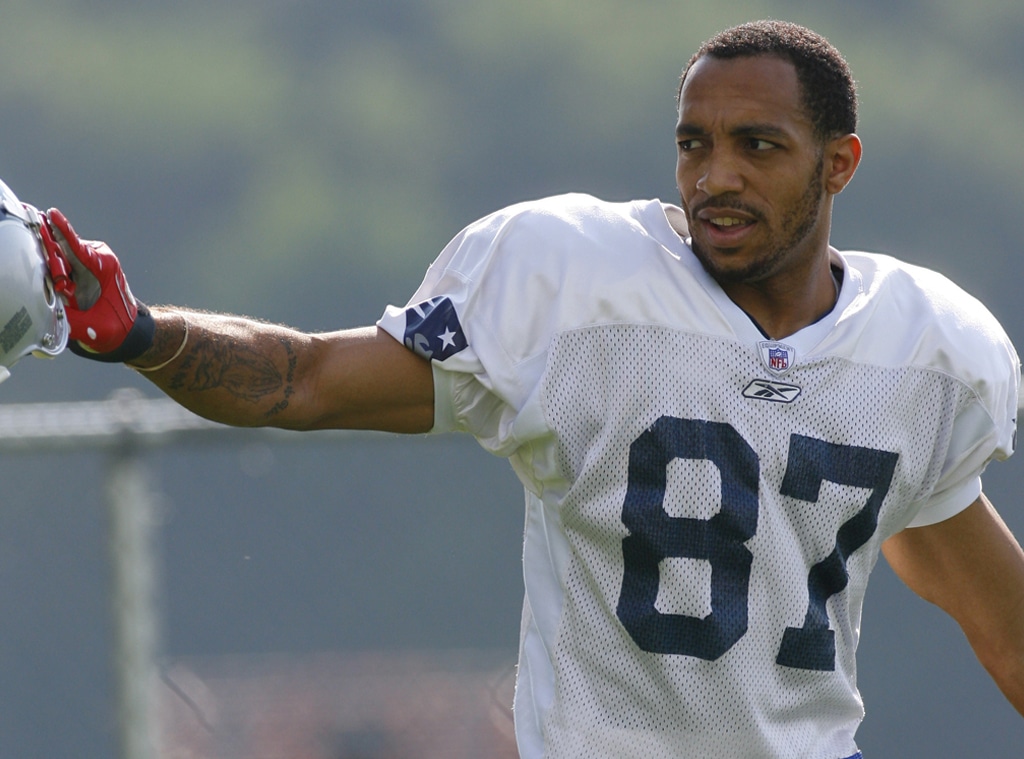 Jim Rogash/Getty Images
Fans are mourning the death of Donald "Reche" Caldwell.
The football star died at the age of 41 over the weekend.
His mother, Deborah, told WFLA the former NFL player died after an "ambush" at his home in Tampa, Fla. She said Caldwell was shot in the leg and chest while he was heading out for a date with his girlfriend.
"He was a good person who smiled all of the time," she also told TMZ. "He tried to help everyone he could. He was the type of guy who would take his shirt off his back and give it to you." 
While Tampa police would not confirm Caldwell's death to NBC News, they did confirm they were investigating a homicide in which a victim was shot and killed on Saturday. According to the police, officers found an adult male victim of a gunshot wound in the front yard of a residence upon their arrival at the scene. They then began performing life-saving measures. After the Tampa Fire Rescue arrived, they transported the victim to a nearby hospital, where he was pronounced dead.
E! News has also reached out to police but has not received a response.
Caldwell's former team, the New England Patriots, expressed condolences after news of his death broke. 
"We are deeply saddened to learn of the death of former Patriot Reche Caldwell," the organization tweeted. "Our thoughts and prayers are with his family and friends."
The Los Angeles Chargers did, as well.
"We are deeply saddened by the tragic loss of former Charger Reche Caldwell," the team wrote on Twitter. "Our thoughts and prayers go out to Reche's family, friends and teammates during this difficult time."
In addition, several athletes, including Tom Brady and Benjamin Watson, paid tribute on social media.
"Always kept us laughing and lighthearted," Watson wrote. "Always had the biggest smile. Always had the greatest stories. Sad to hear about the passing of my teammate Reche Caldwell. May the Lord comfort his family during this time."
After playing for the University of Florida, Caldwell was drafted by the San Diego Chargers in 2002. He then signed with the New England Patriots in 2006 and was released in 2007. He went on to play for the Washington Redskins and then spent some time with the St. Louis Rams.
"We mourn the passing of six-year NFL veteran WR Reche Caldwell," the NFL tweeted. "Rest in peace."
Watch:
In Memoriam: Fallen Stars of 2020
According to ESPN, Caldwell was arrested for drug possession with intent to sell in 2014 and was sentenced to 27 months in prison and three years probation.
"I'm not gonna blame football or concussions like everybody else for my mistakes," he told the sports outlet in 2016. "I don't blame my education or my hometown or my family. I have a great family. I had a great childhood. I grew up in a great place. This is about losing my way, being around bad people and making bad choices, and that's all on me."
ESPN also reported Caldwell pleaded guilty to one charge of conspiracy to commit health care fraud along with other NFL players this year. Per the report, he was set to be sentenced this month.