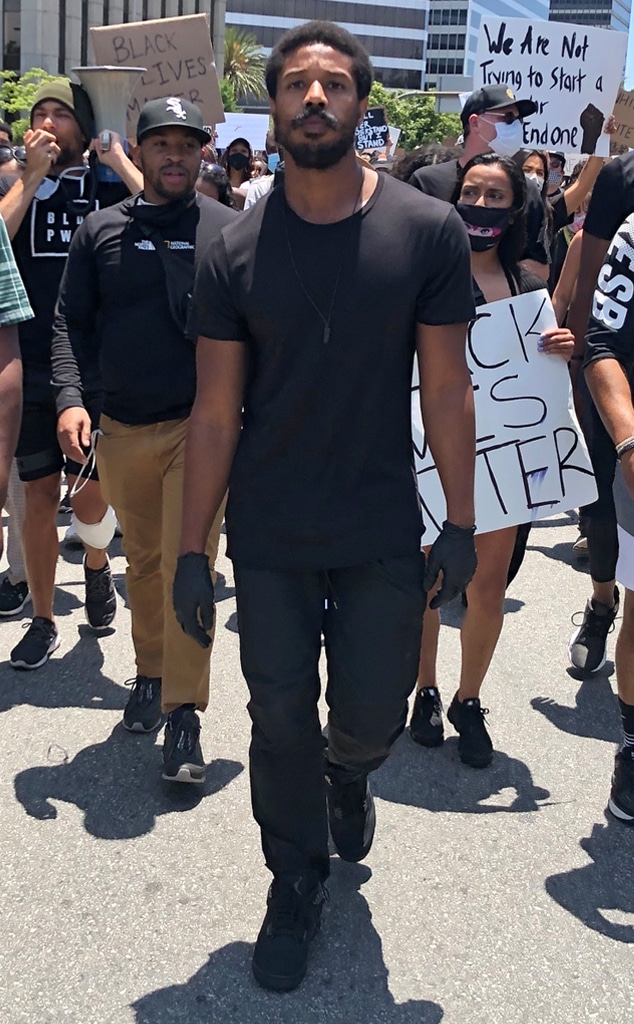 Dsanchez/CPR / BACKGRID
Michael B. Jordan called for Hollywood studios to "invest in Black staff" during a protest in Los Angeles, Calif. earlier today. 
On Saturday, the Black Panther actor addressed a crowd during a protest against police brutality in response to the death of George Floyd, a Minnesota man who was killed by the Minneapolis Police Department in May. The Creed actor took the microphone to reflect on past film roles he's played that have touched on themes of racial injustice and inequality as well as changes he hopes to see in the industry. 
The actor recalled his 2013 starring role as Oscar Grant in the biographical Fruitvale Station and what it taught Jordan about the "pain" Grant's family felt when he was killed on New Year's Day in 2009 by a BART Police Officer in Oakland, Calif. According to The Hollywood Reporter, the actor said he "lived with that for a very long time and it weighs on me."
The 33-year-old California native also called on studios and talent agencies in Hollywood to strive to hire more Black staff. 
"A great agent doesn't have to be a great organizer," he said, per THR, "but a great agent could advocate for relationships with organizers."
"What we are doing today will make our values heard and our voices heard," Jordan said at another point during the protest. "What we are doing today will make our values heard and our voices heard. We've got to keep agitating things. We can't be complacent. We can't let this moment just pass us by, we have to continue to put our foot on their necks." 
The police officer who was videotaped kneeling on Floyd's neck, Derek Chauvin, has since been fired and arrested. He has been charged with second-degree murder, following an upgrade from his original charges of third-degree murder and second-degree manslaughter. 
Additionally, the three officers who witnessed the death of Floyd without intervening—J.A. Kueng, Thomas Lane and Tou Thao—have also been fired and arrested. 
Jordan joins a list of other celebrities including Ariana Grande, Jamie Foxx, Halsey and Anthony Anderson that have taken to the streets to protest in support of the Black Lives Matter movement and to demand justice for Floyd. 
According to an Instagram video posted by @BlackLove, the actor also expressed during today's protest that "if you have racist beliefs, if you have a racist bone in your body, if you're not with me, if you don't stand with me and people that look like me, you don't need to be with me. I use my power to demand diversity but it's time that studios and agencies... do so."
On Saturday, a public memorial was held in North Carolina for Floyd. 
Floyd, who died at 46-years-old, will be laid to rest on Tuesday, June 9, in Houston, following a viewing on Monday at the Fountain of Grace Church.