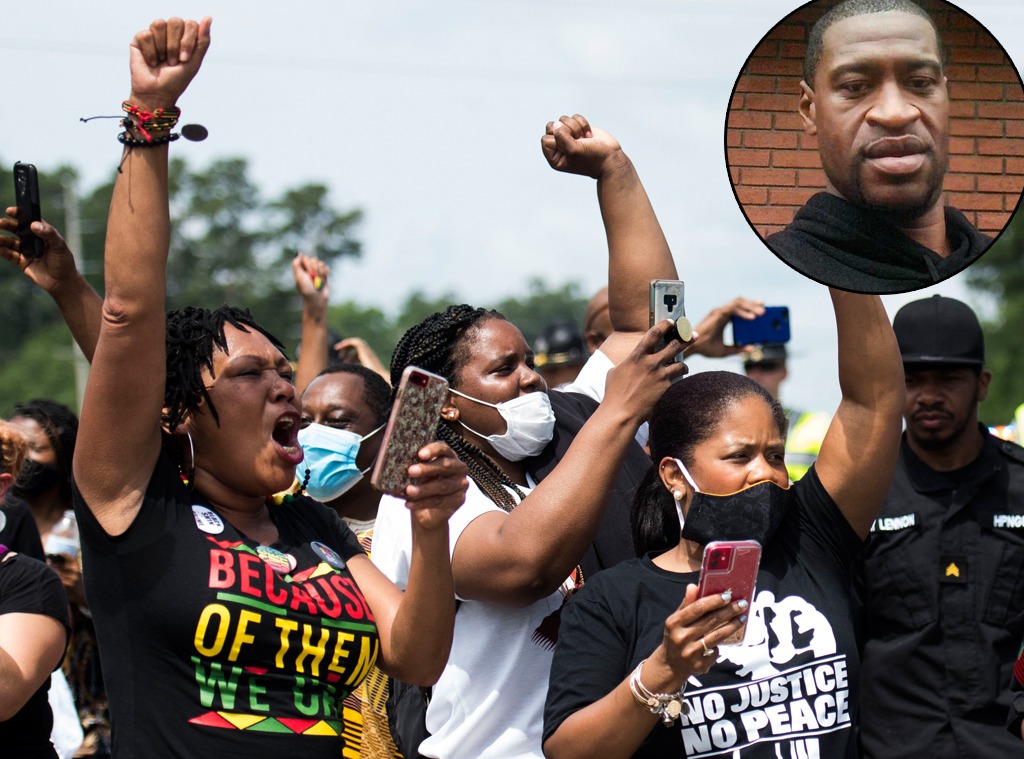 Melissa Sue Gerrits/Getty Images
Large crowds of mourners came out today to pay respect to George Floyd, who lost his life at the hands of the Minneapolis Police Department, sparking nationwide protest.
A two-hour public viewing was held in Raeford, about 25 miles outside of Fayetteville — where the 46-year-old man was born. For a period, Floyd also lived in Houston, Texas before making his way to Minnesota.
Grievers and peaceful protesters lined the road outside the Cape Fear Conference B building, where inside the church Floyd's casket was placed in the center of the of the lobby. Mourners were allowed inside in groups of 10 and asked to wear a mask, amid the coronavirus pandemic.
According to The Fayetteville Observer, the peaceful crowds cheered as men arrived on horses, and upon the arrival of a motorcade by a local motorcycle club, all in honor of Floyd.
In a live stream of the second private memorial service from NBC News, a choir sang the popular gospel song, "I Shall Wear a Crown," as masked mourners danced and sang in celebration of Floyd's life.
Earlier this week, the Hoke County Sheriff's department issued a statement on the service, asking those in attendance to "be respectful to the sensitivity of the family's time of grief," adding that the service "is about the life that Mr. George Floyd lived and this is a time to embrace the family with expressions of love and kindness."
Floyd's sister, Bridgett Floyd, is a resident of Hoke County, according to Raleigh news station WRAL.
Floyd will be laid to rest on Tuesday, June 9, in Houston, following a viewing of his body on Monday at the Fountain of Grace Church.
Derek Chauvin, the Minneapolis police officer who was videotaped kneeling on Floyd's neck, has since been fired and arrested. He is being charged with second-degree murder, following an upgrade from his original charges of third-degree murder and second-degree manslaughter. The three officers who witnessed the incident without intervening — J.A. Kueng, Thomas Lane and Tou Thao — have also been fired and arrested.
According to court records from the state of Minnesota, the former officers are each facing two felony charges: Aiding and Abetting Second Degree Murder and Aiding and Abetting Second Degree Manslaughter.