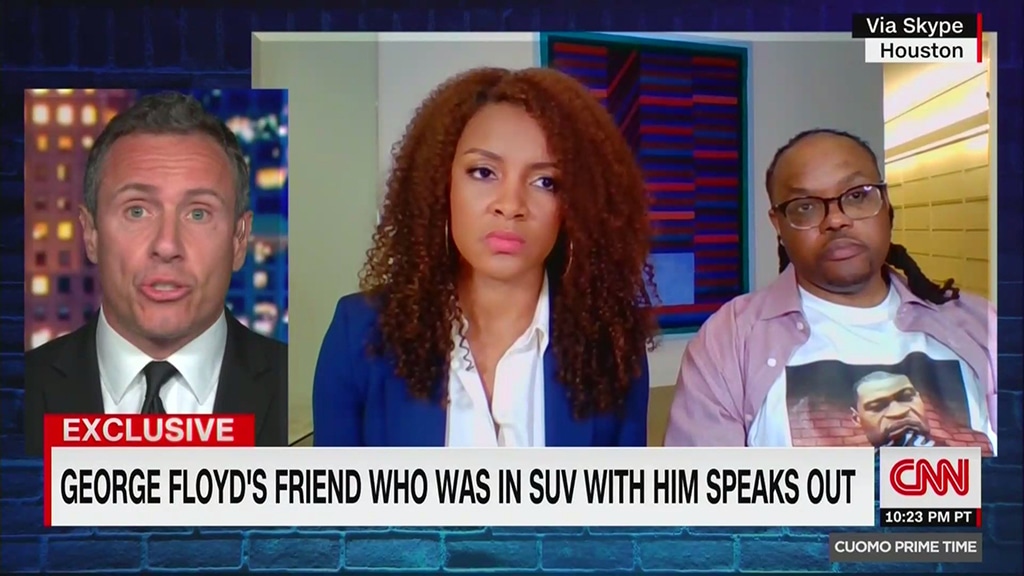 CNN
Chris Cuomo interviewed George Floyd's friend Maurice Lester Hall on Thursday's episode of Cuomo Prime Time. 
The CNN anchor told viewers Hall was with Floyd and sitting in the passenger seat of the SUV approached by police in Minneapolis on May 25. "He knows exactly what happened in those last minutes of Floyd's life because he was there," Cuomo said.
Joined by his attorney, Ashlee McFarlane, Hall said he and Floyd were approached by two police officers. He said one officer asked him for I.D. While he was with this officer, Hall heard a "loud distraction of a sound" coming from the driver's side of the car. He told Cuomo it sounded like the other officer was "trying to break the window of Floyd's side" of the car.
"I remember hearing a loud, like, the object of a blunt force—some large object, whatever the officer had in his hand," Hall said. "Again, I'm turned because I'm taking care of the officer that's on my side. I can only hear this. And once I hear this loud distraction of this officer trying to break George's window, then he's demanding things and I can hear George asking him what did he want him to do?"
Hall said Floyd then put his hands above the steering wheel of the car and had his hands grabbed by police. "The energy was set wrong by the police when they approached him because they approached with, like, an energy where it startled Mr. Floyd. That's what I believe," Hall continued. "And he was just trying to diffuse the situation as best, as humbly that he could."
Hall said Floyd proceeded to ask the police why they were doing this. He then claimed the officer who was on the passenger side of the vehicle went over to join the second officer on the driver's side. When Cuomo asked if anyone in the vehicle had a weapon, McFarlane made it clear "there was no weapon."
Hall said Floyd was then "dragged" out of the vehicle. "He retreated to his knees saying, 'Hey man,' in so many words…'I've been hurt. I've been hurt, officer. Please, officer.'" Hall recounted. "In other words, like, 'Why are y'all detaining or using such force right now with me? I mean, here I am.'"
Hall said Floyd was then taken across the street. "He was standing across the street," McFarlane said in regard to Hall. "All he saw was his friend on the ground, pleading for his life, begging and crying out for his life."
As bystander footage of the arrest showed, an officer, Derek Chauvin, pinned Floyd to the ground by kneeling on his neck as Floyd repeatedly said, "I can't breathe." A criminal complaint stated this lasted for eight minutes and 46 seconds. Floyd was taken to a hospital, where he was pronounced dead.
In a report, the Hennepin County Medical Examiner listed Floyd's manner of death as a homicide and his cause of death as "cardiopulmonary arrest complicating law enforcement subdual, restraint and neck compression."
McFarlane said Hall "didn't even know" Floyd was dead at this point. "He thought that, once he was getting on the gurney and going in the ambulance, that they were going, maybe, to get him some treatment or maybe he was too big for the patrol car so this was another way to take him in," she said. "He didn't find out that Mr. Floyd had passed and was killed until the next day on social media like everybody else." 
While McFarlane said many of the facts would be preserved for trial, she said it was "important for the public to know that Mr. Floyd did not resist."
Near the end of the interview, Hall also remembered his friend, calling him a "gentle giant" and his "king."
Chauvin was later fired from the Minneapolis Police Department and arrested. He is facing charges of second-degree murder, third-degree murder and second-degree manslaughter. Three other officers involved in the arrest—J. Alexander Kueng, Thomas Lane and Tou Thao—were fired and arrested, as well. They are facing charges of aiding and abetting second-degree murder and second-degree manslaughter.
"Thomas Lane and J.A. Kueng held Mr. Floyd by the legs and hips to further restrict movement," a press release from Minnesota Attorney General Keith Ellison stated. "Tou Thao stood guard to prevent members of the public, who gathered nearby to witness the police action, from intervening to aid Mr. Floyd."
Thao, Lane and Kueng attended an arraignment on Thursday. They did not enter pleas. According to NBC News, a judge ordered they be held on "an unconditional bail of $1 million compounded with $750,000 of conditional bail." Per CNN, Chauvin is expected to appear in court later this month. His bail is also set at $1 million. Hennepin County Sheriff records show Lane, Thao, Kueng and Chauvin are all still in custody.