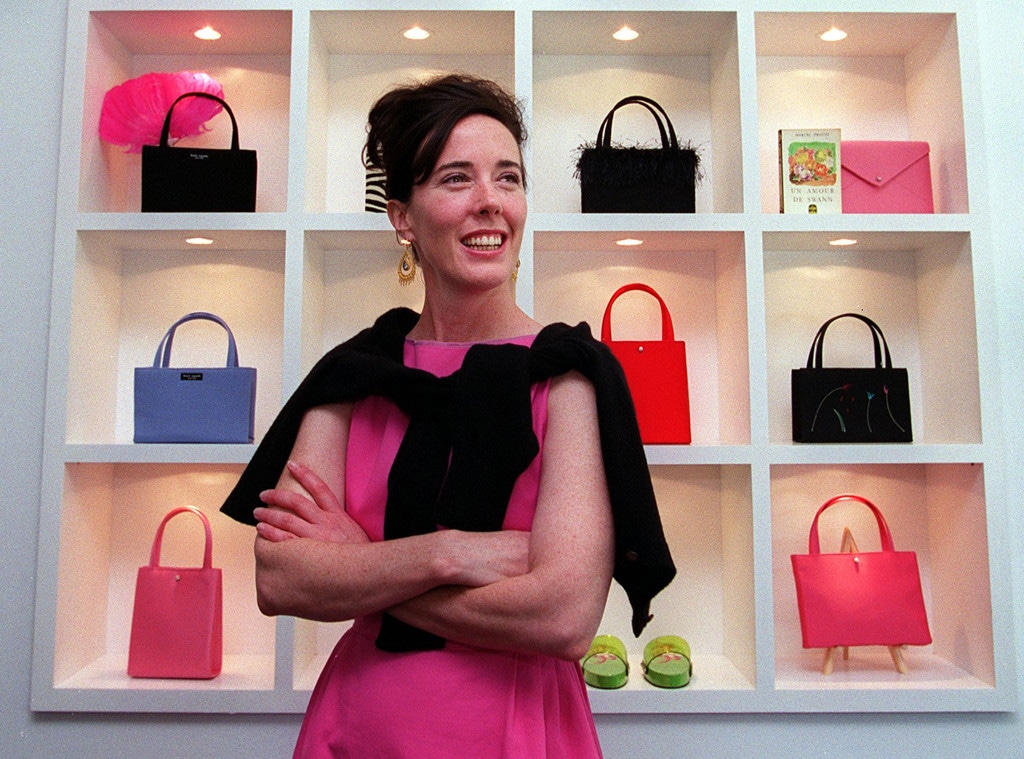 Wendy Maeda/The Boston Globe via Getty Images
Some of the greatest champions of our individual identities can end up being people we've never even met.
Athletes, actors, musicians and authors are among those whose actions and words end up inextricably linked to our own experiences, sheerly by being themselves—and fashion designers can play a similar role.
Kate Spade was one of those designers.
Her clothing, accessories and home goods—what she designed and what carried her name for years after she parted ways with her eponymous brand in 2007—weren't necessarily of the style that makes a person stand out as an iconoclast or fashion rule-breaker. But they were the relatively attainable kind of upscale items that could help make a woman feel polished and put together, like someone who doesn't just belong in the room but is there to lead the meeting.
And not just a woman who looked like Spade.
When Spade died by suicide two years ago, remembrances poured in from all corners of the celebrity and regular-woman-shopper world—and not just general tributes to her talent, but also personal anecdotes of how much buying that first Kate Spade bag meant, or how seeing themselves represented in her vision touched their lives.
"Based on the few black faces in the fashion industry, I felt that sometimes fashion designers didn't want people who had my skin tone to wear their products, so I proceeded with caution," Christen A. Johnson wrote for the Chicago Tribune, recalling her discovery of the brand when she was about to graduate from high school.
"I didn't want to love a brand that didn't like people who looked like me, but when I saw African-American models on the Kate Spade site, with natural hair and glowing, melanin-infused skin—something I hadn't seen from other designer labels—I permitted myself to engage this love."
Watch:
Zac Posen Reflects on Kate Spade's Legacy at 2018 Tonys
Wrote fashion critic Robin Givhan for the Washington Post, "Spade crafted a vision of fashion that was joyful and welcoming. Countless women took delight in that. And they will remember her for it."
They paid tribute with their (perhaps Kate Spade-brand) wallets, too.
Sales of Kate Spade bags were up 31 percent in August 2018, two months after her death, according to parent company Tapestry, which also owns Coach and Stuart Weitzman and acquired Kate Spade & Co. in May 2017 for $2.4 billion (Coach rebranded itself as Tapestry in the fall of 2017 to reflect that that company encompassed multiple brands.)
Never mind that those purchases didn't benefit her estate, but they were 100 percent made out of reverence for the name.
Wendy Maeda/The Boston Globe via Getty Images
"She built an incredible brand on its own," designer Zac Posen told E! News at the 2018 Tony Awards, which took place five days after her death. "But I hope the legacy goes beyond that, and that people who need help reach out to get help."
Those closest to Spade knew she had struggled with depression, but the public face she put on for the world usually conveyed the utmost confidence. In 2019, current Kate Spade creative director Nicola Glass encapsulated the brand's goal as "optimistic femininity."
"The brand celebrates that it's great to be a woman, and they encourage women to be the best versions of themselves," she told Shop Bazaar. 
Five words to describe the Kate Spade New York Woman: "Optimistic, feminine, confident, welcoming, and joyful," Glass said.
Tapestry brought Glass aboard as creative director with an eye on "reimagining the brand while staying true to its unique positioning, heritage and DNA," as Tapestry CEO Victor Luis stated when last year's numbers were released. Though they didn't see the brand sales they were hoping for in the fourth quarter, Luis said they remained" incredibly confident in this vision."
A month later, Luis was replaced by board chairman Jide Zeitlin as CEO, and some unprecedented challenges awaited.
On June 1—in the midst of nationwide protests following the killing of George Floyd, a black man who died after a white Minneapolis police officer (since charged with second-degree murder and manslaughter) pressed his knee into the unarmed man's neck for eight minutes and 46 seconds while two other cops helped hold Floyd down and another stood by—Zeitlin wrote an open letter on LinkedIn about the racial injustices he has witnessed in his own life and his hopes for how his company can actively be a part of better days ahead.
"Our three brands—Coach, Kate Spade, Stuart Weitzman—were each founded in New York City," he wrote. "They were formed in part by this city's diversity. By the creativity that is sparked by deliberate and random intertwining of divergent people and ideas. Emboldened by the role that positive tension plays in driving growth. We understand that we are better together when different life experiences and perspectives allow us to develop ideas and products that none of us could have come up with on our own...
"At a moment such as this, it is important to understand our roots and nurture our aspirations. Over this past week, leaders across our organization came together to think through how we can contribute to change. We are working through a plan that we look forward to sharing with you. We want to convene a number of social justice, legal, and corporate entities to formulate a longer-term plan for addressing systemic inequality. Inequality in health, economic opportunity, public safety, and other sectors. We hope to join with government, but events of this past week make it clear that we cannot wait."
In an appearance on Good Morning America, Zeitlin, who was born in Nigeria and also lived in Pakistan and the Philippines before coming to the U.S. to attend Amherst and Harvard Business School, acknowledged that some of their storefronts had been damaged and some merchandise stolen as vandalism and looting threatened to steal attention away from the largely peaceful demonstrations.
But all that was replaceable, he said, unlike the lives lost.
"I focus on the cause," he told GMA host George Stephanopoulos. "What is it that was the underlying issue that caused people to step out into the streets and protest, to take the steps that they took? The losses that we suffered are minimal, relative to, frankly, the broader losses that society is suffering from and from the loss of life that so many families are suffering from, and that's what's key."
"This is the opportunity for us to be vulnerable, to connect with our employees, to connect more broadly with society."
Values all fundamental to the Kate Spade brand.
"Kate Spade has a very esoteric brand promise," Mary Beech, Kate Spade's chief marketing officer, told Racked on Vox in 2016. "We're not inviting [our customer] to join a club, we're not saying this will give you status. We're acknowledging her dimensionality."
"Kate Spade is one of the few shows that you can come to and actually feel like, 'Oh, I maybe can wear that as a regular human being!'" Jessica Morgan of the Fug Girls noted to Racked at the showing of the brand's Fall 2016 collection during New York Fashion Week that spring.
When Kate (née Brosnahan) and husband-business partner Andy Spade fully parted ways with the brand in 2007 (they first sold a 56-percent stake in 1999 to Neiman Marcus), Dorothy Lloyd became president and creative director, tasked with ushering the brand into the future while staying true to its original DNA. Not all of her ideas were a success with Spade purists, fans of the original nylon handbag that put the brand on the map and other timeless pieces, but they kept buying what fit their aesthetic and Lloyd kept coming up with new things to sell them, turning the brand into a global powerhouse over the ensuing decade.
"I remember writing a letter to Kate and Andy when I first started that said something like, 'I promise to never disappoint you,' and that's always stayed with me," Lloyd told Racked. "I have such respect for the name and what they built."
Ultimately, the transition to new creative directorship was fairly seamless, considering how many people were surprised to learn, when Spade died, that she hadn't technically had anything to do with the brand for more than 10 years—though her name recognition was as enviable as it gets, with everyone from Taylor Swift to Kate Middleton having worn or carried that label.
Nicola Glass was announced as Lloyd's incoming replacement at the end of 2017.
Dimitrios Kambouris/Getty Images
The theme of rejuvenation was in the air at the Kate Spade Spring 2020 NYFW show, held in September at the Elizabeth Street Garden in Soho, Glass' fifth collection for the brand.
Victor VIRGILE/Gamma-Rapho via Getty Images
"I love how no two women ever wear the same thing the same way," Glass stated in her collection notes. "This season is an homage to that: To blossoming wherever you're planted."
She also ironically noted, "My starting point for this season was imagining everything a woman would need for her next big adventure—even if that adventure is right outside her door."
Glass forewent a Fall 2020 show at NYFW, choosing instead to host more intimate viewings of the collection at their office and release a behind the scenes video from the season's look book photo shoot. Either way, it was one of the last celebrations for Kate Spade or any brand before COVID-19 shut down non-essential businesses in New York and much of the rest of the world.
Glass has been social distancing with her husband, son and new puppy, appreciating nature out the window of her home office during Zoom meetings.
But over the past week, the focus for Kate Spade has quickly shifted, like so many other brands, to the unrest outside—which will require another kind of rejuvenation to build on this opportunity to effect real change.
Kate Spade New York shared this statement from Jide Zeitlin: "At kate spade we lead with our hearts and values, and stand up for the social issues we believe in. The events unfolding right now are also deeply personal to me.
"This past weekend, I re-read Martin Luther King Jr.'s 1963 'Letter from a Birmingham Jail.' Almost 60 years have passed, yet America is still struggling to solve a 400-year-old problem. In a moment where we must all reflect honestly about our nation's history of racial injustice, we have asked ourselves—what can we do to drive change and put an end to systemic inequality?
"Together, we stand with my fellow Black employees, customers, partners and the Black community as a whole. The time is now for meaningful action and we are in the process of partnering with a number of social justice, legal, and corporate entities to formulate a longer-term plan for addressing systemic inequality. More to follow soon on the actions we are taking.
"I believe that we will stand taller if we all stand together, lead with compassion, and commit to change that creates a fair and just future for all."
Some commenters were understandably curious about what exactly the company planned to do. And many longtime fans applauded the statement and were heartened to see one of their go-to brands speaking out.
"Thank you for being a company that cares about your employees," wrote user whoelsebutvicky in the comments. "I have been a muse going on eight years and I am continuously surprised and touched on how this brand helps people. If you lose followers or customers please know how much this company makes a difference in so many lives."
"I knew you all wouldn't let us down. One of my favorite brands," wrote msnatashap.
"Thank you. More Reasons why I can respect this brand," added mcc.muffin. "#blacklivesmatter #katespade Kate's life mattered too, and I applaud her legacy left."
Truly the kind of legacy that matters more than anything. Though plenty of commenters also said they couldn't wait to add another bag to their collection.
"E! stands in solidarity with the black community against systemic racism and oppression experienced every day in America," the network said in a statement on May 31. "We owe it to our black staff, talent, production partners and viewers to demand change and accountability. To be silent is to be complicit. #BlackLivesMatter."
If you or someone you know needs help, call 988 to reach the Suicide and Crisis Lifeline. You can also call the network, previously known as the National Suicide Prevention Lifeline, at 800-273-8255, text HOME to 741741 or visit SpeakingOfSuicide.com/resources for additional resources.