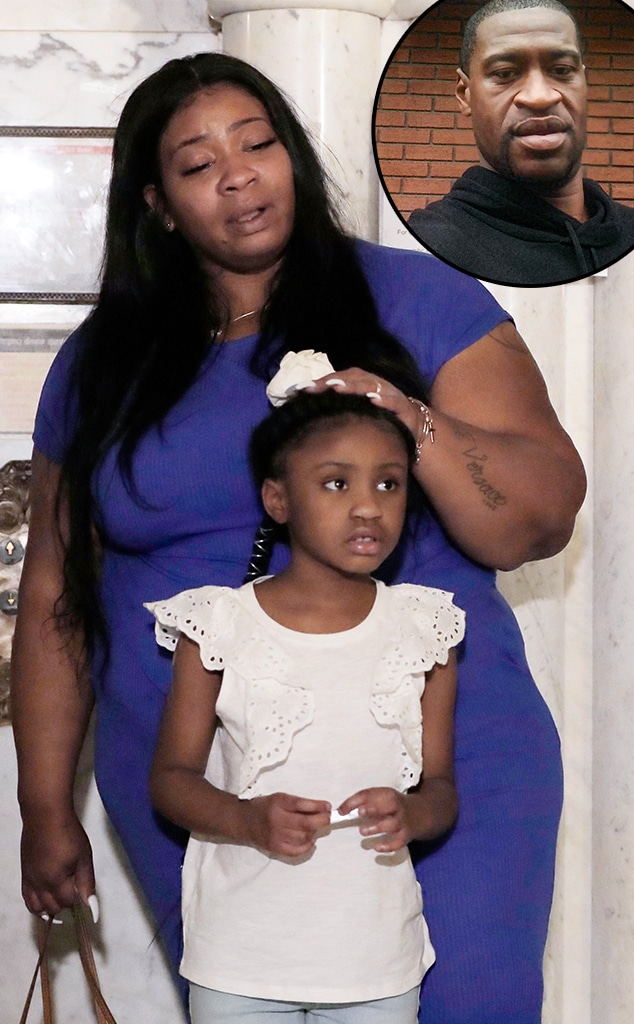 Julio Cortez/AP/Shutterstock; Offices of Ben Crump Law
The mother of George Floyd's 6-year-old daughter Gianna is addressing the nation, one week after his death.
In a press conference on Tuesday, Gianna and her mother, Roxie Washington, stepped up to a podium to demand justice for the 46-year-old, who was killed while being detained by a Minneapolis police officer.. "I don't have a lot to say because I can't get my words together right now, but I wanted everybody to know that this is what those officers took," Roxie, pointing at her daughter.
She continued, "At the end of the day, they get to go home and be with their families. Gianna does not have a father. He will never see her grown up, graduate. He will never walk her down the aisle. If there's a problem and she needs a dad, she does not have that anymore."
"I'm here for my baby and I'm here for George because I want justice for him. I want justice for him because he was good no matter what anybody thinks. This is the proof. He was a good man," she concluded her message before walking off in tears.
Then, after a statement from their representatives and George's family, Roxie told those in attendance that she will always remember when he first met their daughter. Roxie recalled, "He was so happy to have her. He slept the whole time that I went through labor but when he heard her cry he got up, walked up. I still have a picture of him waking up and seeing her. He loved her, he loved her so much."
Roxie's attorney Chris Stewart also shared a video of Gianna, taken by @Skrptz, declaring that her "daddy changed the world," something the attorney wants her to "always remember."
On Tuesday, it was announced the 46-year-old will be laid to rest after he's memorialized in memorials taking place in three separate cities. 
George Floyd died on May 25 while under arrest by former police officer Derek Chauvin. Chauvin is facing third-degree murder and manslaughter charges. He and three officers were fired for their involvement in Floyd's detainment.
"E! stands in solidarity with the black community against systemic racism and oppression experienced every day in America," the network said in a statement on May 31. "We owe it to our black staff, talent, production partners and viewers to demand change and accountability. To be silent is to be complicit. #BlackLivesMatter."