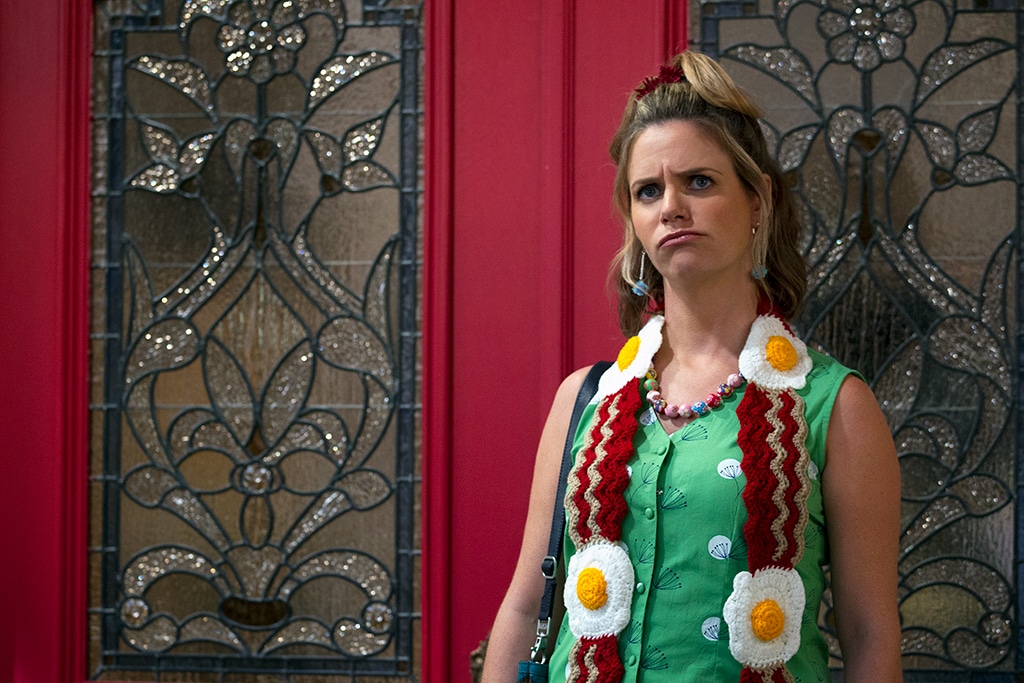 Netflix
For more than 30 years Andrea Barber has been known to millions of viewers around the world as Kimmy Gibbler, first on Full House for eight seasons, then on Fuller House with the fifth and final season dropping June 2 on Netflix. 
Barber and Kimmy Gibbler are synonymous with each other, probably more so than any other Full House character thanks to Barber's acting break between the original show and sequel series. "I have no problem with that," Barber said.
"I know a lot of people who play outlandish characters like this do struggle with typecasting or just being seen as that. I never struggled. I left the business at 18 just because my heart wasn't in acting anymore, it had nothing to do with Kimmy Gibbler. I wanted to go to college and learn new things and just do other things besides acting," Barber said.
"And the only reason I came back to Hollywood was to play Kimmy Gibbler. It's not like I was trying to work my way back into the business. I got a call from Jeff Franklin and he said, 'What'd you do this?' and I'm like, 'Sure! I loved it 30 years ago. I'm sure I'll love it just as much now,'" Barber said in an interview conducted before the nationwide protests calling for an end to police brutality. "I probably wouldn't be acting if it wasn't for Fuller House. And I love Kimmy, there's no hard feelings."
Barber quit acting following the end of the original show in 1995. She was in college and ready for a change, a more adult life. Yes, she was ready to move on at the time, but not because of any Gibbler bitterness.
"I've had to do a lot of weird stuff as the character, a lot of crazy stunts and crazy outfits, but I don't have any resentment at all. I have nothing but love for this character. Especially with kind of the lessons she's teaching people now. And I've got fans that DM me every day and say, 'Kimmy taught me that it's okay to be different, and 'It's okay to be weird,' and I've always felt like an outsider.' I love it Kimmy Gibbler has just taught us that it's OK, it's OK to be different. So, I really appreciate the character in a way that I never did as a teenager. I think she's great."
Watch:
Will Saying Goodbye Again Be Harder for "Fuller House" Stars?
Twenty-five years after the original show's end, when Kimmy Gibbler came calling again, Barber put on the scrunchie and brightly colored clothing and became the character for Fuller House. The sequel series centered around her character, Candace Cameron Bure as DJ and Jodie Sweetin as Stephanie premiered in 2016. Barber said she was able to slide right into the role when the Netflix series premiered.
"I played this character for eight years as a teenager, so she was just hiding in there subconsciously. I think it's kind of like when learn a language as a kid and then you become fluent for life, like that's kind of like what happened to me. I just became fluent in Gibbler and she just came out," she said.
According to Barber, series creator Jeff Franklin delicately asked if she needed help from an acting coach since she hadn't really acted since the original show ended. She said she didn't know, why not just wait and see. "And it just—it came right back to me. Nobody was more surprised than me—and probably Jeff Franklin—that it just came back like I had never left. But it was weird. They say it's like riding a bike and it really is like riding a bike. It just comes right back to you. She's just such an enjoyable character too. So, you know, I loved it. I loved bringing her back to life," Barber said.
Is this the last time Barber will play Kimmy Gibbler? And if so, has done everything she's wanted to do as the character? Read on.
Fuller House is now streaming on Netflix.