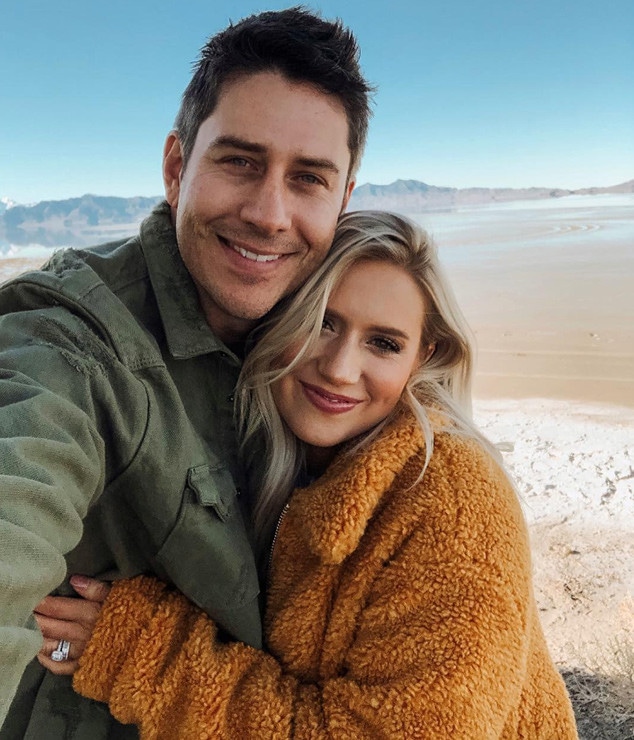 Instagram
Bachelor star Arie Luyendyk's wife Lauren Luyendyk has revealed that she recently suffered a miscarriage. 
The couple uploaded a video on YouTube detailing and sharing their story. "A little over a month ago, we got the most exciting news and we found out that we were pregnant with our second baby," the video description reads. "We made so many plans. We bought a new house with more space, we planned how we wanted to tell you all and we envisioned our future with Alessi's little brother/sister. We were planning to share our journey through pregnancy with you, but unfortunately we didn't get the happy story we had hoped for."
The Luyendyk's said they decided to share this party of their journey so other couples going through a similar experience can feel a "little less lonely." 
In the video, Arie tells Lauren that he suspects she might be pregnant due to the way she had recently been acting. Lauren, who isn't completely sold on the theory, tells Arie that she'll go buy a pregnancy test in order to prove him wrong. 
While Lauren is out at the store buying the pregnancy tests, she shares with viewers that she's thinking of pranking her husband and making him believe that she is pregnant by tampering with one of the tests. 
However, after a failed attempt to prank Arie—the couple finds out that Lauren might in fact be pregnant. "Oh my god, how the heck?" she says after she realized the second pregnancy test she took came out positive once again. 
"Were you surprised?" Lauren asks her husband.
"I had an inkling because of how you were acting but I feel like at the same time, I was shocked, but we were both extremely happy," Arie says at one point of the video. 
"That took a turn that we did not plan for," Lauren says as the two celebrate with their daughter Alessi Ren Luyendyk. 
The two continued to open up about how ready they were to welcome their second child together. 
At one point, during her first doctor's visit, Lauren is told that she's at the 5-week pregnancy mark. "That can mean a couple of things, that can mean that I'm just not as far along as I thought I was, it can mean I ovulated late or it could mean that it's not a viable pregnancy," she explained, adding that she would be having her hormone levels monitored. 
After a positive follow-up with the doctor's, the two seemed positive about how their pregnancy was going along. "It's been tough these past few days thinking that something was wrong," the two shared. 
Watch:
"The Bachelor" Stars Arie & Lauren Luyendyk Welcome 1st Child
After a couple of more doctor visits, the two were given the news of a "missed miscarriage," which occurs when the fetus is no longer alive but the body doesn't recognize the pregnancy loss or expel the pregnancy tissue. As a result, one's body may still release hormones and one may still continue to experience signs of a pregnancy. 
"It's been a roller coaster of emotions, going from scared a little at first because it was so soon, then happy then stressed and worried for weeks on end, and obviously today was the bad news and it's something you can never prepare for," Arie shared after receiving the news of the miscarriage. "It's been hard holding this back from everybody." 
"Trying to pretend like nothing is going on is really difficult," Lauren shared. "I feel like this is kind of the best way for us to tell the whole story."