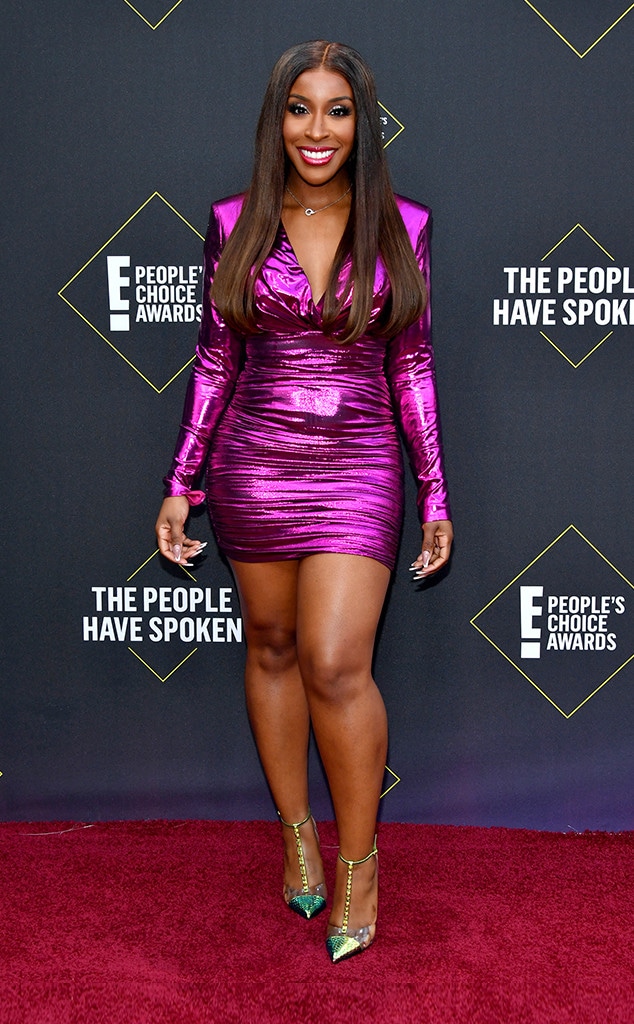 Amy Sussman/E! Entertainment/NBCU Photo Bank
YouTube star Jackie Aina is giving us another reason to stan her.
The 32-year-old beauty guru has always used her massive social media platform to uplift the Black community and other people of color in the cosmetics and fashion industry.
And that's exactly what she did earlier this week.
In light of George Floyd's death, Jackie has spoken out over the incident—which involved a police officer kneeling on Floyd's neck, while three other officers stood and watched. In video footage captured by bystanders, Floyd stated multiple times that he could not breathe as the officer continued to kneel on his neck. Moments later, he died.
The YouTube star urged her colleagues and beauty and fashion brands to stand in solidarity with the Black community over Floyd's death. Aina also called out celebrities and influencers who have had a problematic past, and asked them to use their voice during these times.
"Some of you have been exposed as "former" racists, the N-word lovers, blackface offenders, etc," her message read on an Instagram Story, which was shared on Twitter. "now would also be the PERFECT time to prove how much you truly are sympathetic to the Black community."
In addition to her Instagram Story, she posted several videos urging brands like Revolve, Fashion Nova and Pretty Little Thing, to show their support for the Black community.
"There are a lot of brands that love capitalizing on Black culture, Black music, Black aesthetic but are dead silent when it comes to talking about Black issues and Black struggles in our community," the beauty guru explained for her reasoning of calling out those specific brands. 
Adding, "Can y'all at least say something when Black people are being brutally murdered by cops? Donate to families affected by this stuff... Do more. Don't just be present when it's time to be lit."
Shortly after her videos, Jackie revealed that Fashion Nova and Pretty Little Thing got in touch with her.
"Fashion Nova reached out and I wrapped a call a few hours ago with their CEO. Post call, I followed up with an extensive course of action and plan to have a follow up call with them tomorrow. Thank you to everyone who contributed suggestions earlier today," she wrote on Twitter.
"just got off the phone with the CEO of pretty little thing. hopefully some progress will be made by morning. just wanted to update you guys," she later shared. "and yes, I absolutely let them know that the twitter graphic posted this morning was an absolute hell no and can never happen again."
JEAN-BAPTISTE LACROIX/AFP/Getty Images)
It's unclear if Revolve reached out to her directly. However, they shared a few Instagram Stories surrounding the death of George Floyd. Some of Aina's followers felt the brand's response was lackluster.
"The bare minimum! like the bar was sooo low and they somehow still went lower," one fan commented. Another wrote, "Like that's it? That's all they have to say?"
Jackie commented, "the fact that these companies are doing exactly what I expected them to do."
For the YouTube star, she said it felt necessary for her to hold these brands accountable. Plus, it's not lost on her that they are "hugely influential" and have the power to spark change.
"I cannot fix everything I really can't, but we can't deny that the brands I mentioned today are HUGELY influential," Aiana expressed. "That's why I chose to speak about them today. now I'm waiting to see if they will put their money where their mouths are. This is important to me."
She later showed her appreciation to her followers for showing their support when she urged brands to do better during these times.
"thank you guys for just letting me do this from the heart and supporting all the organizations everyone has been boosting," she wrote. "I hope you guys are staying safe and centered too."