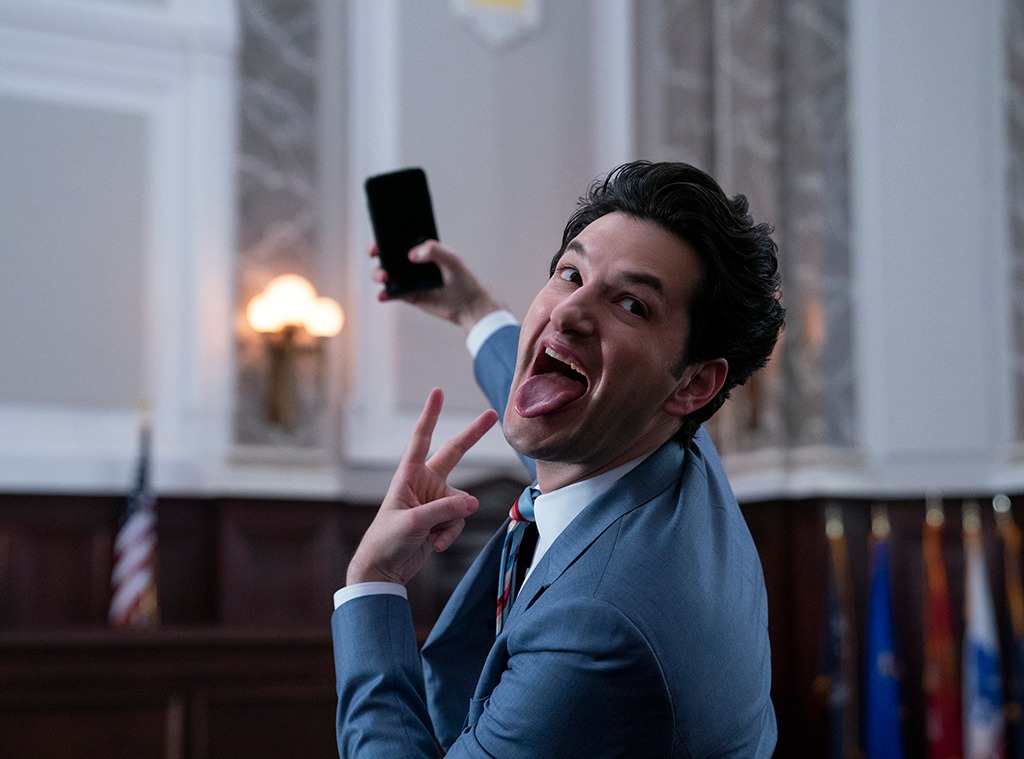 Netflix
F. Tony Scarapiducci is not Jean Ralphio Saperstein. 
There are echoes of Parks and Recreation's resident insane person in Ben Schwartz' Space Force character, but only at first. He's loud, confident, and he's got some pretty big "modern" ideas that sound a little deranged to some of the people around him, but unlike Jean Ralphio, F. Tony grows, and so does the respect he's given. He was also designed to not be anything like that beloved asshole Jean Ralphio. 
"So what we did is after the first audition, Greg [Daniels] and I had a conversation to make sure he doesn't ever feel like Jean Ralphio. So you kind of see him start that way, but then as the series goes, you see him try to tackle bigger things and kind of evolve, which is great," Schwartz told E! News over the phone. "Jean Ralphio, no matter what he does, thinks he nailed it. Like he always thinks he's crushing it. He doesn't even mean to offend people, he just thinks that's what you're supposed to do in a situation. This person, F. Tony, has a series of morals." 
Sure, it's a "sliding scale of morals," but it's morals none the less. 
F. Tony was previously the media manager at American Apparel before being fired, and this is the job he managed to get, Schwartz explains.
"It's kind of his last shot, but I think he's good at his job, he's just so over his head," he says. "If he made a mistake for one of the other jobs he did, nothing really happens. If he makes a mistake here, the government is affected. Potentially all of Space Force is affected, so it's him desperately trying to show that he's got it under control, when I think truly, he does not. Hopefully in a second season to really play with that stuff would be great." 
Schwartz discovered while filming that someone with F. Tony's job actually exists in the real Space Force, and while it feels funny to imagine and to portray the guy tasked with promoting this new military branch on social media, it's a very real and necessary gig 
"So much of what we do now, there's a social media aspect of it that like, is important. Not important like we need it, but that's the way that people are reflecting upon that brand," he says, which is something the other characters in the show do not understand. 
"Steve Carell's character could care less about social media, does not want to do it, does not want to deal with it, and then I come in being like, no no no, it's everything, we need this, this is my job, so it's a very fun dynamic to play with him, especially because he doesn't know how an iPhone works, and my entire life is on my phone," Schwartz says. 
He basically has to spend each and every day convincing everyone around him that he's relevant, until respect starts to grow by the end of the season. 
"I think my character loves to be in leadership positions. You can see he's so confident and ready to go when they put him in charge of something," he says. "I think that's where he thinks he belongs. He wants to keep rising to the top, he wants to have importance, he wants to show people that he's really good at this." 
A few weeks after Netflix released the series, there's no word on if there's a second season to be had. But Schwartz is hopeful, and is looking forward to more responsibility for F. Tony. 
"I want to see him in situations where he has to prove himself," he says. "Like show his relevance. The best part of doing these shows is that you really can build relationships between two people by themselves. But when everybody's in a group, they're gonna act one way. But if I'm alone with Malkovich in a scene, my character will be different than when I'm alone with Steve in a scene. I think now that we've laid the groundwork and people know the show from the first season, if we get a second season, we could really dig a little deeper. You know, I'm also one of the only people in that place that has no military background, so what happens in a situation where I'm needed?" 
Schwartz has had a really big 2020 even aside from Space Force. He starred as the voice of Sonic in Sonic the Hedgehog, put out three completely improvised comedy specials with Thomas Middleditch called Middleditch and Schwartz, and appeared in the Parks and Recreation special. He had no idea how much he'd end up providing quarantine content, and he's even been leaving voice notes for kids in the voice of Sonic the Hedgehog. 
"All the people telling me how much they're laughing and how much they needed it, it makes me so happy," he says. "Because one of my favorite things in the universe is just to make people laugh, so that makes me happy that we can alleviate some anxiety or bring some joy." 
Space Force is now streaming on Netflix.