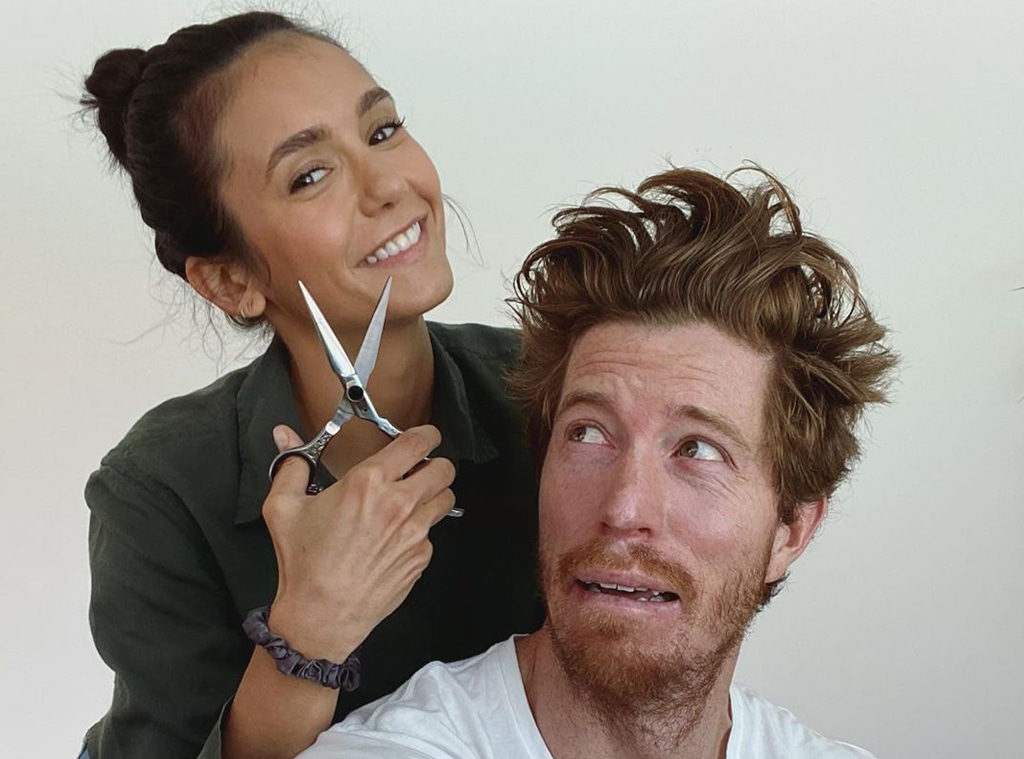 Nina Dobrev / Instagram
Nina Dobrev and Shaun White are making things Instagram official.
Whispers about a potential relationship between the Vampire Diaries star and Olympic athlete have been swirling for weeks now, but the speculation can finally come to an end. That's because Shaun and Nina are making things official on the 'gram.
On Thursday, the dashing duo shared their first photo together, to the delight of their fans. Under a picture of Nina trimming Shaun's red locks, she wrote, "Adding to resume: hairdresser."
"My hairstylist said he wouldn't, so she did. #QuarantineCuts," Shaun chose to caption his own photo. 
A source tells E! News that Nina's decision to share this moment with Shaun is telling of how she feels about him. "Nina doesn't take sharing her personal life very lightly, but it shows how happy and secure she is with Shaun and their relationship that she is willing to take this step," the insider explains.
The source adds that they began to "ease into a relationship" after spending New Year's Eve together in Las Vegas, but things "really accelerated" between the two when stay at home orders went into effect. Per the source, "After spending weeks together during quarantine, Nina and Shaun have made it clear to their friends that they are a serious couple."
Watch:
Nina Dobrev & Shaun White Spark Romance Rumors
And though they've been social distancing from their friends, the insider reveals Shaun and Nina "complement each other very well." 
"They have similar energy, they both are fun, low maintenance people who like to laugh and stay active," the source says of the lovers. 
In fact, the pair seem to be quarantining in Lake Powell, Utah near Zion National Park. Nina shared a few pictures from the popular tourist site this week, including a hike to the Red Rocks.
Fans and friends are happy for the Vampire Diaries star, who split from boyfriend Grant Mellon in November. The actress and director dated for just under a year, before their romance eventually fizzled out.