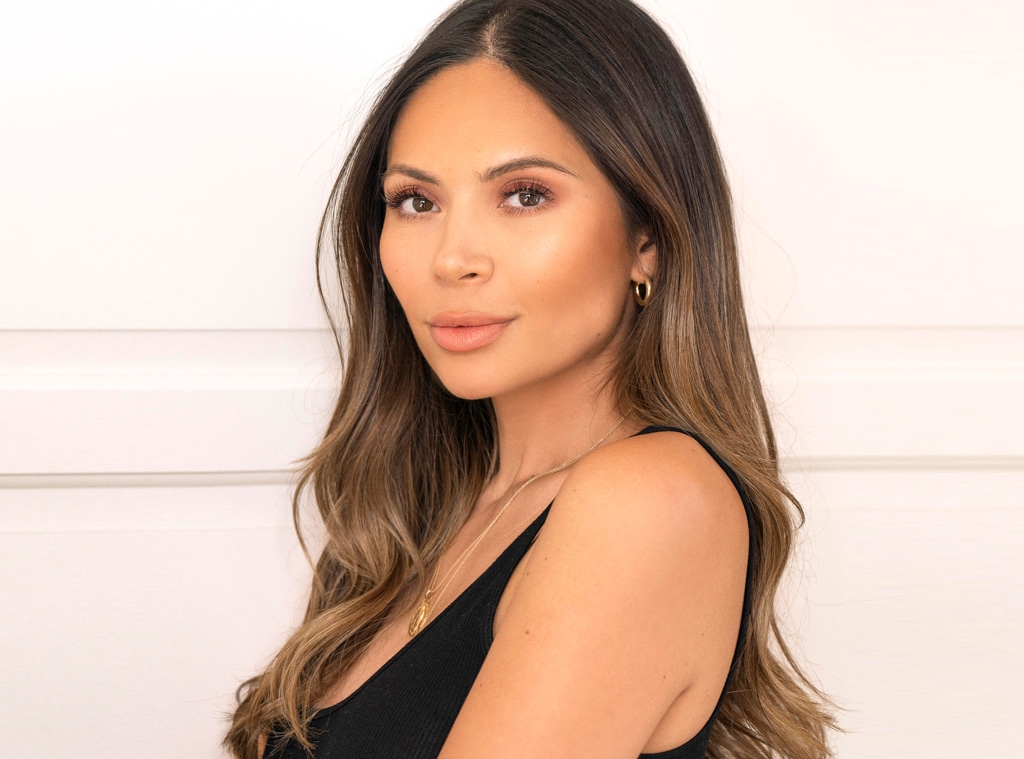 We love these items, and we hope you do too. E! has affiliate relationships, so we may get a small share of the revenue from your purchases. Items are sold by the retailer, not E!.
Marianna Hewitt wants to give you that Friday half-day glow everyday. So she started a skincare line along with fellow influencer Lauren Gores Ireland called Summer Fridays. We chatted with Marianna about her line, available at Sephora, plus about how she's holding up during the quarantine. 
Why was it important for you to start your skincare brand, Summer Fridays?
[Lauren and I] started working on it back in 2016 and we really felt like when your skin looks and feels good, you feel more confident in your skin. And then if you're a makeup lover, all of your products just work and look so much better when your skincare is good. Then Lauren was early pregnant at the time and she was cleaning out all of her ingredients from her skincare routine. Things that you really shouldn't be putting on your body and on your skin. And so that's kind of where we came up with our clean ingredients and why we use certain things. And that's kind of a benchmark that we've used for the rest of our products.
Did either of you have any background in skincare or any prior experience before you guys started this together?
No, just as influencers. So we say that we're educated consumers and we've tested and tried stuff over the years. So, what do we want to buy? What are we looking for as consumers, as shoppers, and what are we missing in our skincare routines? 
What was your inspiration for the branding?
When we thought about the brand meaning, we wanted something that was a feeling. You really look forward to that summer Friday feel. New York based companies, they get a lot of summer Fridays off. 
Talk to me about your current skincare regimen, and has it changed since we've entered quarantine?
So my current morning routine, I use all Summer Fridays products. I use our Super Amino Gel Cleanser followed by our CC Me Serum, which is for hyperpigmentation and dark spots. And then our Jet Lag Mask as a moisturizer. I just apply it and  really let it absorb it into the skin. And then if I'm going out that day I make sure to apply sunblock. My favorite is from Supergoop!. At night, I have been doing the most. I love my nighttime shower routine. I use our cleanser and then depending on what's going on with my skin, I'll use different serums and treatments. So if I am breaking out, I'll use a serum for that or if I am targeting fine lines, I will do a peel. I'll just use the Jet Lag Mask and then add in another layer and wear it overnight. 
What other things are you doing to give yourself self-care? I'm sure you're obviously very busy during the day, like many other people, what do you like to do to wind down?
In the morning, I've really been good about spending time for myself. So when I first wake up, I just do a five minute meditation. My favorite app right now is Balance, and I found that it just kind of signaled the start to my day. So instead of just jumping out of bed and going to a workout or jumping into my emails, it allows me a few minutes to just like sit and breathe and think. And it's something that I've made really consistent during quarantine and I've tried to do it for most days of the last two months. I feel like it's really helped me to have that. And then I've been doing at-home workouts and my favorites are anything under 30 minutes. So I love Melissa Wood Health. The Sculpt Society or Tone it Up app and the Sweat App are all amazing at home workouts to try.
For people that are maybe new to the brand and they haven't tried many products or don't know much about skincare, what would you suggest they start with?
We have an "essentials trio" and it's a great entry point into the brand. It starts with our Super Amino Gel Cleanser, and then you'll follow up with our CC Me Serum, which helps with hyperpigmentation, dark spots, acne scars and is also really hydrating. And then it has the Jet Lag Mask. So you can use Jet Lag Mask in the morning and at night. If you really just get this from the brand, it's a really easy, simple three step routine that you can use morning and night. 
Supergoop! Unseen Sunscreen SPF 40
Try out Marianna's favorite, the Supergoop! Unseen Sunscreen. This sunscreen promises to be make-up gripping and has interesting ingredients such as a complex derived from meadowfoam seed, red algae and frankincense.
Summer Fridays Jet Lag Mask
Summer Fridays CC Me Vitamin C Serum
If you want to reduce dark spots and hyperpigmentation, opt for this serum. Its vitamin C gets the job done.
Summer Fridays Lip Butter Balm
This vegan lip mask has a natural vanilla flavor. It moisturizes with shea and murumuru seed butters.
Summer Fridays Overtime Mask
Summer Fridays began as a brand of three face masks, including this one. "The Overtime Mask is incredible if you're looking to smooth out your skin, improve texture and fade dark spots," Marianna says. "It really gently exfoliates your skin, but it also hydrates at the same time. A lot of exfoliants are really drying."
Summer Fridays Super Amino Gel Cleanser
Filled with 11 amino acids and a splash of mineral-rich seawater, this gentle cleanser is great for most skin types.
R + R Mask
"It refines your skin, but it also nourishes your skin with a lot of oils," Marianna says of this mask. "So if you love oils, and serums and hydration, our R + R mask is perfect for you because it's really hydrating."