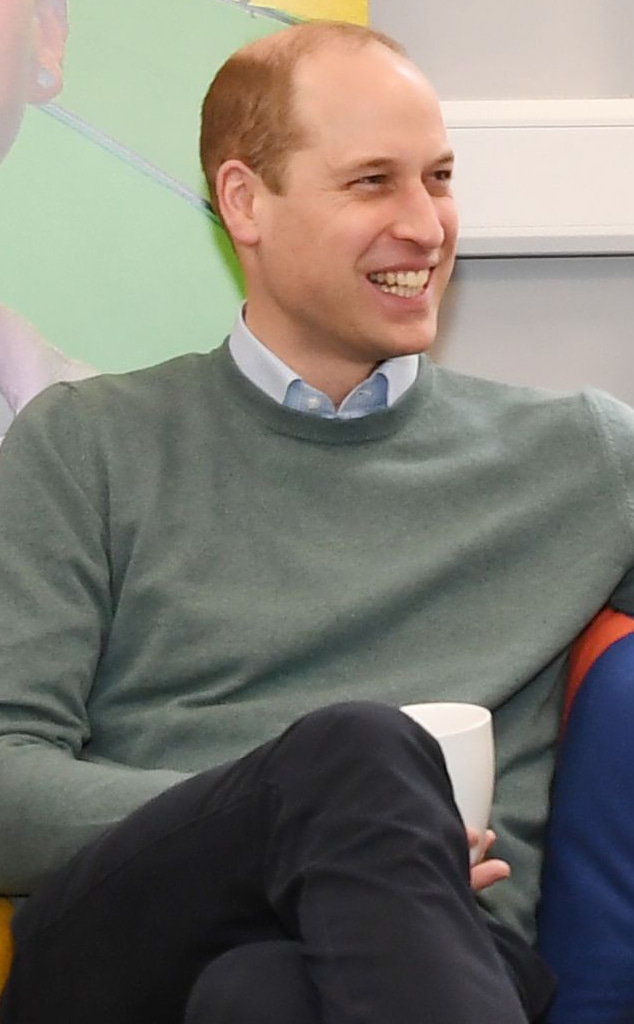 FACUNDO ARRIZABALAGA/POOL/EPA-EFE/Shutterstock
As Prince William continues to prepare for the day he'll sit on the throne, he's opening up about what it's like to be raised as a member of the Royal Family and the impact it's had on his life.
As many know, the 37-year-old has spearheaded the efforts to highlight the importance of mental health, leading him to speak about fatherhood, fame and more subjects with refreshing candor. 
Now, new details are emerging about the father-of-three thanks to the new BBC documentary Football, Prince William and Our Mental Health. He says in a trailer for the film that growing up in the spotlight has taught him many lessons, one of them being that vulnerability is okay. "You can't be ashamed of your mental health," Prince William explains. "You've got to be able to look it in the eye and go, I'm gonna deal with it, here we go."
And while others may overcome their personal struggles in the comfort of their therapist's office or in their home surrounded by their friends, Prince William is pulling back the curtain to reveal what his experience has been like. 
To hear about how he has navigated fatherhood, public speaking and other challenges, continue reading. 
On Overcoming Fear of Public Speaking:
After years of public speeches, one never would've guessed that the Duke of Cambridge was afraid of speaking in front of crowds. But like his grandfather King George VI, it's very much a problem William strove to overcome. His method of managing those fears? Essentially, blinding himself by removing his contact lenses during appearances. "It helps because it's just a bit of a blur of faces, and because you can't see anyone looking at you," he explains in the documentary, according to The Sun. "I could see enough to read the paper and stuff like that, but I couldn't actually see the whole room."
He adds, "Because I couldn't see everyone's eyes, you didn't feel like the whole weight of the room is watching you."
On His Desire to Use Football as a Way to Begin a Conversation About Mental Health:
As one of the leaders of the U.K., Prince William feels a sense of obligation to help those who may not know that there are resources available in times of need. He shares in the film that "suicide is the biggest killers of young men under 45," but he and Head's Up initially struggled to think of how to connect with this group. "We felt football was a good way to reach some of the hard-to-reach people to get them to talk about their feelings; to not let things get to a breaking point," the father explains.
On the Impact of Losing Mother Princess Diana at a Young Age:
In an emotional moment with former footballer Marvin Sordell, the Prince reveals that despite struggling with her loss for many years, becoming a father brought up emotions he'd never felt before. He explains, "I mean having children is the biggest life-changing moment, it really is. I think when you've been through something traumatic in life—Your Dad not being around, my mother dying when I was younger, your emotions come back, in leaps and bounds. Because it's a very different phase of life and there is no one there to kind of help you. I definitely found it very, at times, overwhelming."
Comic Relief/BBC Children in Need/Comic Relief via Getty Images
On Leaning on Wife Kate Middleton For Support: 
Though they're not a couple to engage in PDA, as their roles dictate, he and the Duchess are very much emotionally connected. "Me and Catherine particularly, we support each other and we go through those moments together and we kind of evolve and learn together," he reveals.
He continues, "I think emotionally things come out of the blue that you don't ever expect or that maybe you think you've dealt with. So I can completely relate to what you're saying about children coming along, it's one of the most amazing moments of life but it's also one of the scariest."
On His Hopes For the Future:
William says that suicide "is one of the rawest forms of grief because you're left with so many unanswered questions: Could I have done more? Should I have done more? Why did they do it?" But in participating in this documentary, the 37-year-old says he hopes to save lives and prevent families from experiencing this grief. He states, "If we can have a major impact on lowering suicide rates, that's a success from this campaign."