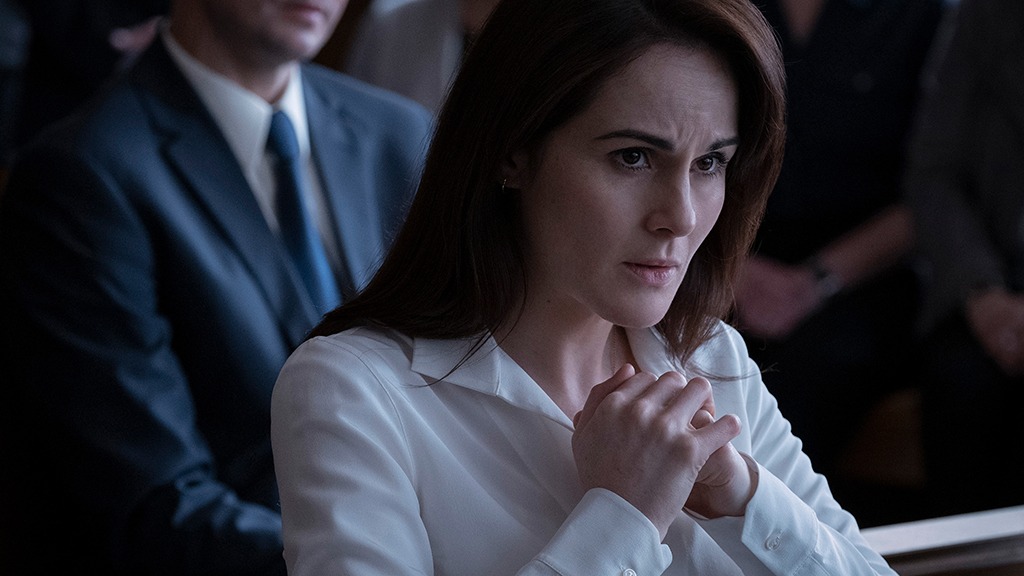 Apple TV+
To legions of viewers, Michelle Dockery is the prim and proper heiress Lady Mary Talbot from Downton Abbey, a persona she successfully shed to play Laurie Barber, the mother at the center of Defending Jacob, a crime drama miniseries.
"I just loved the whole different genre for me. I've never sort of done this type of genre before. I love crime genre, it was, it was really fun to be in something like this, which is quite different from anything else I've done. And I loved being in Boston, I really enjoyed working there, such great people and just a really, really fun city to be in. So, it was a different experience, in some ways not any different. But, yeah, it was really great experience," Dockery told E! News.
In the Apple TV+ series, Dockery ditched her native English accent for Laurie Barber, the Boston-based wife of Andy (Chris Evans) and mom of Jacob (Jaeden Martell), whose world is rocked when her son becomes the prime suspect in the murder of a classmate. Warning, spoilers for the eight-episode miniseries follow.
Watch:
What Michelle Dockery Will Miss About "Downton Abbey"
The finale of Defending Jacob, which dropped Friday, May 29, deviated from the book of the same name by William Landay. Instead of Laurie killing Jacob in a car accident, viewers were left with an ambiguous ending. Is he dead?
"I think it's always better to have an ending that isn't sort of tied up in a bow...I think it's better that you kind of give it to the audience in the end so that they get to decide and talk about it afterwards then it just be so sort of final. I liked that," Dockery said. "I really liked that about it, that it differed from the book."
Viewers were also left wondering whether Dockery's character snapped. Did she knowingly try and kill her son? Did she remember her actions? Was she simply hiding the true intent of her actions to save herself and her family from the truth? Dockery said it was challenging to get into that complicated headspace.
"I'd say it was one of the most challenging parts I've done in a while because her journey, emotionally, is like a rollercoaster. And I knew that going into it and I did like it, I like a challenge," Dockery said with a laugh. "But I had to sort of pace myself as to when she was kind of letting emotion out and when she was holding it in, because I was conscious—I didn't want to sort of be a ball of tears throughout the whole thing."
When she first joined the project, Dockery said she didn't know the ending of the series but knew it would be different from the novel. Those final scenes were "quite delicate," she said.
"We wanted it to feel ambiguous as to whether it was intentional, or it was just a moment of madness that she lost control. I had to sort of go into it with an idea in mind as to how I was going to play it. And then it just came out in the scene with Jaeden and we tried it in different ways, and it was all done in the studio space, which made it much more intimate than actually being in a car on the road. I didn't go into it with any sort of preconceptions and [director Morten Tyldum] and [creator Mark Bomback] are great at just sort of guiding you because what you're doing on screen, it can sometimes be a little different to what is actually being seen on the screen. It was a little collaborative process at how we played all of it out," she said.
In the end, Dockery said she didn't have to make any peace with Laurie's actions, intentional or not, because "the one thing I've learned over the years is that any judgment of the characters that you play can sometimes take you down that much trickier path in playing them."
"So, I accepted it. I accepted that that's where she was in the story and that's how she dealt with that. And as much as possible with the characters that I play, I try to emphasize with them and question why they do what they do. You know, what their actions end up being," Dockery said. "I think empathy for characters is a key thing, whether they be good or bad things, because otherwise if I'm judging my character, I can't feel fully immerse myself in it if I've got too much of an opinion."
Was this a lesson she learned from a past project? She's never hated a character, but Dockery did admit to struggling with Lady Mary's actions on Downton Abbey.
"There were certainly moments in Downton Abbey when Mary was being vicious, that I would sometimes find hard to play. Sometimes when you're playing a character that is, you know, angry and miserable for a few episodes, [Laughs.] it can start to grate on you a little bit," she said. "So there were some moments where I was like, 'Come on, Mary, let's snap out of it.' [Laughs.] But certainly never hated any characters that I've played."
As for whether a return to Downton Abbey and the character she's known as worldwide is in her future, Dockery said that decision isn't in her hands.
"I would be open to a second one. There seems to be an appetite for another one, so we'll see. We'll have to see. That's [Julian Fellowes'] answer for everybody, I guess," she said.
Defending Jacob is now streaming on Apple TV+.