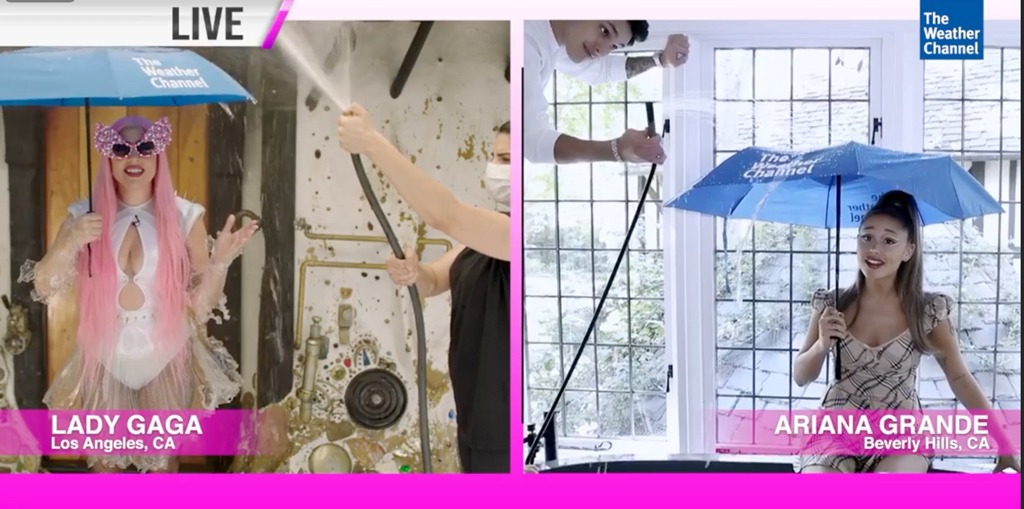 Instagram
Curious to know what the weather is like in your city today? 
Tune in to your new favorite weather girls, Lady Gaga and Ariana Grande for the latest—oh, and with a little unexpected help from Ariana's new rumored boyfriend Dalton Gomez. 
In a hilarious video posted to the singers' Instagram accounts, the two seem to be going hard on the promotion for their latest collaboration single, "Rain On Me." 
"It was beautiful just yesterday but oh wow, how things have changed," Lady Gaga says in the video in partnership with the Weather Channel. "Today it is pouring rain, we are soaking wet. While some are complaining of the recent downpour, we would like to celebrate the rain. Live from Beverly Hills is Ariana Grande with more to report." 
"Thanks, Gaga. Rain on me, tsunami," Ariana says. "The people are still going."
"So true, Ariana. The people are rising up in a massive act of kindness to celebrate the rain the world so desperately needs to quence the thirst of the Earth," Lady Gaga adds. "Are we thirsty or what?" 
"Oh, we are thirsty indeed!" Ariana replies, as her rumored beau, the 26-year-old real estate agent Dalton, makes a debut on her Instagram feed. 
Her new love can be seen hosing her down with water... err rain, as Ariana delivers the weather forecast. And if fans had any doubt in their minds about whether that was indeed Dalton, it looks like Ariana confirmed it in her Instagram Stories. 
After posting the video on her feed, she took to her Stories to share a screenshot of him and added a heart eyes and crying emoji. 
As fans may recall, the two first sparked romance rumors back in March as the two began social distancing together amid the coronavirus outbreak. "They run in the same circle," a source close to the singer told E! News. "He used to be a dancer and they have many mutual friends. She's gotten to know him quickly with the quarantine. They've been spending a lot of one on one time at home." 
To watch Dalton's unexpected but adorable cameo, watch the Instagram video below!
"Lady Gaga & Ariana Grande Are The Chromatica Weather Girls," wrote Lady Gaga on her IGTV post. "Are we thirsty or what @arianagrande?? BRING ON THE RAIN ⛈ #RainOnMe @weatherchannel."
"parched @ladygaga @weatherchannel #rainonme," Ariana captioned her post. 
The two pop stars released their latest highly-anticipated track last Friday and were, of course, met with much praise from fellow Little Monsters and Arianators. 
"Rain On Me" is the second single from Lady Gaga's upcoming sixth studio album, Chromatica. 
"It was this beautiful," Gaga told Zane Lowe of Apple Beats 1 about the collaboration, "very healing process for me, too. Not necessarily having a female artist that mentored me as I came up, and being able to be with her and hold her and be like, 'Anything that you feel chains you, any pop cultural construct that you feel you have to live up to, I'd like you to please forget about it and be yourself.'"
She added, "That woman has been through some really tough, really hard life testing stuff, undoubtedly. And her ability to move on. When she came into the studio, I was still crying and she was not. And she was like, 'You're going to be okay. Call me, here's my number.'"
Watch the music video for "Rain On Me" here.