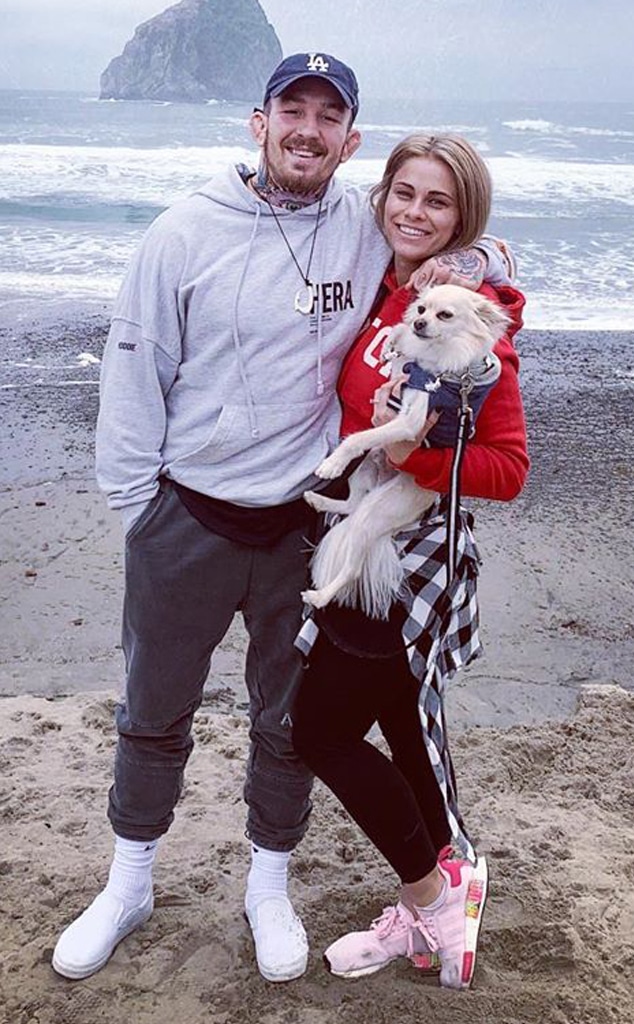 Paige VanZant / Instagram
UFC stars Paige VanZant and Austin Vanderford are making headlines for their latest Instagram posts.
The newlyweds, who tied the knot in September 2018, took to social media to show off their latest "experiment" in quarantine. On Monday night, the 30-year-old MMA Fighter posed an interesting question for his 131 thousand followers.
"Question of the night: Is it possible for my wife to hold me underwater and drown me," Austin captioned one of his videos on Instagram Stories, which was later shared to Paige's main Instagram feed. "I truly wanted her to give it 100 percent."
Soon after, he wrote: "Disclaimer! Not making light of anything... But I genuinely was curious if my wife had the physical capabilities of drowning me." 
Following their "experiment," Austin posted a video of his wife sitting on the edge of their water-filled bathtub with a wine glass in hand. She explained what went down, as she attempted to drown her husband.
"So we did do an experiment and put his head underwater... I did genuinely think I could hold you underwater," Paige told her husband. "If I got your head... This is weird. Anyways, no, I can't hold you underwater."
Austin chimed in, "End of the story... Not even close was up in a second... AND I blew her away with my strength."
"Truthfully, he was just trying to get me to say, 'Yes, baby, I'm so blown away by how strong you are,'" Paige added, hugging her husband in the video.
Watch:
5 Biggest Scandals of 2019 - Just the Sip
According to Austin, he got the idea for his wife to try to drown him after revealing that he's had those thoughts before while taking a bath. Additionally, the 30-year-old said he wanted an "ego boost."
"I do go underwater a lot to wash my hair, get the soap off, and it's always in the back of my mind," he explained on Stories. "I think, 'Man, what if Paige was really pissed off at me today, [and] tried to hold me underwater?' So I did really want to know if it was possible."
Closing his video series for the night, he wrote a message to his wife. "love you baby," he captioned his post with a red heart and kissy-face emoji.