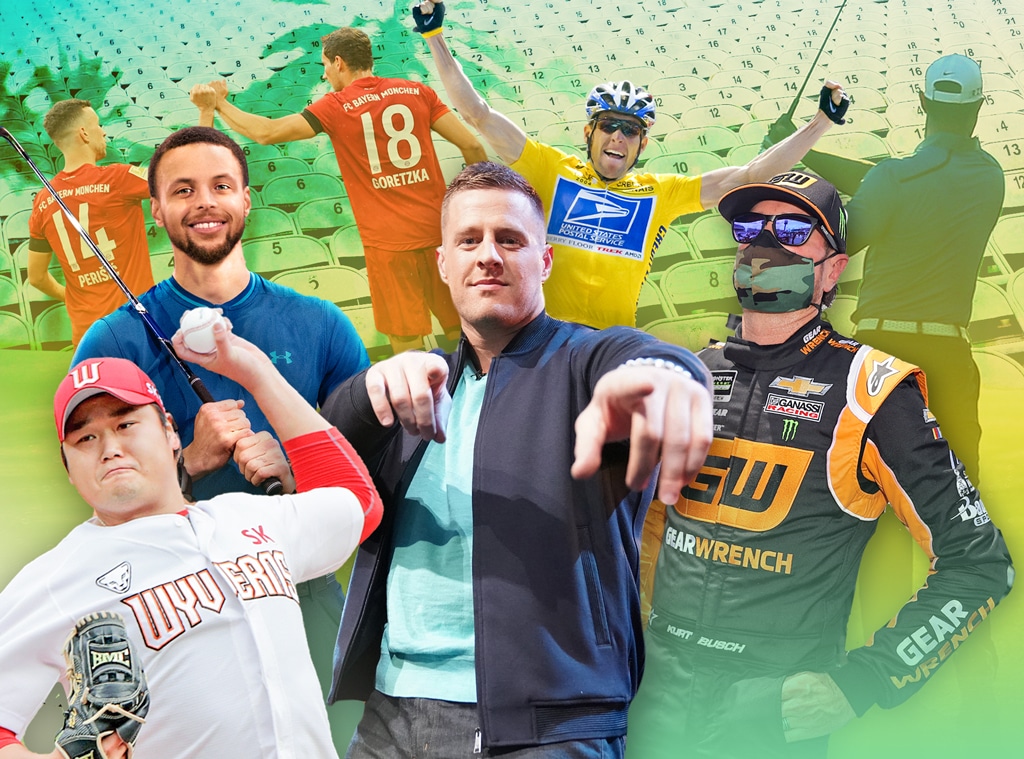 Getty Images; FOX; Melissa Herwitt/E! Illustration
So, you've binged all of The Last Dance (after first watching it live, of course), kept your TV on through all three days of April's NFL draft and spent last weekend rooting for Tiger Woods (or Phil Mickelson) alongside some 6.3 million others as they revisited The Match. 
We get it—you miss sports. Same. 
While it's understandable that the sports world as a whole had to be temporarily benched as Team Coronavirus took the field, it was a pretty tough hit. No March Madness. No "One Shining Moment". No 2020 Tokyo Olympics. No opening day. No excuse to sit in a stadium all afternoon eating hotdogs and drinking beer. (Though, TBH, you don't really need baseball for that last one.) 
Watch:
Erin Andrews Shows Off Epic Sports Collection
And there's nothing quite like the alternating euphoria and debilitating despair that comes with rooting on your fave team. Or, for the more well-adjusted among us who have never cried over a loss, the fun of wiling away a day watching impossibly fit people perform stunning feats of athleticism while we chow down on nachos at our go-to sports bar. 
And, sure, that exact scenario feels a bit unlikely at the moment. The NBA is experiencing a lengthy timeout, nobody's being taken out to the baseball game and it may take a Hail Mary for us to enjoy the type of college football and NFL seasons that we've come to know and love. 
But it's not game over for alllllllll sports. (Hi, NASCAR!) And there are plenty of other ways for you to immerse yourself in the world of sports that don't involve sitting shoulder-to-shoulder with some 80,000 screaming fans. 
As the world slowly (and responsibly, right?) eases back open, we've got just the activities to fill the basketball-, football-, baseball-, soccer ball-, hockey puck- or even water polo ball-sized holes in your #sports-loving hearts.