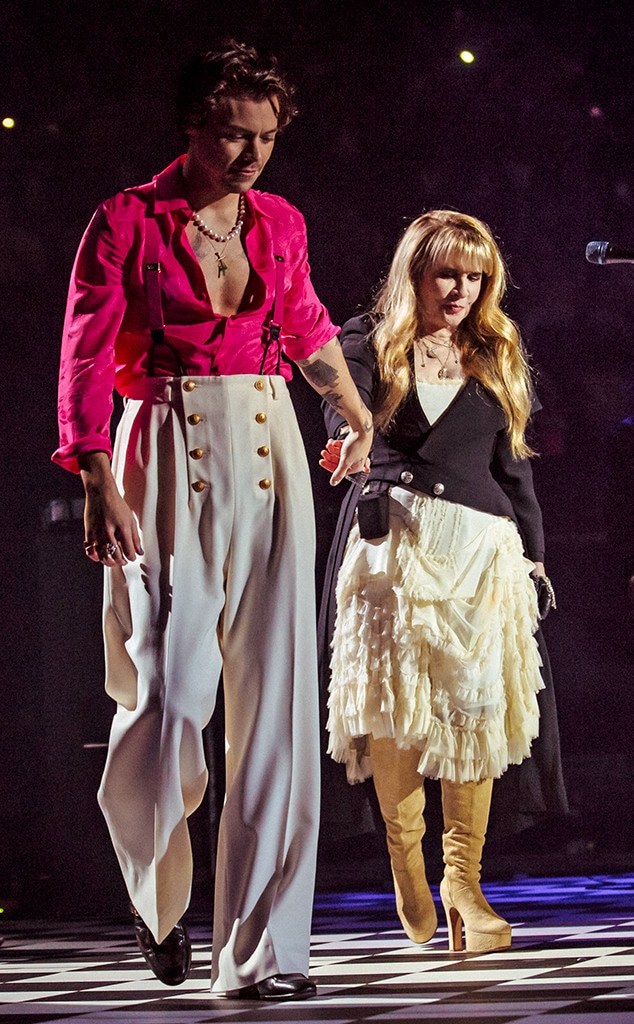 Helene Pambrun
He was the de facto frontman of one of the most successful lad bands of all time, a group that came together serendipitously and had a great run before the gents went their separate ways.  She's the frontwoman of one of the most successful and legendarily dramatic bands of all time, a group that's been having a good run for the better part of 50 years. Both incredible singers and natural spotlight-commanders. Both known for their inimitable fashion choices.
So naturally, Harry Styles and Stevie Nicks found each other.
The 26-year-old from the English town of Redditch and the 72-year-old from Phoenix, Ariz., mutually admired the other's talent from afar (perhaps one was more familiar with the other at first) and now they can call each other friend—from no matter how many miles away.
"It wouldn't be an album release without this young lady. I have a feeling that you're going to enjoy this as much as me," Styles said as Nicks glided onto the stage for her surprise appearance at the Great Western Forum in Los Angeles, where Harry was performing a one-night-only show on behalf of his latest album, Fine Line. Naturally they brought the house down with their duet of Fleetwood Mac's "Landslide."
Though we're not so sure that Nicks is getting older, too.
About nine months earlier, Styles had answered the call to induct Nicks into the Rock and Roll Hall of Fame as a solo artist (Fleetwood Mac has been in since 1998), making her the first female artist to be inducted twice. The celebration included their duet on "Stop Draggin' My Heart Around," Styles standing in for the late Tom Petty.
In his tribute to "the magical gypsy godmother who occupies the in-between," he said, "If you're lucky enough to know her, she's always there for you. She knows what you need: advice, a little wisdom, a blouse, a shawl—she's got you covered. Her songs make you ache, feel on top of the world, make you want to dance, and usually all three at the same time. She's responsible for more running mascara—including my own—than all the bad dates in history combined. That is true Stevie."
Evan Agostini/Invision/AP/Shutterstock
Styles also said, "She is both an adjective, and a verb—to quote my father, 'That was very Stevie Nicks!' or to quote my mother, 'I Stevie Nicks'ed that s--t so hard.' Mick Fleetwood calls her the 'fearless leader.' She is 'Mama Lion' to her friends. She is the family member that you can always count on. I hope she knows what she means to us, what she means to yet another generation of artists who look to her for inspiration and trailblazing courage. That is true Stevie."
Nicks may have accidentally referred to One Direction as 'NSYNC backstage while talking to reporters, but if she thinks Styles fronted 'NSYNC, that's her prerogative. She didn't really join his orbit until he left his own group, after which she quickly saw what was so special about the lad who was always an aspiring solo artist but enjoyed a heady stop in Boybandville along the way. 
Kevin Mazur/Getty Images For The Rock and Roll Hall of Fame
As he noted at the Forum about it not being an album release without her, Nicks also helped him christen his self-titled solo debut in 2017.
That May, almost exactly three years ago, they performed together for the first time at the Troubador in West Hollywood, site of countless history-making musical moments over the years, and Styles happily announced to the crowd that he was "losing my s--t in a cool way."
They started with his "Two Ghosts," then sang "Landslide," and concluded with Nicks' "Leather and Lace," Styles seamlessly covering Don Henley's half of the lyrics. As she sang, he bowed down accordingly, calling her "the queen of everything."
"I'm pretty sure that this was going to be up there with one of the best nights of my life," Styles said. And in all honesty, singing "Landslide" during soundcheck together "was even cooler for me than the show—just me and her, in an empty Troubadour," he told Rolling Stone. (They reunited this past August to perform their now signature duet at a VIP Gucci event in Rome as well.)
Naturally, Styles was also among the artists who performed at the 2018 MusiCares Person of the Year concert honoring Fleetwood Mac, joining the band on a rendition of "The Chain." And by 2019, Nicks wasn't just at the parties, she was being consulted on the product, too.
"I met Stevie Nicks last night at the Fleetwood Mac concert in Philly and she reasserted that she had heard the entirety of Fine Line and said it was incredible and that we aren't ready!!!" Trey Taylor, an editor at The Face, tweeted in November ahead of the album's release.
Styles recalled that night to Howard Stern in March, saying, "It was pretty crazy. So I'd just kind of finished the record and she said, 'Oh I want to come hear the album.' And she was with all her ladies…a little witches coven."
"And they're so used to living nocturnally—you know, they wake up really late and then they kind of live through the night 'cause they're, you know, witches," he explained, delving further into the perfectly apropos metaphor, Stevie Nicks' almost supernatural presence being part of her charm.
"So it's getting to like 3 a.m. playing the album, I'm like, 'I'm kinda tired' and they're right in their prime," Styles, who had just turned 26 in February, said. "They're really like, 'Oh, this is like daytime for us.'"
Really this all started with your average fan-meets-girl situation, with Styles—whose parents had Fleetwood Mac in regular rotation on the record player—presenting Nicks with a carrot cake after a Fleetwood Mac concert on her birthday in 2015 (though obviously if he weren't already famous he wouldn't have had a chance to get anywhere near her with that dessert).
"Piped her name onto it. She loved it. Glad she liked carrot cake," he recalled to Rolling Stone in 2017. (A little digging shows that carrot appears to be Nicks' birthday cake flavor of choice since at least the 1970s.)
Incidentally, a vinyl copy of her Nicks' 1989 album The Other Side of the Mirror was one of the items that was visibly in use in Harry's London flat when a Rolling Stone interviewer came calling last year.
But the admiration doesn't just run one way, with Nicks figuring that he's instantaneously viral moments with Styles are good for her cred with these younger generations (perish the thought, Queen Nicks is about as authentically true to herself as it gets). Rather, she sees a bit of herself in Styles, the gorgeous twenty-something who's establishing himself as a singer-songwriter while on that endlessly strange trip called Fame.
Watch:
Harry Styles' "Watermelon Sugar" Music Video Is All About Touching
"He's Mick [Fleetwood]'s and my love child," Nicks quipped to Rolling Stone early in 2019. "When Harry came into our lives, I said, 'Oh my God, this is the son I never had.' So I adopted him."
Figuratively speaking, of course. 
"I love Harry, and I'm so happy Harry made a rock & roll record—he could have made a pop record and that would have been the easy way for him," the "Silver Springs" singer continued. "But I guess he decided he wanted to be born in 1948, too—he made a record that was more like 1975."
Apparently she and Fleetwood share custody, because Nicks also shared with the Daily Mail in 2017 that Styles' friendship with the Fleetwood Mac drummer also goes way back.
"When we did the last Fleetwood Mac show, on my birthday, it was the nicest birthday I'd had in 10 years. Harry Styles brought back a cake. Mick has kind of adopted him," she said. "There are just women in Mick's family and Harry is that tall, lanky musical son he always wanted, so they keep in touch."
A few weeks after that interview, she joined him onstage at the Troubador.
Harry brought his mum, sister Gemma, some friends and a couple of his band mates to a Fleetwood Mac concert (his mother's first time seeing the band, though by then they had shed Lindsey Buckingham from the ranks) in London last year and their considerable presence did not go unnoticed.
Before she launched into "Landslide," Nicks told the sold-out crowd at Wembley Stadium, "I'd like to dedicate this to my little muse, Harry Styles, who brought his mother tonight. Her name is Anne. And I think you did a really good job raising Harry, Anne. Because he's really a gentleman, sweet and talented, and, boy, that appeals to me. So all of you, this is for you."
At the Rock and Roll Hall of Fame induction ceremony, Styles said that being a fan of Stevie Nicks was like being a friend because of how her music spoke so personally to countless people, making you feel both singled out and less alone.
The music just eventually used a direct line to speak to Styles.
"I was lucky enough to play with her at the Troubadour a few years ago, and all I could do was watch," he continued. "The show is no longer yours, it's hers, and you take a knee as she takes it from you, and that is true Stevie."
Dimitrios Kambouris/Getty Images For The Rock and Roll Hall of Fame
"She is more than a role model—she's a beacon to all of us," he concluded. "Whenever you hear her voice, life gets a little bit better. When she sings, the world is hers, and it is yours. She is everything you've ever wanted in a lady, in a lover, in a friend."
And it turned out that Nick's first listen to Fine Line ahead of its release was only the beginning. In March, Nicks posted a letter to her fans, offering support and a personal update amid the sudden situation most of the world found itself in following advisories to shelter in place to get a grip on the COVID-19 pandemic. She noted that she was "listening to music (mostly Harry Styles' Fine Line) and being inspired by him to write some new songs and poetry. Way to go H—it is your Rumours."
A mutual admiration society such as theirs knows no bounds.