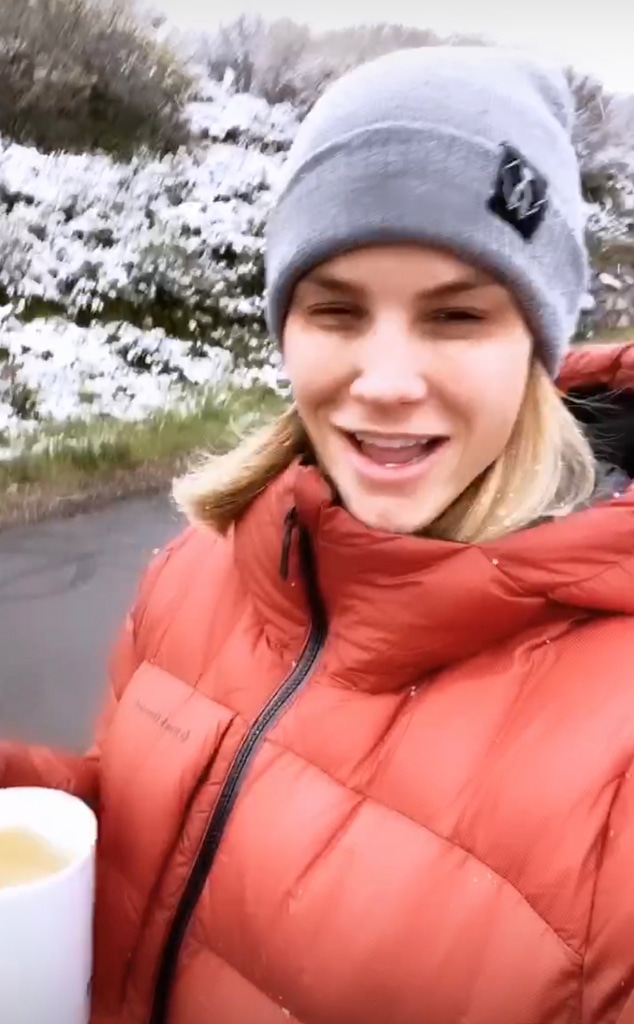 Meghan King Edmonds/Instagram
Talk about a romantic holiday. 
Earlier this week, a source confirmed to E! News that Meghan King Edmonds is dating entrepreneur Christian Schauf. Edmonds' new romance comes just over six months since she and Jim Edmonds filed for divorce. 
In honor of Memorial Day weekend, it looks like the former Real Housewives of Orange County star and her new beau are having the perfect getaway in Park City, Utah. 
"MDW plans include: becoming a mountain woman ...brb," she wrote in an Instagram post. 
Previously, she shared a video wishing her 1 million followers a "happy Memorial Day" clad in a red snow jacket and a beanie, while sipping a cup of coffee. 
On the other hand, her new boyfriend shared a snowy video to his Instagram Stories as well. 
And it looks like her current beau is pushing her outside of her limits and comfort zone—in a good way. "Guys, guess what I did today? I went mountain biking for the first time, ever. Actual real mountain biking, it was crazy. It was hard, it was super duper scary but I wanna' go again," she said in a video. 
She also shared photos from her bike ride and wrote, "def wouldn't have guessed this is what I'd be doing over MDW 2020 but here's proof I did the mountain thing. (I had an E bike to help so I totally cheated)." 
In the selfie she shared to her Instagram Story, it looks like her new partner is the one taking the selfie of the two—but his face is cut off.
Edmonds went on, "Y'all nature is HEALING." 
Watch:
Meghan King Edmonds Breaks Silence Amid Jim's Cheating Scandal
It's not yet known how Edmonds first crossed paths with Schauf but it looks like the start of a beautiful romance. 
The entrepreneur currently lives in Utah and hosts the Life Uncharted podcast. He's also the founder of Uncharted Supply Company, which sells emergency preparedness kits. 
While the 35-year-old has yet to publicly announce her new relationship, she has opened up about what she wants in her next partner. 
"I just want a partner who is supporting me and isn't jealous or trying to suppress. Someone who grows with me instead of staying stagnant at a certain place. To me, that's intimacy," she shared on her Intimate Knowledge podcast. "I just need that partner next to me who's going to hold my hand and sees me."