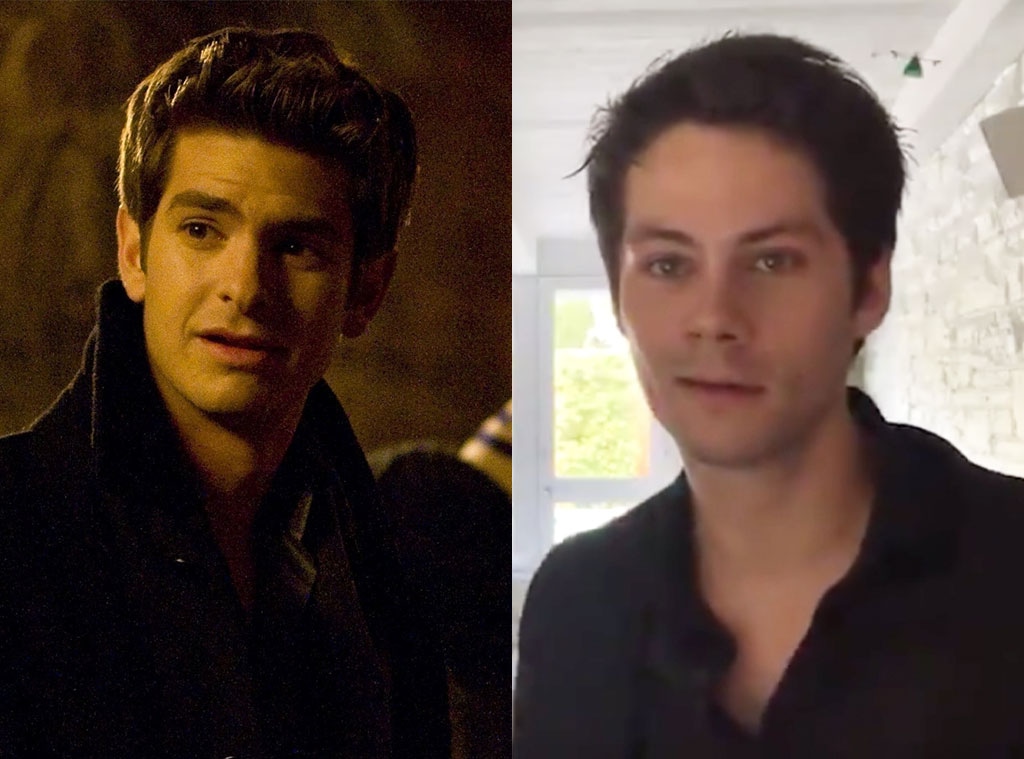 Merrick Morton/Columbia Pictures/ZUMAPRESS.com, Sarah Ramos/Twitter
Liked The Social Network? Then, you're going to love this reenactment.
On Thursday, Sarah Ramos posted a video of herself acting out a classic scene from the movie along with Dylan O'Brien. The 29-year-old actress took on both Jesse Eisenberg's and Justin Timberlake's roles of Mark Zuckerberg and Sean Parker while the 28-year-old actor revisited Andrew Garfield's portrayal of Eduardo Saverin. They then acted out the intense scene in which Garfield's character tells Eisenberg's character to "lawyer up a--hole."
The reenactment quickly went viral and earned millions of views on Twitter.  It also received Garfield's stamp of approval, according to Lin-Manuel Miranda.
"Dear @sarahramos & @dylanobrien, Andrew Garfield texted me your video and asked me to share with you how much he loved it," the Hamilton celeb tweeted.
He also shared a screenshot of the message he claimed to have received from the 36-year-old actor.
"If I had Twitter I'd let him know he MURDERED it," the message stated, referencing the Teen Wolf star's performance.
O'Brien seemed to appreciate the review, too.
"'Twas a f--king honor sir," he tweeted along with a GIF of Rainn Wilson's character from The Office, Dwight Schrute, giving a salute.
O'Brien and Ramos weren't the only ones to recreate the famous scene. E!'s Erin Lim did, as well and received a shout-out from O'Brien.
The Social Network was released in 2010 and received high praise. It received eight Oscar nominations and took home three for film editing, music and writing at the 83rd annual Academy Awards.
It also earned six nominations at the 2011 Golden Globe Awards and won in four categories, including Best Motion Picture Drama.
Watch:
See Armie Hammer at "The Social Network" Premiere in 2010
Watch the video to see the reenactment.