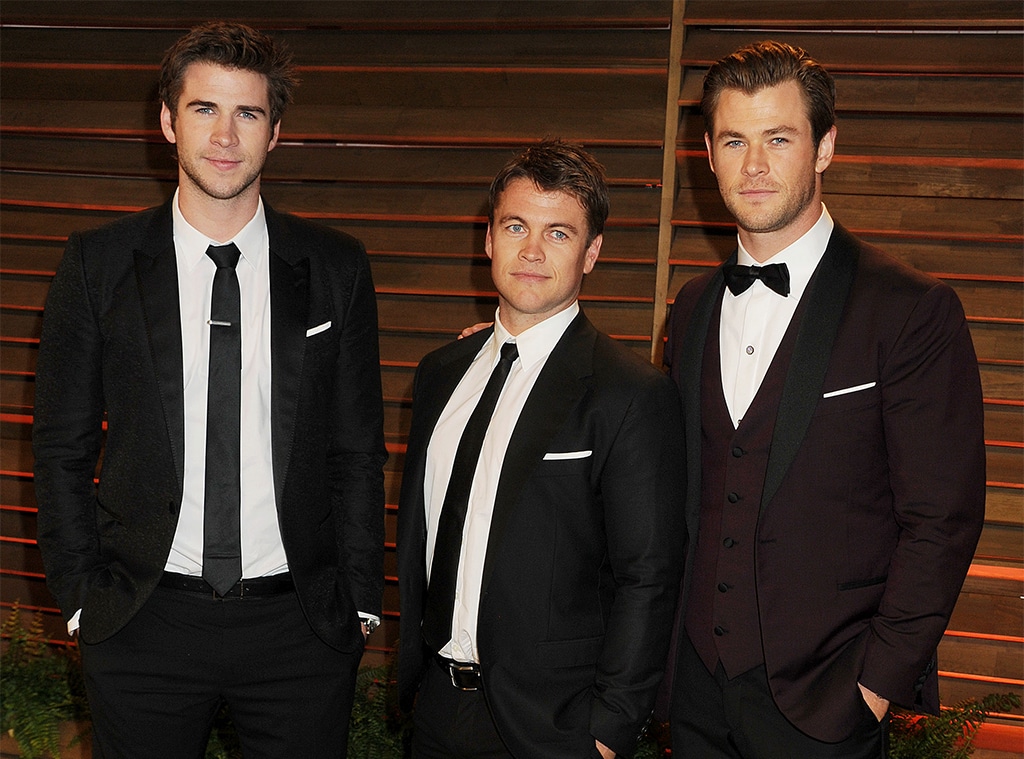 Broadimage/Shutterstock
Once upon a time, a Hemsworth brother decided to decamp from their native Australia to Los Angeles, with a handful of acting credits and some big dreams. 
Nope, not that one. 
Er, not that one, either. Because if you were unaware that Chris Hemsworth and Liam Hemsworth have an older brother, boy are you in for a treat. (Also, there may be some other pop culture phenomena you may need to catch up on.)
Luke Hemsworth, the eldest of the Australian Hemsworths, was actually the first of the trio to land himself an IMDB profile, after a childhood spent traversing the Northern Territory of the Australian Outback, where their parents worked at a cattle station. 
Watch:
Chris Hemsworth Says His "Hips Don't Lie" In "Extraction"
Asked on Jimmy Kimmel Live back in 2016, if it was true that they were raised "basically like a pack of wild dingoes," Luke cracked, "Yeah, the Hemsworth house of horrors." Between their motorbikes and a plethora of dirt roads to choose from, they managed to keep themselves entertained. "We'd wake up in the morning and literally say, 'See ya, mum,' and just disappear into the bush."
But at some point, their family uprooted to Phillip Island, south of Melbourne, and the brothers realized there just may be a market for a trio of attractive boys with acting chops. The eldest by two years, Luke was the first one to dive in, scoring a role on the very trendy Aussie soap Neighbours after studying at the prestigious Australian National Institute of Dramatic Art.
"Then my focus changed. I wanted to have something that could provide money while still allowing time for auditions. So, I learned the flooring business, started my own, and in that time, got married and had a couple of kids," the now-38-year-old father of four with wife Samantha Hemsworth told Entertainment Tonight in 2016.
But by that point he'd already laid the groundwork for Chris, now 36, who turned a guest spot on Neighbours into a recurring role on another soap, Home and Away. Sensing a successful formula, Liam appeared on that show before making his way to Neighbours, the series that started it all. 
And while Chris was the first to truly go Hollywood and make the leap to California, he brought his brothers along, offering Luke the chance to serve as his trainer on Thor: The Dark World. "Watching him go through all that [early success] crystallized in my mind that it was what I wanted to do," Luke told ET. "And that I couldn't stay sanding floors for the rest of my life!"
Now all three seem to split their time between L.A. (where Luke settled in Malibu, just a stones throw from where 30-year-old once Liam lived with now ex-wife Miley Cyrus) and Australia (where Chris returned to raise his trio of kids with wife Elsa Pataky) and have steady gigs all around. 
As Westworld actor Luke joked ahead of the sci-fi drama's premiere, "We're coming out of the woodwork!" 
If only. While there are but three Hemsworths to enjoy, there is no shortage of other talented siblings running around Hollywood. And with today being Brother's Day, it felt like a good time to recognize their contributions to society. Behold, some of our fave bromances.