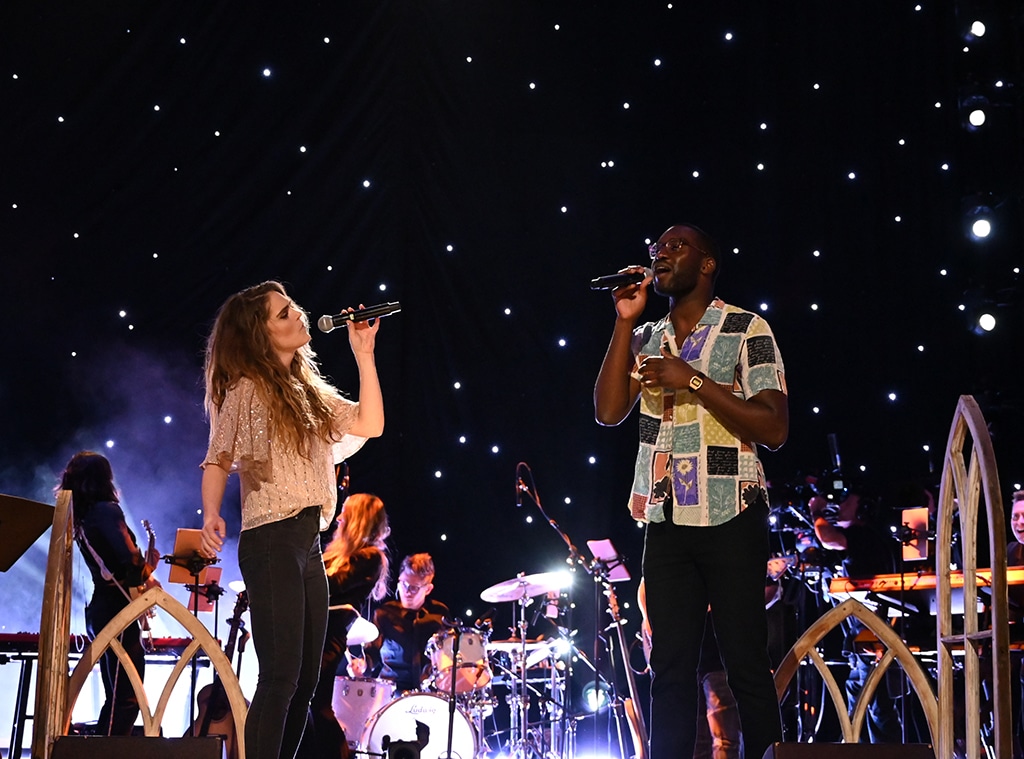 ABC
Some congratulations are in order. 
The Bachelor Presents: Listen To Your Heart aired its first season finale last night and crowned Bri Stauss and Chris Watson as the winning couple. Absolutely no one was surprised because Chris and Bri have been the most solid couple all season, with zero drama compared to any and all other couples. They found each other on night one and pretty much never looked back until they were named the winners by judges Taye Diggs, Jewel, Rita Wilson, Kaitlyn Bristowe, and Jason Tartick. 
Now, they've released an album including five new songs and five of their covers from the series, and while they're staying safer at home in separate states, their relationship and musical partnership is still going strong. 
We chatted with them on Monday about their experience on the show and after the show, and what it was like to relive their love story every Monday night for the past six weeks. 
Congratulations! What were you thinking when you were named the winners?
Bri: I don't know if there was a lot of thinking going on because it was so much at once. It was like, the most incredible feeling ever. We can't remember a lot of what was said because it was just so crazy, but I remember how I felt and it was amazing. 
Chris: Yeah, I know that when Bri and I embraced each other, we closed our eyes, and it just felt like an earthquake of sound, and it felt like we were hugging each other for hours. But we know it was only a few seconds, but it was just absolutely incredible. 
During the episode, you guys seemed to be having a tougher time than usual. Can you explain what was going on in your heads leading up to that final performance?
Bri: Before the final performance, there was a lot that happened. We lost Matt and Rudi, and we really had to process through that quickly, because we had a rehearsal and we didn't completely know the song, so we were stressed about that. And then, you know, the finale was just the biggest night of our lives, so I was definitely nervous and in my head and just afraid, and it wasn't until right before we went on stage that I was like, we got this, I'm good. Chris was just always great. 
Chris: Yeah I have a pretty good poker face when it comes to anxiety, so I was like, Bri's going through it, I can't show that I'm going through it so much. And by the time that I was showing that I was really nervous, Bri was completely relaxed. So it just goes to show how we truly do balance each other out. 
It felt really obvious to me and to a lot of viewers that you were going to win. Looking back, does it feel obvious to you guys? 
Bri: Looking back it makes sense, just because for us it was such smooth sailing. But looking back at the other couples and everything, it was really cool to just see how everyone works through their things differently and luckily for us, everything worked in our favor. But every day I still wasn't like, oh yeah, we're gonna win this. I really didn't know what was gonna happen. 
Chris: We figured out on episode three what winning would entail, so the idea of the prize...we still knew it while we were performing, but it wasn't at the front of our mind. The front of my mind was the prize that was in my right hand. It was Bri, you know. So we both knew that we had each other, which is more than we could have asked for coming into this scenario. So at a certain point, we were like, of course we want that prize, but it came second to the love, for sure. 
What was the first step after you won? Did you immediately start writing songs? 
Bri: It was pretty immediate. We had a couple of weeks to kind of adjust back to normal life. And then I'm in Utah right now, and Chris is in Los Angeles, so I was able to go down to Los Angeles two weekends in a row, and we were able to just hang out and enjoy normal life and start to begin the writing process with the Final Rose band, from the show, and District 78, the music producer from the show. Luckily we had those two trips together that really sealed the bond between us in real life, so when I came back to Utah and we began writing everything through FaceTime, it luckily worked out. It wasn't easy at all, but it worked out. 
So you guys aren't quarantined anywhere near each other? 
Bri: When I went back to Utah, just like a day or two later, they shut everything down. So we got stuck away from each other. 
How has the relationship been since then, especially since you got forced apart physically?
Chris: Yeah, not seeing each other is hard and we're both not the type of people that like long distance and want to be in a long distance relationship, but it really just works between us, and our connection is real and we haven't had a connection like this with anyone else in the world so we know what we have is special and we've just grown stronger in the time apart. So it really has been a blessing. 
Do you have big plans for as soon as quarantine is over? 
Chris: We have a loose plan that is "let's see each other as soon as possible," and that will be executed without a doubt. 
Bri: We're still taking it day by day. 
Tell me about the songs you released on this album. Do you have favorites? 
Bri: So there are five covers that we performed on the show and then five originals, and the process for that really was just creating and coming up with new concepts and ideas and putting it together to see what sounded good. We did write it in two months, so time was definitely limited, but we love what we've come up with in that time. And I don't know if I necessarily have a favorite, but I really love "I do (Tell 'Em)" because that was the first song we wrote together during those two weeks before we had seen each other after the show, and that was through FaceTime, and it was very raw and vulnerable, and we were just writing down exactly how we felt. 
Chris: With the writing process, a lot of times you write together or just in person, and it was really daunting to write the whole thing over FaceTime, but the song I enjoy a lot is "Your Touch, because all of these songs, they have our truth. If they sound cliche, then it is what it is because we really do love each other, and truthfully the first time that we held each other's hand, it felt like something that we'd never felt before, so I just really liked how "Your Touch" is like it doesn't matter where you've been, but you're here with me, and like I could feel everything that I want out of life, I could feel everything that I want out of love just by holding your hand, so it was really cool to be able to think about our love and express it. 
What was it like for you guys to watch the show back? Did you watch it together over FaceTime or anything? 
Bri: Yes, we did. We watched basically every episode together, and then because of the different time zones, I'm an hour earlier, so he watched it with me and then I watched it again with him, and then we rewatched it the next night. It was really fun to watch it together. 
I talked to Julia a few episodes ago and she said she had a really hard time watching it back, so did you guys have a better experience? Or were there things you were still cringing about. 
Chris: Well the thing about this show is that we really care deeply for everybody, and I think that feeling is mutual for everybody, so watching Julia go through those things with Sheridan and Brandon, all of that was still tough for us to watch. With us in particular, it's just small mannerisms that we're like, ugh, I'm annoyed that I showed that. But with all the drama and stuff we were just feeling for other people, for sure. 
You seem like a really drama-free couple. 
Chris: We're really lucky, but also further to that, I live a drama free life. You guys heard on the show. I lost my dad and my best friend. If nobody's dying, it's not worth crying over. 
Watch:
Peter Weber's Message to Fans After Messy "Bachelor" Finale
The Bachelor Presents: Listen To Your Heart aired on ABC. 
You can find Chris and Bri's album, "Fell In Love on a TV Screen" on their website or wherever you get your music. 
New Bachelor content is on hold for now, but starting June 8, ABC will begin airing The Bachelor: The Greatest Seasons—Ever!, a 10-episode event that revisits iconic seasons in one three-hour episode each, featuring rose ceremony and drama highlights, along with catch ups with fan-favorite Bachelor alunmi.