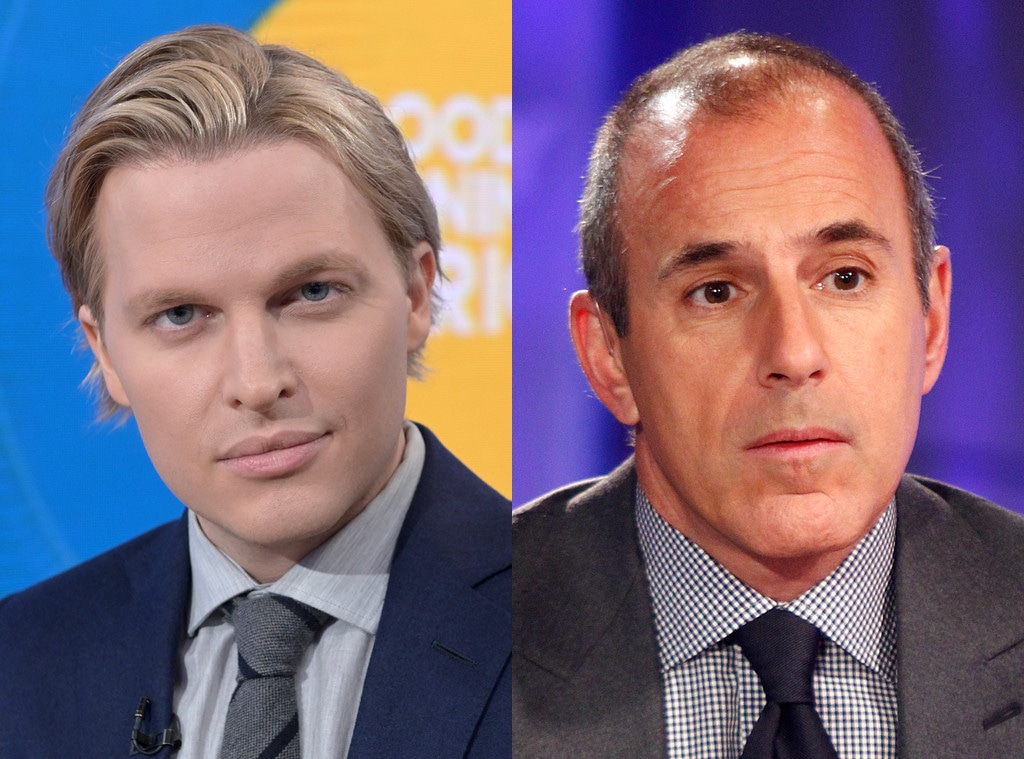 Paula Lobo/ABC/Peter Kramer/NBC/NBC NewsWire
There is clearly no love lost between Matt Lauer and Ronan Farrow.
The disgraced Today Show host makes it clear that he disagrees with Farrow's reporting in the best-selling book Catch and Kill. Specifically, Lauer writes in an op-ed for Mediaite that he's "disappointed but not surprised" in the perceived lack of scrutiny of Farrow's book. 
For those who haven't read Catch and Kill, Farrow writes about how he uncovered Harvey Weinstein's alleged numerous crimes and touches on Brooke Nevils allegations that led to Matt Lauer being fired from NBC News for "inappropriate sexual behavior" in Nov. 2017. 
Lauer has stated time and time again that he had "a consensual, yet inappropriate relationship" with Nevils, and unequivocally denies any accusations of rape or sexual assault.
According to Lauer, Farrow "betrayed the truth" by writing about said allegations without corroborating with those involved. Lauer claims that he personally contacted numerous individuals that were referenced in the book and each said that Farrow "never reached out to confirm" what his sources shared. 
Lauer believes that these sources who spoke of Brooke Nevils' accusations were people who were "disgruntled or who had been fired by NBC, and therefore had an incentive to come up with explanations for why their careers there didn't work out."
As for Ronan, Matt speculates that NBC's decision to not move forward with the Harvey Weinstein story was what encouraged Farrow to "willing to abandon common sense and true fact checking in favor of salacious, and deeply flawed, material." Lauer concedes that the book has accurate reporting for the most part, but when it comes to reporting on his fall from grace, Matt thinks Ronan's proven to be "manipulative" with the details.
Watch:
Kathie Lee Gifford Stills Adores Matt Lauer
"Ronan knows, as well as anyone, that there is a great deal of fear surrounding this subject, and it would take an act of selfless bravery (some might say foolishness) for anyone to challenge him, or the story of an alleged victim of sexual assault," he continues. 
Lauer then explains that he's sharing his own research and thoughts because of a controversial New York Times column by Ben Smith. The former Buzzfeed writer wrote on Monday that journalists need to be more critical of Farrow's writing as he often "suggests conspiracies that are tantalizing but he cannot prove." 
Ronan and his editor responded to Smith's observations and insisted that they "stand by" the reporting. 
However, it's clear that Lauer begs to disagree. That being said, he thanks Ronan for reminding him "how it feels to do the work I love."
Not long after Lauer published his lengthy argument, Ronan tweeted, "All I'll say on this is that Matt Lauer is just wrong. Catch and Kill was thoroughly reported and fact-checked, including with Matt Lauer himself."
(E! News and NBC are both members of the NBCUniversal family.)