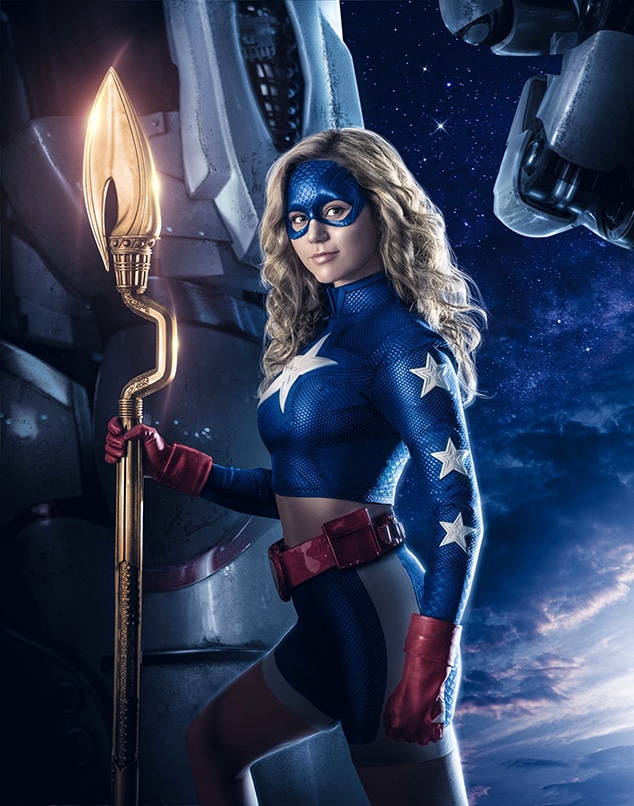 CW
DC's Stargirl, the latest TV superhero, has a very personal origin story.
The new series, which premiered on DC Universe and comes to The CW on Wednesday, May 19, follows Courtney Whitmore (Brec Bassinger), an ordinary teenage girl, who moves to Nebraska with her mom (Amy Smart) and step-dad (Luke Wilson). While establishing her new life, she finds the gear of Starman in her step-dad's belongings, learning he used to be a superhero sidekick, and powers up as Stargirl. Courtney's step-father, Pat, then reluctantly becomes the sidekick to his step-daughter.
The series was created by Geoff Johns and is based on the character he co-created with Lee Moder. Johns wrote the original comic, Stars and S.T.R.I.P.E., and carried the character over to other comics with him, notably Justice Society of America. Johns serves as showrunner on the series alongside Melissa Carter, it's a personal project for the prolific comic book scribe. Johns named the character after his sister, Courtney, who died in the TWA flight 800 disaster at the age of 18.
Watch:
"Shazam!" Cast Tells All on Upcoming Superhero Flick
Stars and S.T.R.I.P.E. was the first comic proposal Johns sold to DC Comics, a company he's called home for years. The character of Courtney was not only named after, but inspired by Johns' sister. "It is her spirit and optimistic energy that I wanted to put back in the world with Stargirl. It is celebratory, forward-looking and positive," Johns said in a letter to press.
"I've written a lot of superhero stories in my career, but this is by far the most personal on every level," Johns wrote.
When casting the lead role, Johns told TVLine they saw hundreds of actors, "but they had to have a specific mix of youth and power and humor and warmth to them that embodied Stargirl, because she's so proactive. She's like the opposite of a reluctant hero, she's so enthusiastic."
"I love that she's fearless and fights for what's right. I mean, she does it before she's even Stargirl. That's just who Courtney is. It was important to find somebody that could do that and still have a real warmth to her, because she's not just going in there and be kicking ass," Johns said about finding the right fit in Bassinger.
Johns said the TV series "is the most important thing I've ever worked on because of the character."
"It was the first comic book I ever wrote, it was inspired by family, and it's the first show that I've ever showrun. I wanted to showrun it. I wanted to be there, every day...Really, it's a dream come true. I would love to showrun this show for years. It's my favorite experience that I've ever had, in my life, and it means a lot. My parents are thrilled. My family is excited to watch the show," Johns told Collider.
See Stargirl take flight on Tuesday, May 19 at 8 p.m. on The CW.