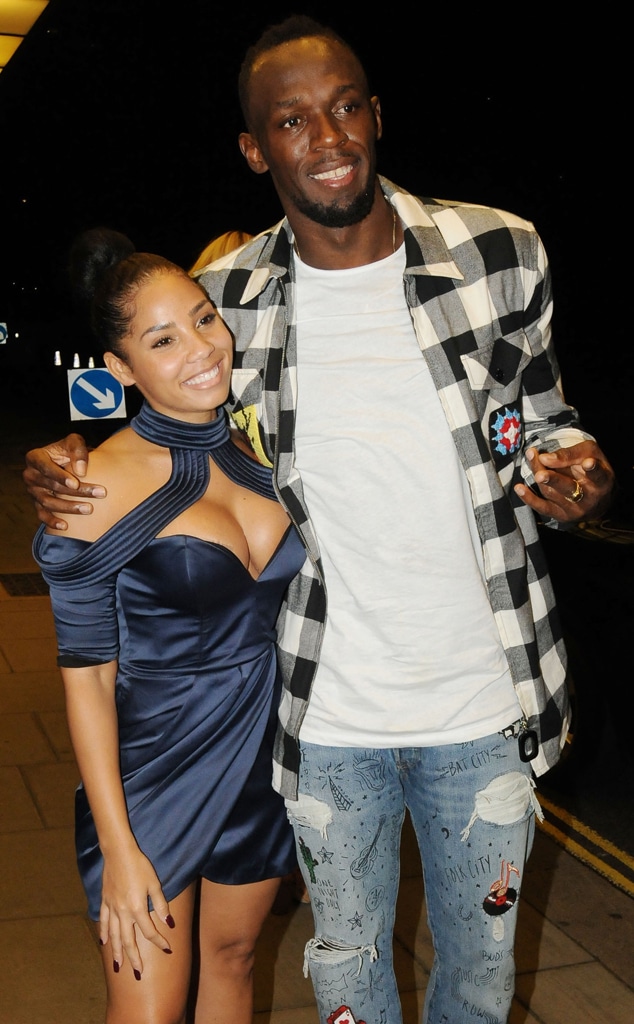 Shutterstock
Usain Bolt is officially a dad!
On Monday, news broke that the Olympic gold medalist and his girlfriend Kasi Bennett welcomed a baby girl. The exciting announcement came from Jamaican Prime Minister Andrew Holness, who took to social media to share the thrilling news with fans and send his best wishes to the new parents and their little one.
"Congratulations to our sprint legend Usain Bolt and Kasi Bennett on the arrival of their baby girl!" he shared, along with a picture of himself and Bolt together. 
Back in January, the legendary track and field star revealed that he and his longtime love were expecting their first child together with a sweet tribute post on Instagram, which featured a stunning shot of the new mom cradling her growing baby bump while donning a red dress. He captioned the picture, "I just want to say a KING or QUEEN is about to be HERE. @kasi.b."
For her part, Bennett gave her followers another look at her maternity shoot by sharing more photos and wrote, "Our biggest blessing..," "Our greatest celebration…," and, "Our golden child. Coming soon…"
Bolt and Bennett have been dating for almost seven years and have expressed their desire to expand their family several times in the past. Back in 2017, he told PEOPLE, "I have [had] a girlfriend for four years now [and] it's going steadily, so we're thinking about kids very soon. We'll see how it goes, we're taking our time."
After sharing that he and Bennett had a little bundle of joy on the way, Bolt told the outlet that he won't put pressure on his children to follow in his famous footsteps. "People always say, 'Are you going to put your kids in sports?'" he said in February. "But for me, if they want to be in sports, fine, I don't really care. But, I won't push them to do track and field. I think it's going to be hard."
Bolt continued, "I think it's the hardest thing when you have a dad that is a superstar in a super-sport, I don't think you should do that sport. I think you should do something else because there is so much pressure on you to live up to expectations."