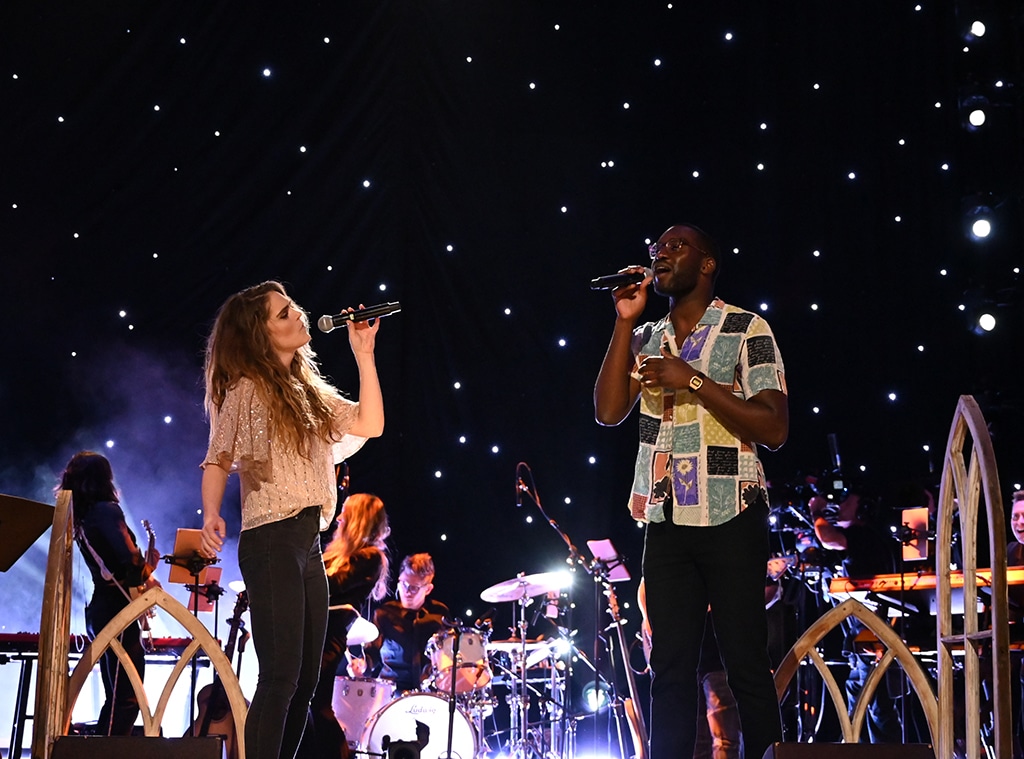 ABC
The Bachelor Presents: Listen To Your Heart has come to an end. 
It's been quite a long journey, or maybe a short one, and maybe it hasn't ended yet and will never end because that's how time works now (seriously, doesn't it feel like this show has been airing for months instead of six weeks?), but it's definitely been six episodes of something. Love. Music. People saying dumb things. Us waiting for someone to finally sing "Shallow." Us worrying about Jamie's mental state. And six episodes of us knowing that Chris and Bri were probably going to end up as the winners. 
Chris and Bri got together night one, and then they just were, as everyone else freaked out around them. Jamie was having a constant panic attack even though nothing appeared to be wrong, while Matt just couldn't get there with Rudi and Natascha was too busy concerning herself with other people's business to figure out that she and Ryan should not have used that arrangement of that Ed Sheeran song. And then there's Julia, sweet sweet Julia, who just could not get Brandon out of her head. 
Through it all, Chris and Bri just got closer, and you could see it in their performances, which is why esteemed judges Rita Wilson, Kaitlyn Bristowe, Jason Tartick, Taye Diggs, and Jewel (what a crew, honestly) declared them the winners over Jamie and Trevor, who were their only competition after Matt and Rudi went their separate ways. 
As we face a foreseeable future without new Bachelor content, it's time to look back over this musical experiment to weigh the pros and the cons 
Pro: The People
Never before has a season in this franchise felt like it was filled with so many regular people. Yes, they're all beautiful and talented musicians, but they feel a lot more human and relatable than the beautiful Instagram models with mysterious jobs who often get cast. And we have nothing against beautiful Instagram models with mysterious jobs, but we just crave some variety, and LYTH brought it. 
Con: The Title
We hate typing The Bachelor Presents: Listen To Your Heart so much we cannot even explain it to you. It's like our fingers lose function in the middle of those words and it takes all the effort in the world to finish them correctly. Even just Listen To Your Heart is, sorry, not a good title. There are THOUSANDS of songs about love, plus a variety of songs about songs and even some songs about roses, and you are telling us that no one could come up with a good play on any of them? Listen To Your Heart is the best you could do?!  
Pro: The Performances
We have always hated the awkward "private concerts" that pretended to be dates on this franchise because it feels like an annoying way to shoehorn in a random country artist while we're still only focused on this couple kissing in front of them. It's so much better to care about who's singing the songs, especially when they're good. 
Con: The Structure
We have this same issue with Bachelor in Paradise. The shows lose steam by the end because couples are going home sort of arbitrarily just because they couldn't decide they were in love or perfect their onstage chemistry over the course of two weeks, and then all the fun dramatic people are gone, leaving only the well adjusted couples. 
In our dreams, everyone would stick around for longer, allowing for more interesting drama. 
Pro: The Judges 
Though it would have been nice to actually watch the judges deliberate, the groups of varying musical expertise were pretty solid and gave some great advice. Another note for next time: Get some musicians who are also couples and who perform together, so they could actually give some advice on that aspect. 
Con: The Number of Times Chris Harrison Said "Listen to Your Heart"
We get it. We got it the first time you said it. Please, we beg of you, find a new way to state this concept. 
Stay tuned tomorrow for an interview with winners Chris and Bri, whose post-show album is out tonight. 
The Bachelor Presents: Listen To Your Heart airs on ABC.