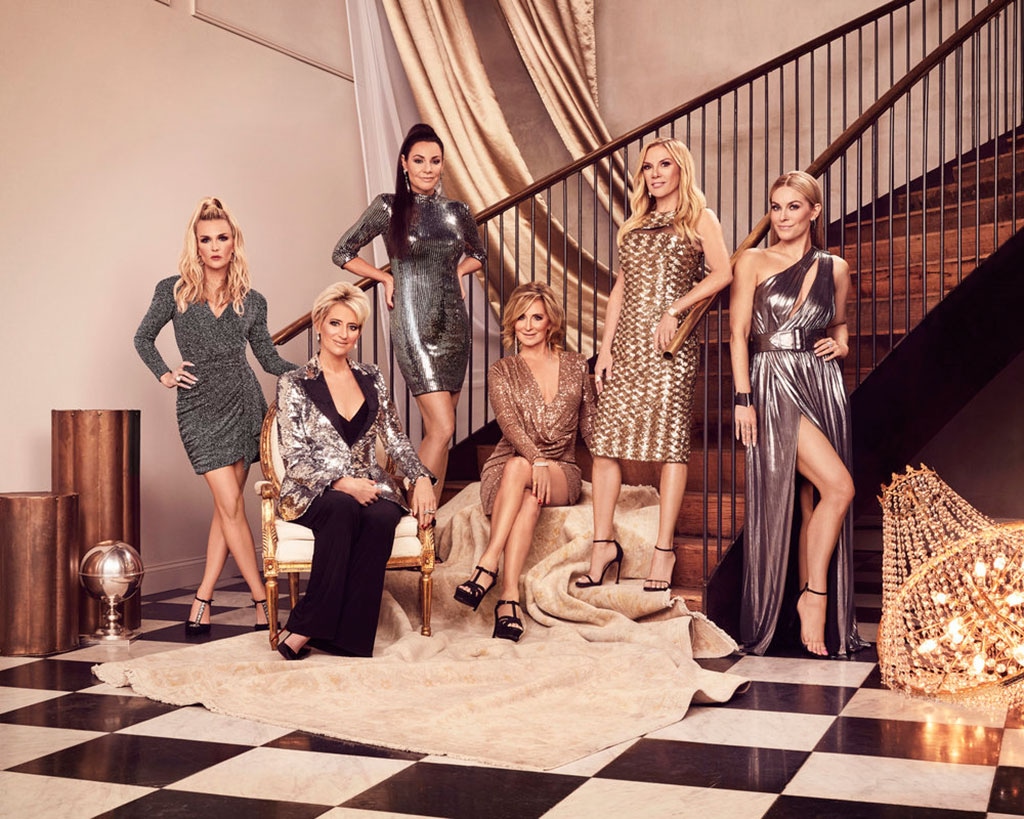 Sophy Holland/Bravo
A not-so-friendly conversation!
It looks as though The Real Housewives of New York ladies are still dealing with the fallout from their recent trip to the orchard. In this exclusive clip from tomorrow's all-new episode, the group is attempting to discuss Dorinda Medley insulting Tinsley Mortimer, but things quickly go south when Ramona Singer chimes in.
"Tinsley felt ganged up on—which, rightly so, because everybody kind of jumped down her throat," Luann de Lesseps says.
As shown in last week's RHONY episode, the drama began with Dorinda telling Tinsley that her chewing gum lasts longer than Tinsley's relationships. According to Dorinda, she only made the comment because Tinsley said something about her ex-boyfriend, John Mahdessian. 
However, the clip flashes back to the moment, showing that Tinsley was just responding to Dorinda saying, "It's not easy for me to be that person to tell everybody that kind of stuff."
"It's called sharing. It's really hard," Tinsley said. "Especially when people judge you on it."
Then came the chewing gum comment. 
Back in the present, Ramona calls the debacle a "s--t show," saying that they need to "figure out ways it doesn't happen again."
Ramona adds that she has something she wants to tell Dorinda.
"Dorinda, don't be mad at me...because I really thought about it before coming here. And I know I'm not perfect, okay?" she begins. "God knows I'm not perfect. I make mistakes all the time. I'm trying to get better. You advise me on a lot of things, Dorinda. I respect you tremendously."
Ramona continues, "But I realize that for some reason, you have a pattern—and I love you, don't get me wrong—after someone upsets you, you go for the jugular. You go below the belt and you really hurt people. And I don't think you even realize you do it. And I think after you do it, you feel bad about it."
Dorinda doesn't take the comment very well. 
"You do it all the time so you should recognize it very well," she says, shocking Ramona. "You do it all the time."
After Leah McSweeney responds by yelling, "zing!" Ramona realizes the conversation isn't going anywhere.
"See, that's what you do, Dorinda. I'm just gonna stop right now," Ramona tells her. "That's your problem. I'm gonna stop it now. I'm just gonna stop it because that's really sh--ty."
In a confessional, Ramona reflects on the moment: "Dorinda is turning this all around, pointing fingers at me, because she doesn't wanna recognize her own faults."
Watch the awkward conversation in the above clip!
Real Housewives of New York City airs Thursday nights at 9 p.m. on Bravo. Catch up with past episodes here!
(E! and Bravo are part of the NBCUniversal family.)