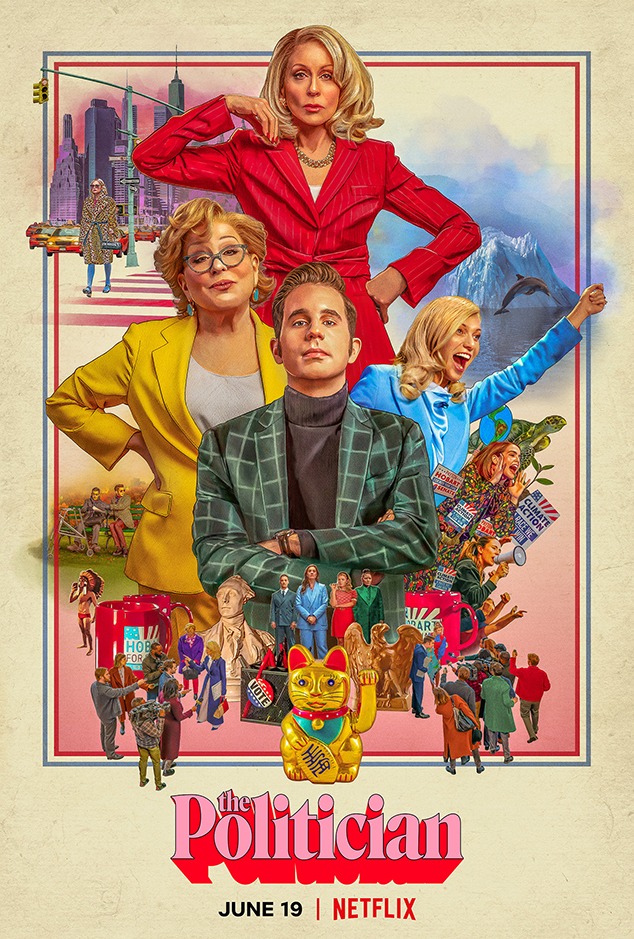 Netflix
Remember when The Politician turned everything on its head with the season two finale by jumping ahead in time and introducing characters played by Bette Midler and Judith Light? No, you don't? That's understandable because the first episode came out what feels like 321 years ago in September 2019.
The second season is on its way to Netflix, sans Jessica Lange, but still with Gwyneth Paltrow on Friday, June 19.
Check out the new poster above.
While the first season tracked a twisty race for student body class president at an affluent high school, season two is all about a state senate race.
Season two of The Politician follows Payton Hobart (Ben Platt) on his quest to unseat Dede Standish (Light) in a New York State Senate race. Dede Standish, a long-time incumbent and admired Senate Majority Leader backed by her chief of staff Hadassah Gold (Milder), finds what was supposed to be an easy race a lot more difficult with Payton involved. Will Payton, who sees this as the next step to the presidency, play dirty in order to succeed? Payton's mother, Georgina Hobart (Paltrow), makes a big decision that threatens to upstage Payton and everything he's hoping to accomplish.
Watch:
Ryan Murphy Explains That "Politician" Cliffhanger
"But if Payton wants to rise above petty politics and succeed without compromising his character, he must find his voice and strengthen his political message to inspire and excite the voters," Netflix said in a release.
Ryan Murphy, Brad Falchuk and Ian Brennan created the series. Laura Dreyfuss, Zoey Deutch, Lucy Boynton, Theo Germaine, Julia Schlaepfer and Rahne Jones also return for season two. See the first photos below.
The Politician returns Friday, June 19 on Netflix.