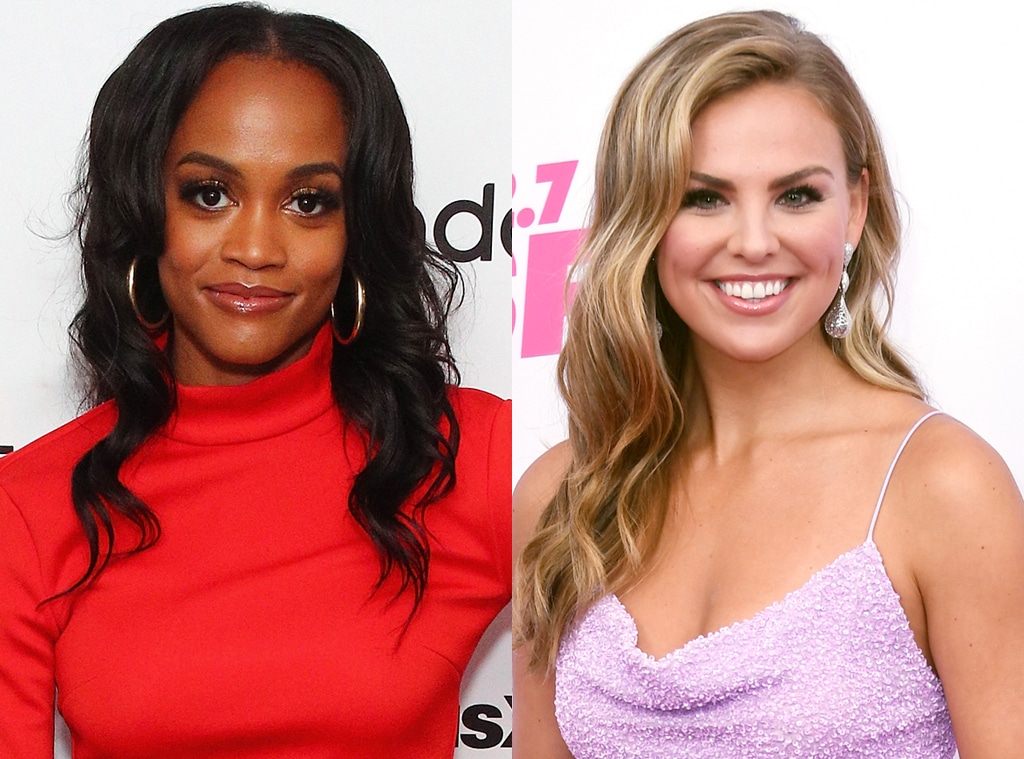 Astrid Stawiarz/ Getty Images / Frazer Harrison
Former Bachelorette star Rachel Lindsay took to social media to educate Hannah Brown and her followers on why using the N-word is always out of the question. 
On Sunday afternoon, following the backlash Brown received for using the racial slur and following her apology, Lindsay shared a "word" on Instagram on why non-black people should never use the N-word. 
"You guys have to excuse my appearance, I just got off the Peloton because I needed to release some tension, I needed to release some stress," Lindsay said on a video posted on Instagram TV. "I honestly... didn't want to have to do this. To be honest, I'm tired. I'm so tired of feeling like I have to be the one to say something." 
It seems like Lindsay also had a word with Brown herself on why she should have never used the racial slur during her Instagram Live on Saturday night—even if she was just singing along to a song.  
"I never wanted to speak on this, I never wanted to say anything, I'm honestly tired of feeling like I have to speak because other people won't [...] I'm personally offended by what was done... to start from the beginning, last night when everything popped off," Lindsay said. "I didn't see it but I woke up to a bunch of messages today, basically telling me what happened, so I tried to do something a little different. I thought instead of me dragging her [Hannah Brown], which is what people wanted me to do, and I'm not necessarily in the business of doing that.. I thought, let me just pull out a verse from the Bible."
She added, "The Bible says in Matthew 18:15 that when you feel offended, you should go to that person and let them know that they offended you. So I did that, I thought, you know what, let me just speak to the person directly and let them know how I'm feeling," she explained. "It's not an opportunity to call someone out, it's not necessarily an opportunity to drag them, it's an opportunity to maybe educate them, to speak to them how you were personally upset about it... so that's exactly what I did, never with the intention to come do an Instagram Live, I thought, 'let me challenge this person to use their platform' because last night it was used in a different way so let me challenge them to use it in a better way."
"Maybe it was a mistake, maybe they didn't realize the intention behind it," Lindsay said. "So, let me give them opportunity to now use their platform to correct that mistake. I am personally hurt and offended that I gave someone the opportunity to do that and it wasn't done. Now, I understand that an apology was made but when I know what could have been done, when I know what I challenged someone to do... they refused to do it, or they did not do it. I should put it that way, they did not do it." 
As a result, Lindsay then felt it was necessary to use her own platform to speak on the reason why the slur should not be used. 
Watch:
Hannah Brown Reflects on "Bachelorette" 1 Year Later
"You know, it's easy to make a statement," she went on, referring to Brown's brief apology on Instagram Stories earlier this afternoon. "It's easy to hide behind words but when you're bold enough to say the N-word on camera, on your platform.. let me just say, when you're bold enough to say the word on your platform, then you need to be bold enough to use your face on camera and apologize the same way you said the word."  
"I owe you all a major apology," Brown said when giving her apology. "There is no excuse and I will not justify what I said. I have read your messages and seen the hurt I have caused. I own it all. I am terribly sorry and know that whether in public or private, this language is unacceptable. I promise to do better."
Lindsay explained that while she wasn't discrediting the apology, she doesn't believe "we can keep giving people a pass for this."
"We have to hold people accountable for what they're doing," Lindsay said. "And I am so disheartened and upset by the people who are now in my comments, the people who are in my DM's to take it easy [...] those are the same people who don't look like me, who aren't personally offended by that word, you should feel disgusted when you say that word. You should feel uncomfortable [...] That word has so much weight and history behind it. If you don't know, please do yourself a favor and educate yourself on that word." 
Lindsay also went on to say that Brown and others who cause this type of controversy should hold themselves accountable—as should their fans—for their actions and how they might hurt other people and other communities. 
She concluded, "That word was used to make black people feel less than... it was used to make them feel inferior... and every time you use that word and you are not black, you give that word power, and that is why it is wrong. I don't care if you are singing along to it in a song... Non-black people should not feel OK about saying that word. It's wrong. You wouldn't say it on TV. You wouldn't say it in front of your black friends."