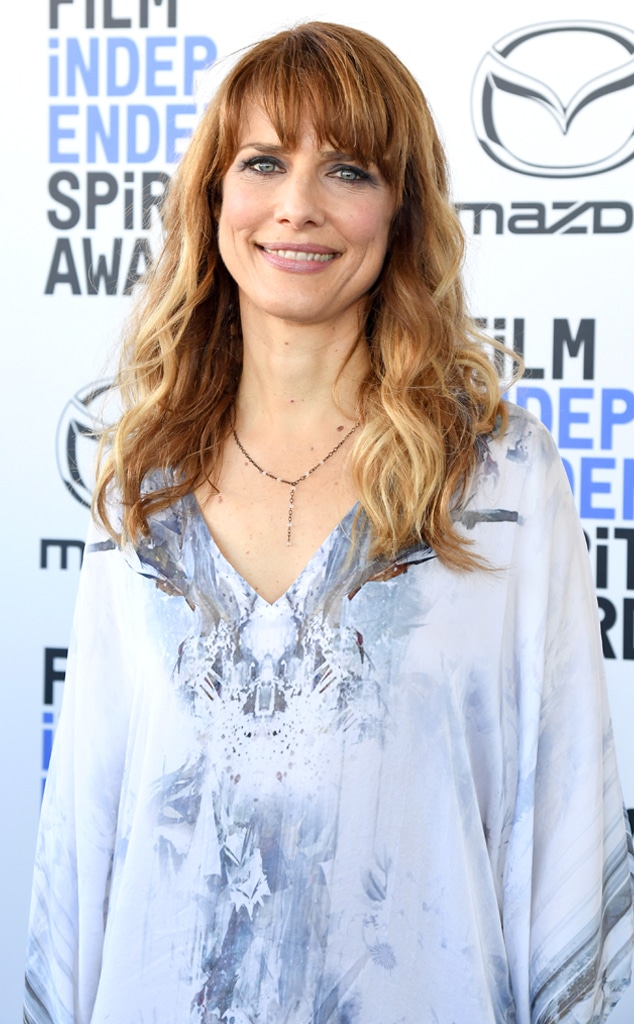 Kevin Mazur/Getty Images
Filmmaker and director Lynn Shelton died on Friday, May 15 as a result of a previously unidentified blood disorder, according to a statement obtained by E! News from her publicist Adam Kersh. She was 54. 
She was an aspiring actor and photographer in her twenties but didn't begin making films until her mid-30's. According to the statement, Shelton realized she had a lifetime ahead of her to become the filmmaker she wanted to be when she saw French director Claire Denis speak at Seattle's Northwest Film Forum in 2003 in which Denis revealed she was 40 when she directed her first feature film. 
Shelton would go on to write and direct eight feature films in the span of 14 years. 
The filmmaker was best known for her award-winning films including 2009's Humpday, 2011's Your Sister's Sister, 2018's Outside In and most recently, she directed four episodes of the Hulu series Little Fires Everywhere—an adaptation of Celeste Ng's 2017 bestseller that starred Reese Witherspoon and Kerry Washington. 
"Lynne's Twitter bio reads: 'I make movies and direct tv shows and I like to laugh. A lot,'" the statement continues. "Lynn indeed had an infectious laugh, was full of life and had an esprit de corps that touched many. She will be greatly missed by her family, friends, the entertainment industry and her fans."
Many fans, friends and former colleagues of Shelton have taken to Twitter to express their condolences and pay tribute to the late filmmaker and director. 
"We lost our dear friend Lynn Shelton," wrote Mark Duplass, who starred in Shelton's Your Sister's Sister on Twitter. "We made so many things together. I wish we had made more. Her boundless creative energy and infectious spirit were unrivaled. She made me better. We butted heads, made up, laughed, pushed each other. Like family. What a deep loss."
Shelton was also a highly-regarded television director on television series' such as AMC's Mad Men and Netflix's GLOW. 
Film and television critic Charles Bramesco shared one of Shelton's most memorable and important contributions to Mad Men on Twitter. 
"A noteworthy line in Lynn Shelton's extensive directorial CV: the MAD MEN episode "Hands and Knees," the one in which Joan goes for an abortion, a scene directed to sheer perfection. Sensitivity and confidence behind the camera," he wrote. 
When They See Us creator and director Ava DuVernay also shared her fondest memory of Shelton.
"Lynn Shelton changed my life when she handed me the Directing Award at Sundance in 2012," the director wrote on Twitter. "She announced my name with pride. Handed it to me with love. Rooted for me long after. I can't believe I'm typing this. Rest In Peace, Beauty. Thank you for your films. And for your kindness."
Broad City star Abbi Jacobson wrote on Twitter: "I loved Lynn Shelton's work so much. All her characters are so real and nuanced, and funny, and I wanted to work with her so badly. What a talent. This is such sad news."
Mindy Kaling, who also worked with the director during The Mindy Project, took to Twitter to share that she was a "dream on set."
"Lynn Shelton loved actors and we loved her back. She was a dream on set," the former Office star wrote. "Her lovely, sunny energy was infectious and actors always drifted to video village between takes to be around her. She had such a quiet power and I will miss her. Rest In Peace, Lynn. Love you."
Other television directing credits from Shelton include Master of None, Casual, LOVE, Santa Clarita Diet, New Girl, Shameless, Fresh Off the Boat, Dickison and more. 
"Lynn Shelton, I am forever grateful for the little time we spent together," wrote Hailee Steinfeld on Twitter. "You lit up the set of Dickinson the second you arrived. Thank you for your unbelievable energy. You will be deeply missed."
Watch:
In Memoriam: Fallen Stars of 2020
Little Fires Everywhere star Reese Witherspoon also took to Instagram to share that she was "devastated" to hear about Shelton's death. 
"I'm in complete shock that this vibrant, talented, and soulful filmmaker is no longer with us. Lynn was so passionate about our show, Little Fires Everywhere. She said the book truly spoke to her, and that she longed to direct a show that spoke meaningfully about motherhood, sexuality, race, and class in America. And she did," Witherspoon wrote on social media, alongside a picture of the two on set. "She cared deeply about the WHOLE cast and crew, making sure we all felt heard, seen and appreciated. Lynn also shared so much of her life with us. Her love of her son, how motherhood changed her life, her life changing decisions that made her the woman she was. I feel so fortunate that I got to collaborate with Lynn on both The Morning Show and Little Fires Everywhere. Her spirit touched so many people in the filmmaking world. Her memory lives on in our vivid days together on set and in her wonderful films. Please watch her work and see her talent for yourself."
Shelton was born in Oberlin, Ohio and she grew up in Seattle. 
After high school, the late filmmaker attended Oberlin College in Ohio and then the University of Washington School of Drama. She moved to New York and pursues a Master's of Fine Arts program in photography and related media at the school of Visual Arts in Manhattan. 
She is survived by her son Milo Seal and her husband Kevin Seal, with whom she split in 2019. Before her death, Shelton was with stand-up comedian Marc Maron. 
"I self-generated my work, and I never went around asking permission to make it," she told the Los Angeles Times in 2014. "The main reason women make inroads in independent film is that no one has to say, 'I pick you.' I'm not pounding on anybody's door. I'm just making my own way. You can buy a camera for $1,500. It's insane how easy it is to make a movie."