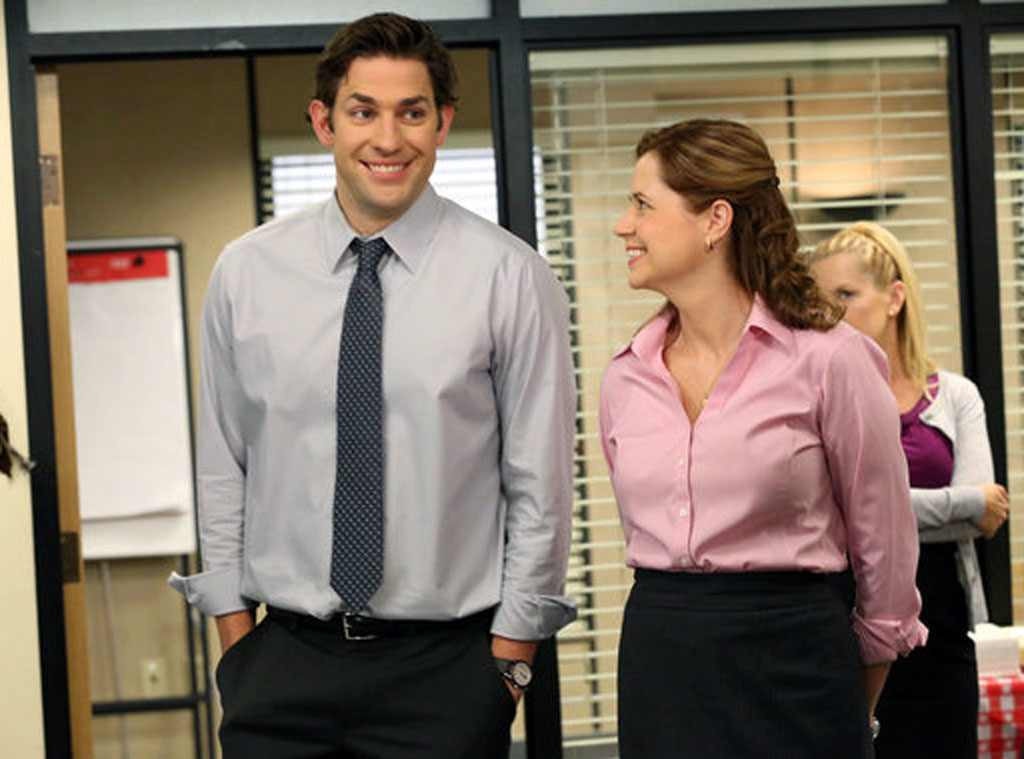 NBC
The mystery of who has Pam's teapot from The Office has been solved: It's John Krasinski.
Krasinski appeared with Jenna Fischer and Angela Kinsey's Office Ladies podcast for the recap of "Casino Night" and revealed the props he has at home, along with a story about auditioning for the show with Fischer that he never shared with her before.
Regarding the end of the show, Krasinski, Fischer and Kinsey recalled the secret way Greg Daniels wrapped the show for the cast and how he stole the Dunder Mifflin sign that everybody did talking heads to. Daniels said he wanted the sign, but Krasinski had already taken it. "Literally, my brain exploded and I went, 'That sucks, man. Whoever did that, that sucks,'" Krasinski said. "I lied to my dad! I lied to my TV creator!"
"It was the worst heist of all time," Krasinski said.
Kinsey got the painting of her, Fischer asked if she could have the watercolor of Dunder Mifflin that her character painted, but was told no by production because it was slated to be catalogued and stored by NBC. "I was really heartbroken," she said. "That was really the one thing I wanted…As I was leaving, Phil Shea ran up to me and he said, 'Here, you should have this. I made a color photo of this. They'll never know.'" So Fischer has the original at her home. Guess they know now!
Watch:
John Krasinski & "Office" Cast Recreate Dance for Virtual Wedding
Krasinski revealed Shea sent him a box of props years after the show wrapped including the bag he used as Jim, his nameplate and the teapot.
"You have the teapot!" Fischer and Kinsey both screamed.
"That's huge," Kinsey said.
The podcast episode is full of nostalgic conversation between the trio, including recollections from audition days.
"As soon as I saw you walk in Jenna…I genuinely had like a metaphysical event where I was like, 'Oh, that's who's in the show. That person will be in the show,'" he said. He was held back, Fischer went in for an audition round and Krasinski waited. "I remember thinking if I don't go in with her, I'm screwed."
Producers told Krasinski to stick around because they wanted him to audition with one more person: Fischer. "I thought, 'Oh my god, you're saying there's a chance.' Because if I'm in with you, I knew I had a shot," he said.
"Oh my god, John, I can go back to that moment that I saw you at the audition and I had the exact same reaction. I've tried to describe it to people…the best explanation I could come up with was what if you walked into a room and music started playing and you and another person just started dancing in unison even though you'd never met. That's what it was like audition with you," Fischer said.
Krasinski said when he was told her got the part, he asked if Fischer had been cast as Pam and urged those who were giving him the news to find out for him. "I thought if you were on it, I was going to be on one of the best things that I'll ever do in my life," he said.
Fischer said she had a similar reaction and questioned if Krasinski had been cast as Jim.
"I've actually never told those stories with you…in digital form," Krasinski said. Fischer agreed, they never shared these stories with each other, but did on talk shows and the like.
Check out the full episode here.
(E! and NBC are both part of the NBCUniversal family.)